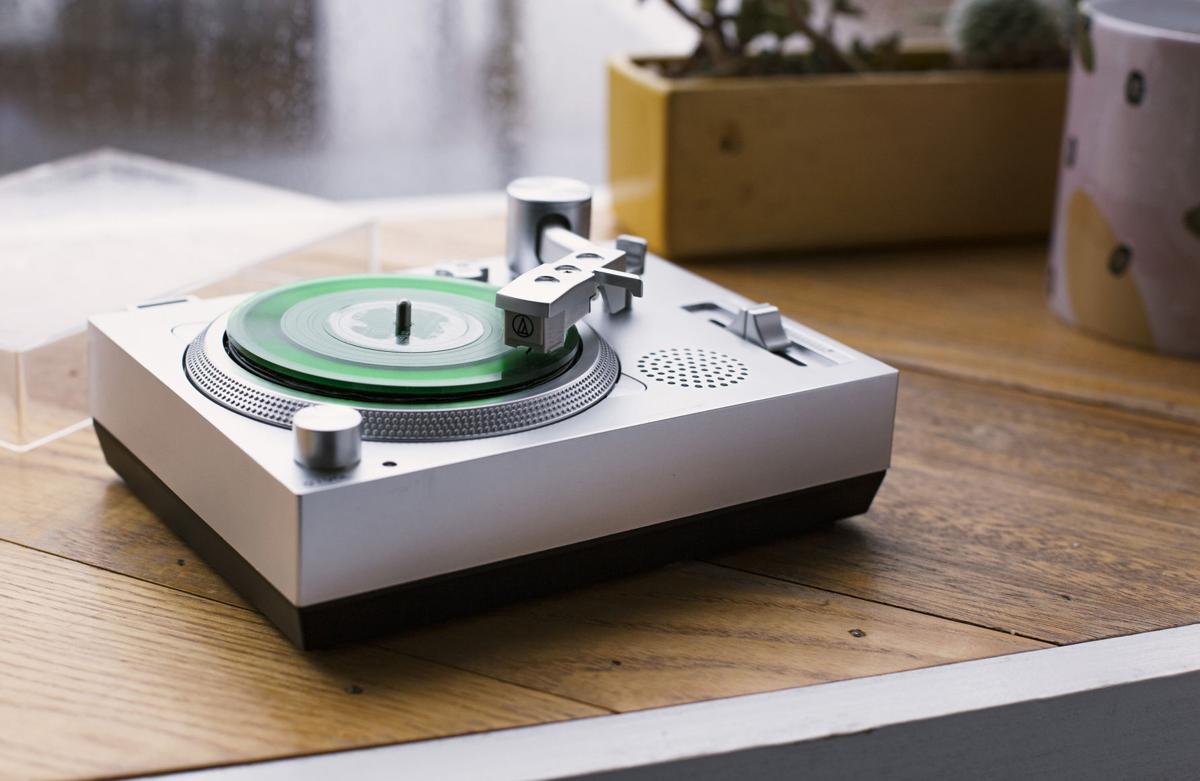 The resurgence of vinyl records never happened in my house, simply because they never left. If the comeback hasn't reached your world, the Crosley's Mini Cruiser and RSD3 turntables are a great way to start.
They won't play any 33 or 45 rpm vinyl records; instead the portable record player plays 3-inch records. Personally, before I put my eyes on the mini turntables at a trade show I had never heard of them or the 3-inch records. While they aren't commonly stocked at stores, the pocket sized records are easily found. Just do an online search.
The whole package with the mini turntable and records is eye-catching, some might say cool, other say cute, both with a retro look.
The Mini Cruiser (5.79-by-8.15-by-3.35-inches) is truly portable. When it's closed, it has a carry handle like a mini suitcase. This makes it a mini version of the bigger record playing Cruiser record player for 33 and 45's, also built in a suitcase style.
It's really amazing when you see them perform with all the features packed inside, including a clear dust cover, adjustable pitch control, built-in stereo speakers, a port to connect your headphones or wire it to a stereo system. There's also a Bluetooth transmitter to connect portable speakers.
When I unpacked it and a few sample 3-inch records, I can honestly say without asking her, my wife was tired of hearing Jerry Lee Lewis's "Great Balls of Fire" being played. I played it over and over at home and took it with us to show off for many friends during socially distant gatherings.
The silver toned RSD3 mini belt-drive turntable, $89.95, is also way cool and will be the talking centerpiece when you display it with a your sound system. It also plays the 3-inch records with sound coming from built-in speakers or use the 3.5 mm auxiliary port for output to headphones or a sound system.
Measuring just 6.16-by-4.50-by-3.25-inches, it's built with a pre-mounted Audio Technica AT3600 moving-magnet cartridge and adjustable pitch control.
Sound from both of the mini turntable's built-in speakers wasn't room filling but don't get fooled by that. It was way better than I expected and after I connect both to external speakers, they were a listening joy.
Power comes from a microUSB connection or four AAA batteries for the RSD3 and four AA batteries for the Cruiser. For true portability, I used the USB connection with my high powered portable USB battery. Both play the mini records at a 33⅓ rpm speed.
A nice accessory for the mini turntables is the stylish Crosley mini record carrier case ($29.95), which holds 10 3-inch records. It's a well made vinyl-wrapped case with metal hardware, a carry handle and rubber feet.