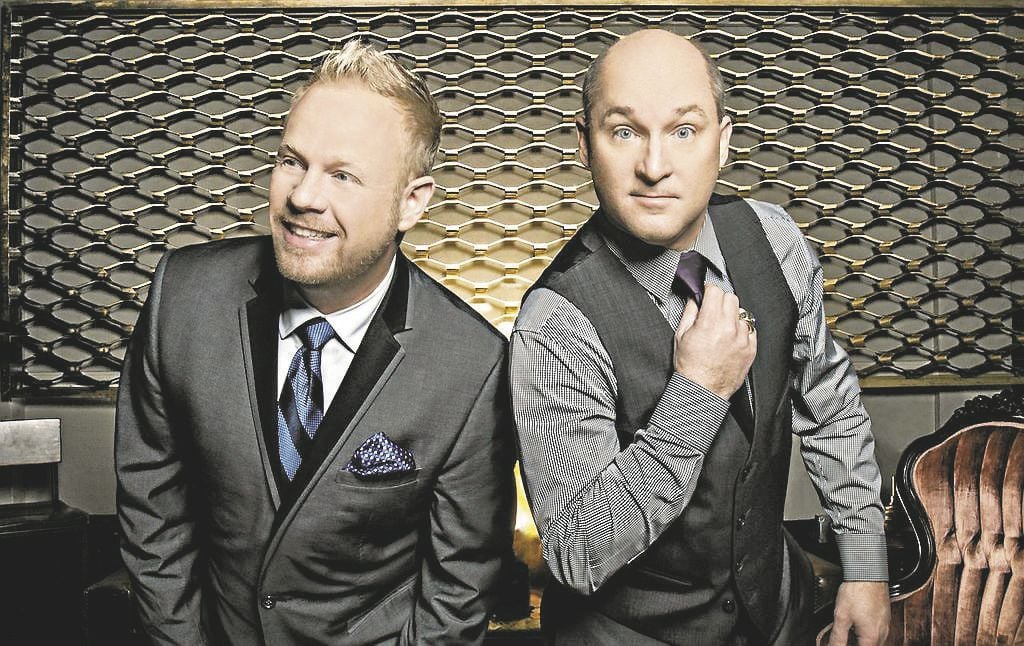 Their harmonies and vocal blends are what make them stand out, and audiences can expect a mixture of bluegrass, gospel and country music when Jamie Dailey and Darrin Vincent come to town on March 9.
The event, An Evening with Dailey and Vincent, has been put on for nearly a decade by the Rocky Mount Lions Club as a fundraiser for the organization.
But even though the fundraiser is the same, the performance is not.
"They're constantly producing new songs," said Roger Seale, treasurer of the Lions Club local chapter. "You're not going to hear something they did 10 years ago. They're evolving and expanding what they do."
Dailey and Vincent's act also involves comedy and storytelling mixed in with their music produced by their seven-member band.
According to James Guilliams, vice president of the Rocky Mount Lions Club, Dailey and Vincent are members of the Grand Ole Opry, are five-time Grammy winners individually and three-time Grammy nominees collectively. They've won numerous awards like the DOVE award, IBMA Entertainer of the Year award and Vocal Group of the Year award, among others.
They also are in their third season of "The Dailey and Vincent Show" on RFD-TV, a channel with country music, farm reports and "lots of entertainment of all sorts," Guilliams said.
"It's very entertaining," he added. "It's not strictly bluegrass; they do a variety. They're very entertaining and upbeat."
Dailey and Vincent hail from the Nashville area, according to Guilliams, and fans come from Tennessee, Maryland and North Carolina to see the show at the high school.
He said it's the Lions Club's biggest fundraiser every year, raking in about $3,000 to $4,000 in proceeds.
"They're the No. 1 group associated with bluegrass," he said.
Seale compared them to the Statler Brothers, adding that Dailey and Vincent are broadening their genre of music to folk as well.
He said the Lions Club raises about $10,000 to $12,000 a year from fundraisers. The funds go towards providing assistance to local citizens who have limited resources for eye glasses and eye exams, scholarships for local students to experience 4-H camps, and more.
"We support the Leader Dogs for the Blind school, collect old eye glasses to recycle them and respond to other special needs as they come up," he said.
The Lions Club has been bringing in out-of-town entertainers, from Tennessee to Georgia, since 1984 to fundraise for the organization.
"And 80 to 90 percent of our money we generate is spent right back here," he said.
As for the Dailey and Vincent performance, the treasurer said it's a high-quality performance.
"We've got a lot of country music fans," he said. "If you're a music fan you will enjoy the show."
Guilliams added that his grandchildren, aged 15 to 30, all enjoy Dailey and Vincent's music, adding that their music is liked by all ages.
"I think they would be in for a treat if they're not familiar with their music," Guilliams said of the crowd. "We do sell it out every year so if people really want to see them they best buy their tickets early."
An Evening with Dailey and Vincent will be held on March 9 at 8 p.m. at the Franklin County High School auditorium. Doors open at 7 p.m. Tickets can be purchased in advanced for $25 or $30 at the door. Tickets can be purchased at Haywood's Jewelers, Ferrum Minute Market and Redwood Market or by calling 540-483-0904 or 483-5360.