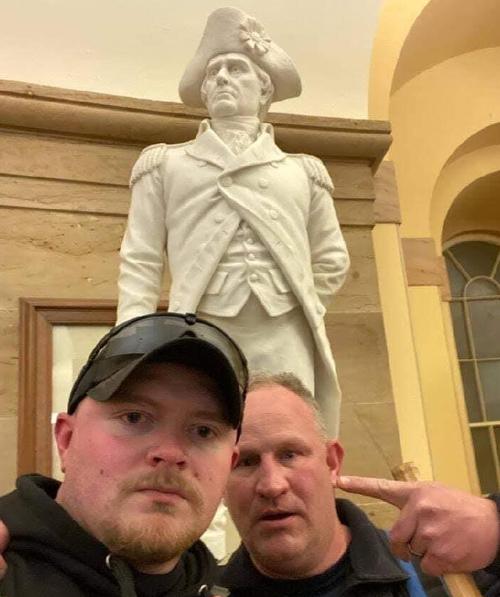 A judge declined Thursday to let two fired Rocky Mount police officers carry guns while they await trial on felony charges in connection with last month's riot at the U.S. Capitol.
A defense lawyer for Jacob Fracker said the usual condition of pre-trial release for a felony defendant that bans possession of a gun or dangerous weapon should not apply to his client. "He has made many, many arrests on violent and dangerous people over his career path. He needs his firearm for personal protection," attorney Bernard Crane said in U.S. District Court for the District of Columbia.
Judge Christopher Cooper declined to agree and kept the firearm restriction in place for both Fracker, 29, and co-defendant Thomas Robertson, 47, imposed soon after their arrests. The men restated the not-guilty pleas they entered earlier this month, and the judge continued the case to April 27.
The men have maintained in interviews that they did not take part in any of the violence inside the Capitol that day.
Before the videoconference concluded, Crane told Cooper that he would consider repeating the gun request at a future date. Crane said he would like to present a sealed motion on Fracker's behalf that identifies "specific people that he's arrested that have a propensity for violence" and also disclose "their proximity to his residence." Robertson's attorney said he wanted the same leeway for his client to carry a gun but did not make a verbal argument or state an intention to file a written motion during Thursday's session.
A photograph released to social media shows Fracker and Robertson together in the Capitol on the day a mob broke in during meetings of Congress called to confirm results of the November presidential election. The government has charged each with obstruction of an official proceeding, remaining in a restricted building and two counts of disorderly conduct.
Rocky Mount terminated the employment of both officers in January after they were charged. Robertson had been paid an annual salary of $54,138.76, while Fracker was paid $39,273.26, a town official said.
Both officers have filed grievances with Rocky Mount contesting their termination, Robertson wrote in an e-mail. He declined to elaborate further. In previous interviews, Robertson has said he considered their firing unjustified.
An excerpt from a Jan. 22 termination notice Robertson shared with The Roanoke Times cited "conduct unbecoming an officer" and "actions that permanently impact your credibility as a witness."
Rocky Mount Town Manager James Ervin declined to comment on Robertson's statements.
Generally, the town's grievance process follows state code, with a four-step process that involves face-to-face interviews with superiors, including the town manager. The last step takes place before an administrative hearing officer, Ervin said. Employees unsatisfied with the final outcome of the grievance procedure can appeal to circuit court.