WASHINGTON — Five days after a former Rocky Mount police sergeant was sentenced to seven-plus years in prison for storming the U.S. Capitol, a subordinate who accompanied him was placed on probation Tuesday.
Jacob Fracker, 30, also was ordered to spend 59 days confined to his home.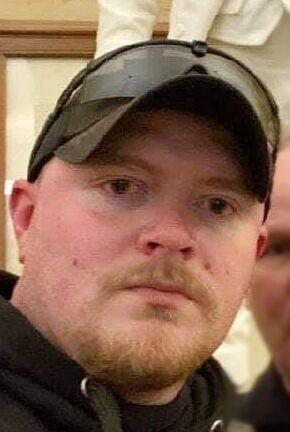 Federal prosecutors asked that Fracker receive substantially less punishment than Thomas "T.J." Robertson, based in large part on his agreement to testify against his former colleague, mentor and father figure.
Robertson was clearly the leader in the two's participation in the events of Jan. 6, 2021, and both prosecutors and Fracker's attorney described him as using his position of authority to influence the younger police officer.
"I want you to know that I am sorry for my actions that day," Fracker told U.S. District Judge Christopher Cooper.
"Yes, I was there with someone else. And yes, I was there because I trusted him based on lies. But he didn't tell me how to act that day. I acted on my own."
Although Cooper initially voiced concerns about the lack of incarceration — sentencing guidelines called for 15 to 21 months in prison — Assistant U.S. Attorney Elizabeth Aloi pointed out that Fracker is the first person charged in the insurrection to be sentenced after testifying against a codefendant.
"This is somewhat of a unique case," the judge said.
Aloi said Fracker's conduct was "an aberration" in an otherwise productive and law-abiding life of service, first in the armed forces in Afghanistan and later as an officer for the Rocky Mount Police Department.
Not only was Fracker's testimony key in obtaining guilty verdicts against Robertson, Aloi said, he continues to cooperate with prosecutors in an ongoing investigation of possible additional crimes committed by the 49-year old.
She did not elaborate. But authorities have said in earlier proceedings that there is an active probe into how Robertson ordered 34 firearms through an online dealer while free on bond. In addition to being a violation of the terms of his bond, which was revoked last summer, the actions may have broken a law that prohibits anyone charged with a felony from shipping or transporting firearms.
Robertson was sentenced Thursday to seven years and three months in prison on six charges that included obstruction of a special session of Congress that was being held Jan. 6 to certify an election won by President Joe Biden. Robertson also was convicted of impeding police while carrying a walking stick that he used as a dangerous and deadly weapon.
The sentence matched one given earlier to a different rioter; they are the longest imposed so far against more than 800 rioters from across the United States charged in the insurrection.
After a rally in which then-President Donald Trump urged his supporters to "fight like hell" against an election he falsely claimed was stolen, a large mob congregated and forced its way into the Capitol, overwhelming vastly outnumbered police officers who tried to hold them back.
Defense attorney Bernard Crane urged Cooper to impose probation for his client, arguing that he has already been punished severely without serving a day in jail.
Fracker was fired along with Robertson from his job with the town's police department shortly after their involvement in the uprising became known. Both men were off-duty at the time. Fracker was also kicked out of the Virginia Army National Guard.
Military and police service were the core of Fracker's life, Crane said, recounting how he skipped school on his 18th birthday to enlist in the U.S. Marine Corps. He now works as a personal trainer at a fitness club.
"He has already been harmed in a tremendous sense, in terms of where he was in life and his prospects going forward," Crane said.
If Cooper was inclined to impose any time of confinement, Crane said, he asked that it be less than 60 days, the point at which Fracker would lose his military benefits that cover medical treatment for the enemy shrapnel he carries in both legs.
A sentencing memorandum filed by the defense said Fracker is now held in disrepute by people on both sides of the political aisle — those who condemn his participation in the riots and those who believe he betrayed Robertson, who remains a popular figure for some in the community.
About 70% of the votes cast in Franklin County in 2020 went to Trump, whose campaign signs still appear on roadsides and whose memorabilia can be purchased at a "Trump Store" in Boones Mill.
Fracker has said he does not hold any strong political views. He told Cooper Tuesday that he agreed to join Robertson on a trip to Washington because he was curious about the election and "I wanted to know what the future held for my daughter."
"I certainly didn't see the riot happening," he said. "But as I said, it did, and I'm deeply sorry for what I did."
Fracker was placed on probation for 12 months after he pleaded guilty earlier this year to a single charge of conspiring to obstruct an official proceeding. In return for keeping his promise to testify against Robertson, prosecutors filed a motion for substantial assistance that lowered his sentence significantly.
The judge's decision places Fracker in the roughly half of the 227 Capitol rioters sentenced so far who did not receive a prison term.
Unlike Robertson, Fracker was not armed during the insurrection, accepted responsibility for his actions, and did not cause any trouble while free on bond. Nor did he try to influence others to join the mob that overran the Capitol, his attorney said.
"I don't think it's an overstatement to say that Mr. Robertson blew up Mr. Fracker's life," Crane said.
Robertson was much more active on social media, often making incendiary comments before and after Jan. 6. Prosecutors say he continued to lie about his actions that day and has given false accounts of his military service.
Crane said that Cooper, who presided over a weeklong jury trial in April for Robertson, is in a good position to compare that defendant's actions with those of the lower-profile but more genuine Fracker.
"You had a chance to evaluate what is counterfeit and what is the real deal," he told the judge. "I think that's where we are today."
Fracker spent less than a hour inside the Capitol after it was overtaken by the mob, posing at one point for a now infamous selfie photograph that showed him and Robertson standing in front of a statue of a Revolutionary War hero. Fracker can be seen making an obscene gesture.
He cut a much different profile in court Tuesday, wearing a gray suit and responding politely to questions from Cooper.
After court was adjourned, he crossed the room to shake hands with prosecutors and FBI agents and chatted amicably with them for a few minutes before leaving the courtroom with his family.