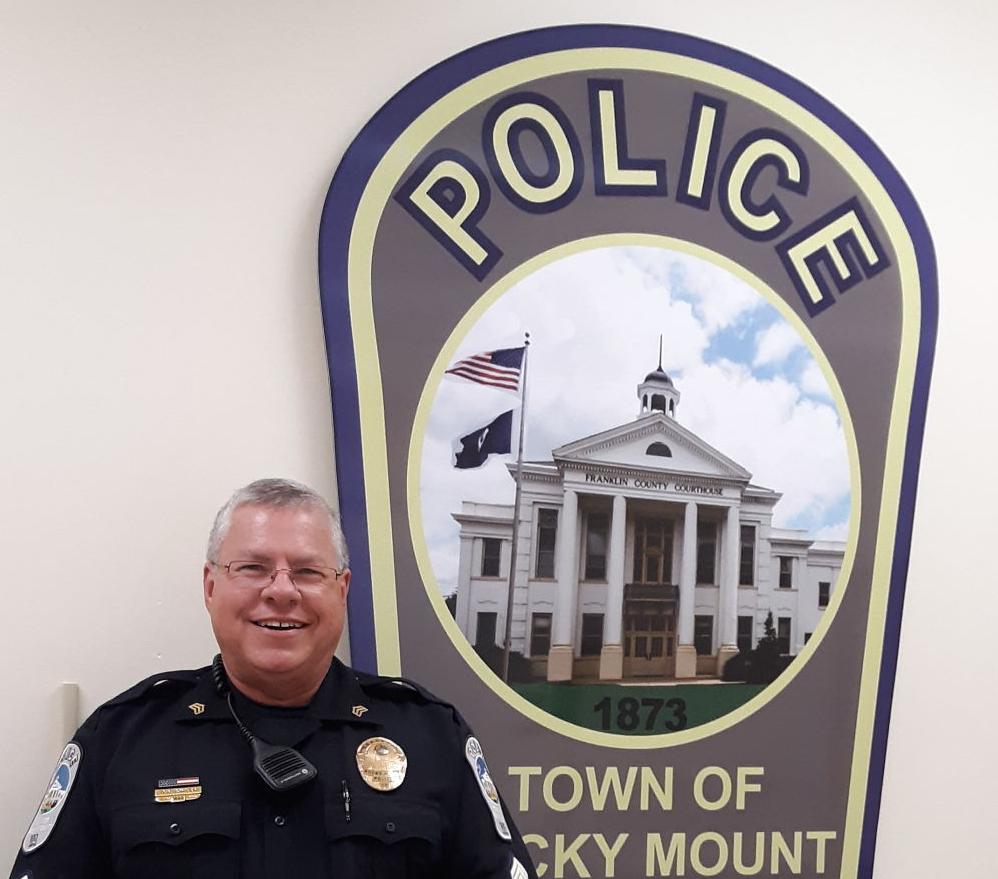 After 19 years as a volunteer firefighter with the Rocky Mount Fire Department and 21 years as a police officer with the Rocky Mount Police Department, Sgt. David Bowles knows the meaning of community service and hard work.
Just because he retired from the police department Sept. 10 doesn't really mean he's retiring from working, though.
Bowles, 64, didn't get to sleep in the day after his retirement because the next day he was up early driving a cleanup truck for the county landfill as he supervised a trustee from the jail who was picking up trash throughout the county.
"I'm not ready to retire," Bowles said. "I'm ready for the next step."
That next step starts Oct. 12 in Roanoke when Bowles joins the Carilion Clinic Police Department as a police officer.
In the meantime, a slower pace means more time with his family — wife, Raine, five children and soon to be eight grandchildren. He might play some golf and watch sports but, he said, "Spending time with family is a priority."
Working with the public for so many years has enabled Bowles to meet numerous people in the community from government workers to those in public safety, law enforcement and business.
Bob Mills of Angle Hardware said, "David has been a good servant for the town, county and country." He said he appreciated Bowles' traits of being friendly and comfortable in talking with people about issues.
Bowles said what he'll miss most about his job is "the people I've worked with over the years. Twenty-one years is not that long a time. It's definitely a long time to be a police officer."
A 1974 graduate of Bassett High School, Bowles worked for Dupont in Martinsville for 18 years until 1998 when the plant closed. When he started with the company in 1980 there were 5,000 employees. At its closing, only 600 were left, he said. With the closing came retraining and educational opportunities for the employees. Bowles used his benefits to earn an associate degree from Ferrum College in environmental studies and then go on to Bluefield College to earn a bachelor's degree in criminal justice.
While attending a job employment seminar, he heard a probation officer speak and said he was intrigued by what he said. Volunteering for eight months at a probation office, however, showed him that that was not the path he wanted to pursue.
He set his sights on the Rocky Mount Police Department and within two months, he was hired.
One of Bowles' earliest work associates at the RMPD was Brian McClung, a field training officer who is now a criminal justice instructor at Franklin County High School. Bowles rode with McClung until he attended the Piedmont Criminal Justice Academy in 2000.
"David was one of the first officers that I had some hand in training," McClung said. "I could tell from the first time we met that David was going to be a solid officer and was in the right profession. He has a way of being able to remain calm when everything around him is anything but calm, and that's something you just can't teach. He was a great trainee. Always ready to help, paying attention to what the more experienced officers were doing and saying and taking that information and applying it. The town is losing an exceptional officer."
Bowles said going through the police academy when he was 43, compared to those 20 years younger, was "tough but made me a better person, made me stronger." After working his way up the ranks, he became a patrol sergeant in 2010.
For the first 10 years of his police career, Bowles was also a volunteer firefighter for the town. Longtime Rocky Mount firefighter Spike Pugh, who is 95 and retired in May after 71 years of service, said, "David's a fine fellow. I'll tell you that. He's a good friend and stops by every now and then wanting to know if I need anything. I hate to see him leave."
Bowles' most challenging event of his police career was being the first officer on the scene in July 2010 when his friends and former associates Rocky Mount Fire Chief Posey Dillon and Danny Altice, a former chief of the department, lost their lives in a wreck while responding to an emergency call. "It was one of the darkest days in the history of the town," he said.
Being able to combine his fire and police experience enabled Bowles to better serve Rocky Mount. In 2003, he received his fire investigator certificate, and in 2004 he received his fire inspector certificate. He worked fire investigations while he was with the police department and became fire marshal in 2016.
Rocky Mount Police Chief Ken Criner acknowledged Bowles' expertise in his fire and law enforcement work. "He was very good on fire reconstruction and working with the fire marshal side of it."
One of Bowles' most unique calls came in 2012 when an eight-point buck crashed through the window of a resident's room at Franklin Health Care.
A plan was devised that took the resident's oxygen bottle into consideration during which he was to hold the buck by the antlers. While reflecting on the event as he drove home from work, he wondered what they would have done if the deer had been a doe.
Regarding the violence happening across the country in law enforcement, Bowles said, "We have to be resilient and have trust that the public hasn't lost faith in us."
Rocky Mount Town Manager James Ervin acknowledged Bowles' retirement. "He's quite a fixture, always kept a second job, the man works harder than anyone I know," Ervin said. "He always has a smile on his face and a hand to help out." He said that in earlier police days, officers often had to disarm citizens with kindness. Bowles, he said, was able to use that trait in his work. "He will certainly be missed here."
In an article published in the Sept. 18 edition of The Franklin News-Post with the headline "40-year police, fire veteran retires," a reference to longtime firefighter Spike Pugh, contained an error. Pugh has been serving with the Rocky Mount Fire Department for 71 years.
The story said he retired in May; however Pugh is not retired. He still responds and assists active firefighters with their equipment, directing traffic and other needs.
Get local news delivered to your inbox!
Subscribe to our Daily Headlines newsletter.