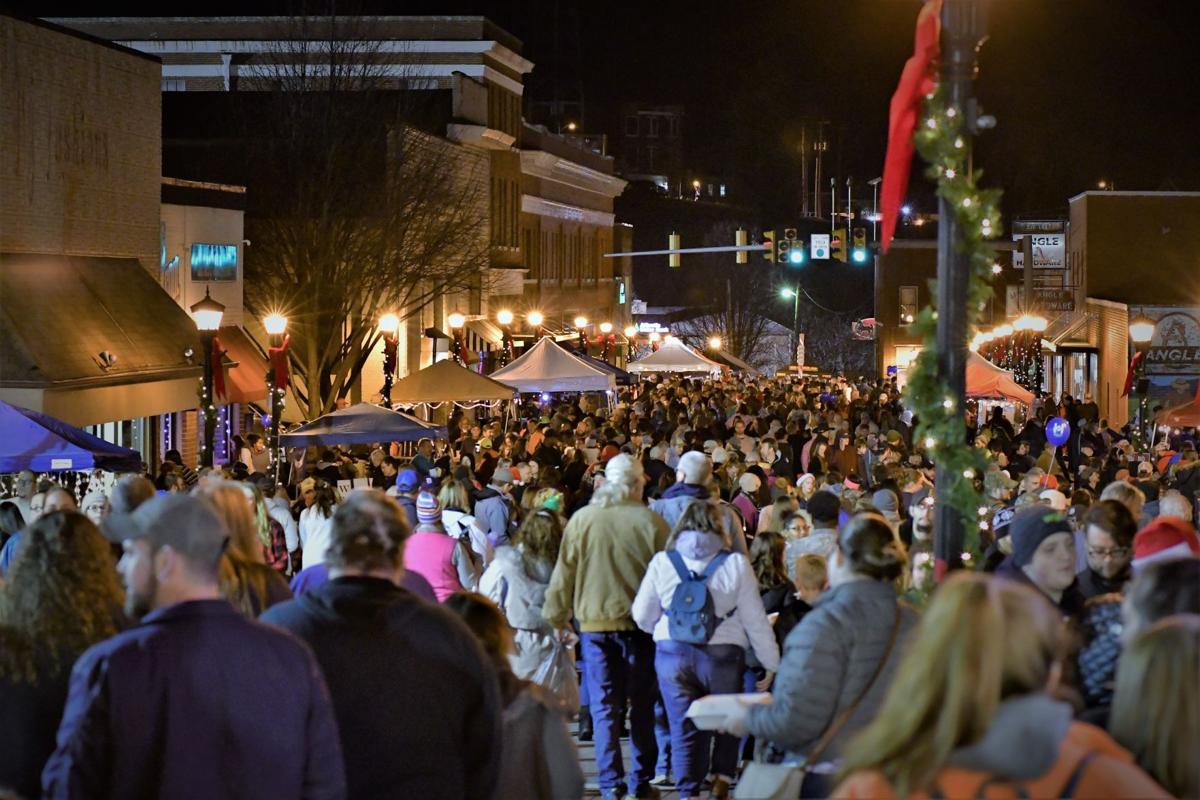 COVID-19 is the Grinch that stole Christmas. Well, maybe not the holiday and hopefully not the good cheer and tidings, but Come Home to a Franklin County Christmas is the latest in a long line of big events that has announced it will not go on as planned this year due to the ongoing pandemic.
Community Partnership for Revitalization, which organizes the annual holiday celebration, cited the uncertainty surrounding regulations of large gatherings, and the inability to control the crowd of 15,000 the annual event draws as reasons the event is not being held in December.
"There are just so many components to it the biggest of which is crowd control," said CPR President Donna Wray said, explaining she and committee members had been researching guidelines and talking with local health officials to explore ways of holding the annual gathering. "It absolutely breaks my heart to make that decision; you just don't know how hard it is for all of us because it is so dear to our hearts."
The event, which features games, bounce houses and train rides at the North Pole for families, as well as live music, dance performances, a tree lighting and vendors for holiday shopping, won't be completely absent from the holiday list. CPR is still exploring ways to keep the festival on everyone's mind by establishing photo opportunities around downtown for families to visit at different times and could even include a contest, though details are still being ironed out. The organization is also encouraging businesses to decorate and come up with their own ideas to see how they can work together to possibly host smaller events where attendance could be controlled.
"We really want to try to recreate some of the venues and try to put the spotlight on our sponsors," Wray said.
Zach Wimmer, CPR vice president, added they still want to draw people downtown to visit Rocky Mount businesses and see the town's holiday decorations.
"We need to have that good will and that morale, that is just so important at this point," Wray said.
Wimmer, who also serves as the chairman-elect for the Smith Mountain Regional Chamber of Commerce, said the chamber recently went through the same processes in trying to find a way to hold its annual wine festival, which was canceled back in August.
"It's just such a moving target that you never know when the regulations are going to change," he said during a CPR meeting Monday. "At any point there could be a hot spot, resurgence or whatever the case may be that completely changes your criteria for what it takes to be able to put the event on. At this point, we could plan for one thing and then completely have our legs cut out from under us a week beforehand and at that point, we have already spent the money."
The organization plans to find ways to highlight its sponsors since CPR's mainstay events, Court Days and Come Home to a Franklin County Christmas, have been canceled due to the COVID-19 pandemic and carry the sponsorship funds over to 2021.
The Rocky Mount Rotary Club said they are moving forward with plans for the annual Franklin County Christmas Parade. Lisa Schenk, treasurer of the club, said the organization isn't ready yet to reveal plans for the event, but is monitoring regulations and exploring options. The parade usually falls on the Sunday following Come Home to a Franklin County Christmas.
Solutions That Empower People, or STEP, Inc., announced in May the annual Christmas Home Tour would not take place this year due concerns not just for safety and regulations, but also fearing the organization could not raise funds to support the effort. The nonprofit was concerned about approaching business owners who may have had negative impacts from the shutdowns resulting from the pandemic for sponsorship. The home tour serves as STEP's signature fundraiser.
Get local news delivered to your inbox!
Subscribe to our Daily Headlines newsletter.