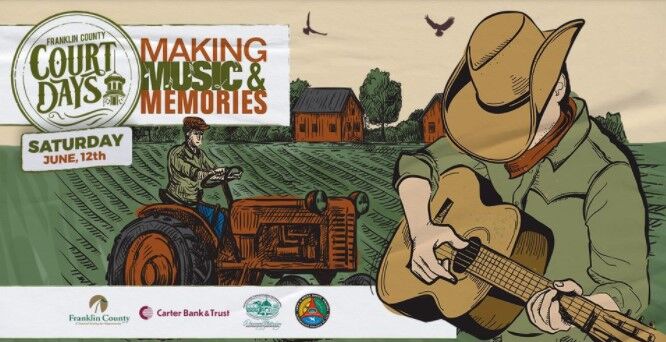 After two years of cancellations due to the weather and COVID-19, Rocky Mount's Community Partnership is once again hosting Court Days with the theme of "Making Music and Memories."
Community Partnership President Donna Wray said, "We haven't been able to do much of anything lately, so we're just happy to be having Court Days again."
The festivities will be held Saturday in downtown Rocky Mount. Several venues along Franklin Street will host various activities from 10 a.m. to 2 p.m. Wray said that in addition to the normal Farmers Market vendors, businesses will be open and food vendors will be available.
The Farmers Market will be home to a bake-off contest, a pie-eating contest, a large Kids Zone filled with activities for kids of all ages and a skit by Lily Mae as portrayed by a local personality.
Live music will be offered at the Farmers Market and at the Crooked Road Herbal Reserve Stage located in the parking lot near Crooked Road Herbal Reserve at 147 Franklin St. Music will include the Downtown Pickers, Colby Helms, Seph Custer and Jen Bertiaux.
David Rotenizer, Tourism Director for Franklin County, is looking forward to the event and said, "There is a historical basis to the concept for Court Days which I really appreciate and applaud." He added, "I am proud of the fact the event began as a part of the Crooked Road's Mountain of Music Homecoming program."
Until about the early 1970s, Court Days were held in Franklin County every third Monday of the month. Frances Plybon, 93, recalls getting out of school early on Court Days when her daddy would pick her and her siblings up to go to town for the event.
"With 'Court Days, making music and memories,' we are paying tribute to a long-standing tradition within Franklin County," Wray said. "Years ago, we had no sitting Circuit Court Judge. So, once a month, a traveling judge would come to town to take care of legal issues. Over time, 'Court Day' became a social event as residents traveled to Rocky Mount to meet friends, make music, trade goods and 'take care of business.' We are, once again, meeting our friends, making music and enjoying our community!"
Rotenizer added, "It should be yet another enjoyable opportunity for folks to get back into the social norms of community engagement and interactions. Open air, open spaces and open spirits await."
Admission to all activities is free thanks to numerous sponsors including: Carter Bank and Trust, Town of Rocky Mount, Franklin County, Community Partnership, Franklin County Parks and Recreation, The Franklin News-Post, McAirlaids, Carilion Franklin Memorial Hospital, TNT Auto Body Repair, B99, BloomingDeals, Flora Funeral Service, Franklin Finance, Haywoods Jewelers, Linda's Beauty Shop, Rhodes, Ferguson & Stone, Rocky Mount Burger, The Claiborne House and Zach Wimmer – Edward Jones.