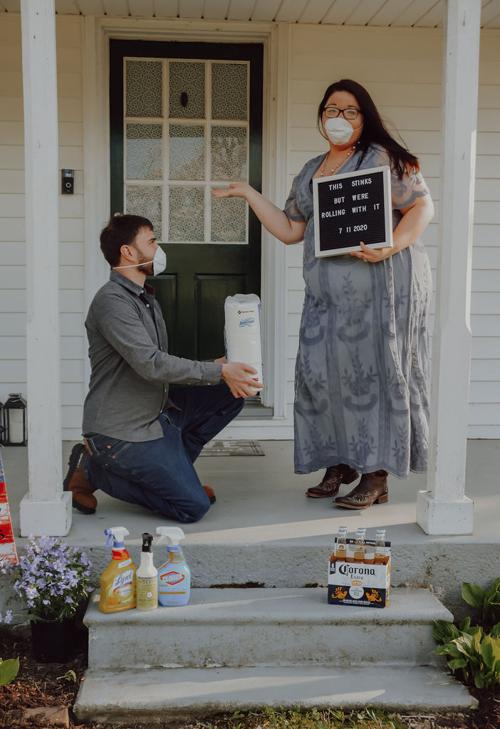 Like most big events, COVID-19 has hampered wedding plans, and local brides and grooms are no exception.
While the destination hasn't changed, the journey to get there certainly has. It's a journey that affects a lot of people, from families and friends to numerous vendors.
Brooke Cooper and Keith Law had planned to get married on May 16 at The Early Inn at the Grove in Rocky Mount. Cooper said they held off changing their plans until Gov. Ralph Northam put restrictions on gatherings. Initially, she cried for two days before she said she decided to "see the cup as half full" and thought, "it could always be worse."
In trying to keep things light and fun, the couple has adopted a new theme for their wedding: "This stinks, but we're rolling with it." Cooper and Law recently had pictures taken for their "resave-the-date" notices. Pictures included Law on one knee proposing to Cooper by offering her a roll of toilet paper, as well as having cleaning products and Corona beer nearby.
Toni Ratcliffe, business manager at the Early Inn, said the venue tried to make it easy for the couple to pick a new date.
"We want (the situation) to be less stressful than it already is," Ratcliffe said. "We're trying to keep a smile on their faces."
Cooper said, "I couldn't have asked for anyone better to work with than Toni. She has been amazing."
Law and Cooper plan to have a small wedding ceremony between now and their rescheduled reception date of July 11. The couple wants to keep their reception light and fun, and with July 11 being Free Slurpee Day at 7-11, they have planned a "Slurpee Bar" at their reception.
Just as couples dealing with the effects of COVID-19 need to be flexible and creative, so do those running the celebration venues. Isabelle Russell, owner/lead planner at Belle Garden Estate in Wirtz, has been offering a choice of three elopement packages.
"They've been a big hit so far," Russell said. "Overall, I think it's been a good thing. People can still get married and salvage things as much as possible." In fact, according to Franklin County Circuit Court, marriage licenses are still being issued, but appointments are required.
Russell added with creativity and technology couples can find ways to connect with their friends and family such as through live streaming.
Chelsea Furrow and her fiance, David Davall, were supposed to have wed on May 16. Their revised plan is to have a grand ceremony on Aug. 29 at Appalachia Hills in Callaway and to have an intimate, almost elopement-style wedding on the original date they'd been planning for almost two years.
Furrow said she wasn't too upset about the change of plans because she knew it was coming. She said she was worried she couldn't keep her vendors together. The couple's plans had been ready for months, and the invitations had gone out a week before.
Her stress was lifted, she said, once she got everything squared away and realized it wasn't going to be as hard as she'd thought. She added that everyone she worked with was agreeable, which helped.The wedding officiant even said he'd do two ceremonies at no extra charge.
Furrow said she's had a lot of support from friends and family. "Without them I would've had a total meltdown," she added.
The big day for Monica Jenkins and Ricky Whitacre had been planned for May 30 but is postponed due to the pandemic. Jenkins said initially she was "just devastated" as everything had been planned and a handful of invitations had been sent out. Still, to keep everyone safe, she and Whitacre knew it was the right decision.
Down the road, the couple plan to have a big reception. Until then, they plan to get married in a small, private ceremony officiated by the retired preacher from the church she attended as a girl.
"The only things that matter are we're getting married, and people are staying safe," Jenkins said. "We're not going to let the coronavirus stop us. Our friends and family have gone out of their way to make things special for us."
One of those special things was a unique bridal shower, complete with social distancing. For the shower, Jenkins stood on the front porch, complete with a "Mr. and Mrs." banner while her best friend's mother drove by with signs. Other well-wishers sent cards and dropped off gifts.
Although Aug. 29 is still a few months away, Chelsea Claytor and Zac Adkins have postponed their wedding celebration.
"It was causing more stress to wait it out than to be proactive and just make plans to reschedule," Claytor said. The couple doesn't have a new date, but are looking at next year.All the plans had been made and the save-the-date notes sent out. Fortunately, the invitations had not been printed. One benefit of postponement, Claytor said, is having more time to pay for things.
The couple will not be exchanging vows, but rather, renewing them.
On Oct. 4, 2019 they were secretly married in Roanoke. Their marriage wasn't announced until about two weeks ago on Facebook. Last fall the couple bought a house together.
In an effort to honor their religious beliefs and be able to start their life together the way they felt was right, Claytor said they chose to get married before moving in together.
Three weeks after their wedding, they told their parents they'd gotten married. Claytor said their parents were shocked, but happy for and proud of them. On Nov. 1 they moved into their new home.