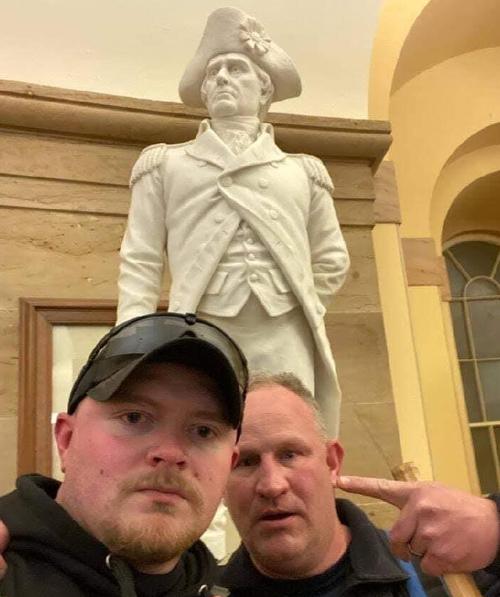 Thomas Robertson posed a greater threat while free on bond than he did inside the U.S. Capitol during the Jan. 6 insurrection, a federal prosecutor said Wednesday in asking that the former Rocky Mount police officer remain in jail until his trial.
A virtual bond revocation hearing for Robertson was cut short late Wednesday afternoon by technical problems.
U.S. District Judge Christopher Cooper, who July 9 ordered that Robertson be taken into custody, recessed the proceeding.
When it resumed Thursday, the hearing was put off for a second time in as many days after a failure to make a video connection with Robertson, who is being held at the Central Virginia Regional Jail.
The judge decided to conduct the hearing the old-fashioned way, saying he would issue an order for Robertson to be transported to Washington, D.C. Once that happens, a hearing will be scheduled in U.S. District Court for the District of Columbia.
"Mr. Robertson's own words show that he is a danger to the community," federal prosecutor Elizabeth Aloi said, referring to social media posts attributed to the 47-year old since he was charged with entering the Capitol building as it was being breached by a violent crowd of supporters of then-President Donald Trump.
"Now his offenses have been repeated 10-fold in volume," she said, citing an "arsenal" of firearms and explosive devices that has been linked to Robertson since he was ordered not to possess them as a condition of his bond.
Robertson's attorney is opposing the government's motion to revoke bond, saying his client is not charged with any acts of violence.
"The government keeps saying insurrection," Mark Rollins said, when Robertson and fellow Rocky Mount police officer Jacob Fracker are accused only of walking into the Capitol building and leaving a short time later.
Robertson and Fracker were charged after a photograph showed them standing next to a statue of John Stark — a New Hampshire native who served as a general in the American Revolution — while Fracker made an obscene gesture.
Both men were fired from the police department a short time later.
Since then, two more men from Western Virginia have joined a growing list nationwide of people charged with storming the Capitol as Congress met to certify an election won by now-President Joe Biden. A short time earlier, Trump had urged his supporters to "fight like hell" against an election that he said was rigged against him.
In a motion filed June 30 to have Robertson jailed, prosecutors said a search of his Ferrum home the day before revealed a M4 rifle on a bedroom dresser and a partially assembled pipe bomb in the garage. Federal agents also found that Robertson had ordered 37 more guns online, although they had not been delivered to his home.
Equally troubling, Aloi said, were comments allegedly made by Robertson in an online gun forum on June 10.
"I have learned very well that if you dip your toe into the Rubicon … cross it," Johnson wrote, according to court records. "Cross it hard and violent and play for all the marbles."
Robertson remained free on bond following the government's June 30 motion. It was not clear late Wednesday afternoon why Cooper ordered that Robertson be taken into custody last Friday, according to records filed in U.S. District Court for the District of Columbia.
But in recently filed court documents, prosecutors mentioned even more items found in his home — including four silencers and fuses to hand grenades.