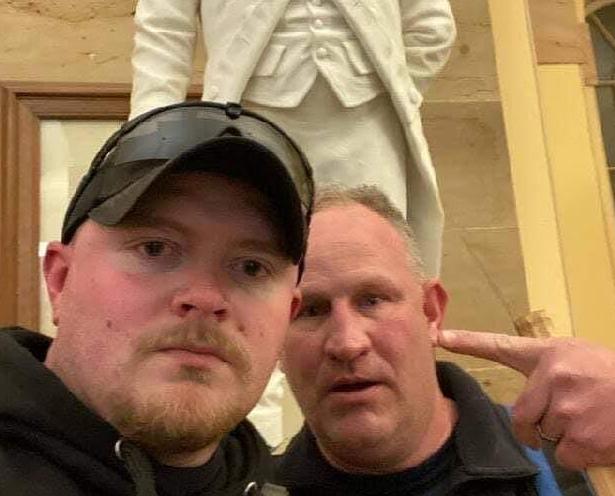 A former Rocky Mount police officer will remain in jail until his trial on charges of entering the U.S. Capitol as it was being overrun by supporters of former President Donald Trump.
Thomas "T.J." Robertson was ordered held without bond Wednesday by a judge in Washington, D.C.'s federal court.
"Both in the immediate aftermath of the riot and more recently, Robertson has expressed remorselessness and endorsed future political violence," Judge Christopher Cooper wrote in finding that there were no conditions under which the 48-year-old Franklin County man could be released.
Free on bond after he was charged with participating in the Jan. 6 insurrection, Robertson was jailed earlier this month after law enforcement agents raided his Ferrum home and found an M4 rifle, a partially assembled homemade bomb, silencers and hand grenade fuses.
Robertson had been ordered not to possess firearms as a condition of his bond.
Cooper's decision, however, was based on a more serious allegation. The judge wrote that there was probable cause to believe that Robertson committed a felony by ordering 34 firearms from an online dealer after being told not to possess any guns.
During a hearing two weeks ago, Cooper asked prosecutors if they planned to bring additional charges against Robertson. Assistant U.S. Attorney Elizabeth Aloi replied at the time that her office was having discussions with federal authorities in Roanoke, which is in the district where charges might be filed.
Robertson contended that he never actually "possessed" the guns, saying he arranged to have the weapons — which included three M4 shotguns and two PA-15 rifles — shipped to a gun store in Roanoke, where the dealer had agreed to hold them.
But Cooper sided with prosecutors, who argued that federal law prohibited anyone charged with a felony to "ship or transport in interstate or foreign commerce any firearm or ammunition."
Citing concerns over Robertson's issues with both guns and his social media comments, Cooper found that he fell within the category of criminal defendants deemed unfit to ship or transport firearms pending trial.
Robertson, who was first held in the Central Virginia Regional Jail after his arrest in early July, was ordered committed to federal authorities to await trial.
No date has been scheduled, although Robertson is due back in U.S. District Court for the District of Columbia for a status hearing Aug. 3. Co-defendant Jacob Fracker, a fellow Rocky Mount police officer who accompanied Robertson into the Capitol building, remains free on bond and will be allowed to attend via video.
Both Robertson and Fracker were fired from the police department shortly after they were charged.
Mark Rollins, a Washington attorney who represents Robertson, has argued that the duo did little more than walk inside the building, pose for a photograph in front of a statue of an American Revolutionary War hero, and then leave peacefully.
"While Robertson is not accused of personally committing any violent acts on January 6, the strong weight of evidence shows that he participated in the Capitol riot, which posed 'a grave danger to our democracy' as well as our national security," Cooper wrote. His 14-page order included language from other federal judges who have found that insurrectionists should not get "special treatment" and no jail time just because they did not commit a violent act.
The judge also cited online comments that Robertson has made since the Jan. 6 insurrection, which came as Congress was meeting to certify the results of an election that Trump still claims was rigged against him.
"His recent social media posts may contain elements of bravado and hyperbole, but they provide evidence that Robertson is sympathetic to calls for a violent 'revolution' ... and had been further radicalized by his pending prosecution," Cooper wrote.
In asking that Robertson's bond be revoked, prosecutors said that as recently as June, Roberson wrote that he had "learned very well that if you dip your toe in the Rubicon ... cross it. Cross it hard and violent and play for all the marbles."
More than 535 people have been arrested so far in nearly all 50 states for crimes related to the breach of the U.S. Capitol, according to the U.S. Attorney's Office for the District of Columbia. More than 165 face charges of assaulting or impeding law enforcement.
Robertson is charged with obstruction of an official proceeding, which is a felony, and the misdemeanor offenses of entering a restricted building and disorderly conduct in the Capitol.
The insurrection began shortly after Trump addressed a large crowd of supporters, repeating his often-made claims that the election had been stolen and urging them to "fight like hell."