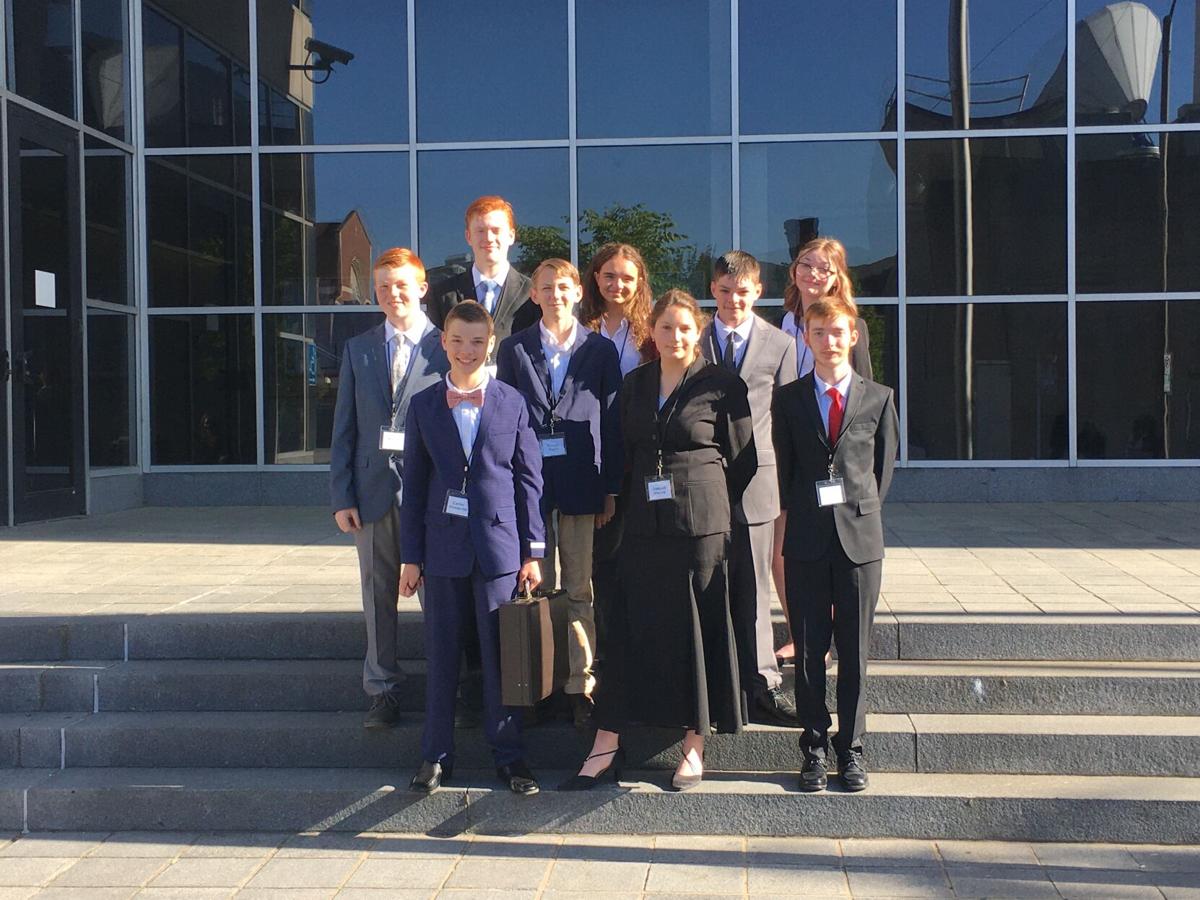 Classical Conversations' Challenge B classes of Christiansburg, Roanoke, Franklin County and Martinsville held a mock trial at the Roanoke Circuit Court on May 13.
Mock trial is a semester long project for the 13- to 16-year-old students. They participate in rehearsed courtroom trials to learn about the legal system in a competitive manner. Classical Conversations, the world's largest classical homeschool organization, uses mock trial competition to teach skills in research, grammar, writing, rhetoric, public speaking, debate and drama.
By struggling through dilemmas inevitably encountered when working within an imperfect system, we help students see that there is only one truly perfect system, one perfectly just judge, and one perfect deliverer of justice—God the Father. This realization helps fulfill Classical Conversations' mission: To know God and to make Him known.
This year's mock trial was a third-degree murder case involving Tatum Zillias, a construction owner, pushing construction forward with a lift over the crane's maximum engineering load in the remnants of a hurricane's wind and rain. This lift resulted in the crash of the crane and two deaths. The question before the court was whether Zillias's efforts manifested an extreme indifference to the value of human life. The prosecution had Emerson Turnkin, site supervisor and London Packard, the self-proclaimed leader of the Franklin's Trench Squatters for witnesses, while the defense team called upon Tatum Zillias himself, Micah Estratton, Fightin' Phil's crane operator and expert witness, and Reese Dentner, an investigative reporter.
All the roles were still there: judge, prosecutor, defense attorney, defendant, witnesses and law enforcement officers. Mock trial program uses local judges, attorneys, or other adults to play the part of the trial judge and jury. The program acknowledges and thanks those who served on May 13: Judge: Travis Graham Esq. of Gentry Locke and Jury: Ms. Malissa Lambert Giles of Giles & Lambert, Ms. Sharon Roseberry of Gentry Locke, Guy M. Harbert III, Esq of Gentry Locke, Mr. Adam Deveries Attorney at Law, Mr. Cameron Pack, and Mrs. Amber Ogle. All the other roles were filled by Challenge B students. All the necessary documents: Witness statements, law enforcement reports, pertinent state laws and evidence exhibits were all provided for the students.
These eighth-grade students have spent the entire spring semester experiencing all three stages of the classical model of education: Grammar, Dialectic and Rhetoric. They spent weeks learning the facts of the case and many more weeks wrestling with those facts, trying to determine what facts were missing, finding errors in logic and building cases both for and against the defendant. The Franklin County/Martinsville team won their defense verdict from the judge and one round of the juror scoring. Most overall points were awarded to the Christiansburg/Roanoke team.
Carter Alexander of the Franklin County Team commented on the Mock Trial experience: "Mock trial has been an interesting experience. I am overjoyed I did it, and I'm overjoyed it's over. It was difficult trying to work together as a team, let alone agreeing on factors of the case.
"I noticed I excelled at putting an argument into a persuasive essay and story form. I also noticed that I could improve on controlling my legs because they shook so much during the trial. What I enjoyed the most about mock trial is that people acted like it was a big deal, like it was the real thing. We were in a real courtroom, had a good judge and great deputies that helped to clear the air. It wasn't a torturous experience, but it was a long lasting, strenuous one. So I will say it again, I am overjoyed it is over."
Blaize Brubaker said, "Mock Trial was an awesome experience. Throughout the process I definitely found my strong points and weaknesses. One part I did well was putting together direct examination questions and working with my two witnesses.
"Some things I could certainly work on is not interrupting my classmates and not being overly critical of other people's work. A few ways Mock Trial helped me was building stronger, healthier relationships with my classmates and showing me what teamwork actually is. Overall I can say that Mock Trial is definitely my favorite assignment and accomplishment throughout my CC experience."
Leigh Bortins started Classical Conversations in 1997. The family-owned company is headquartered in Southern Pines, North Carolina. For more information, visit www.classicalconversations.com. Classical Conversations® is a classical education resource used by homeschoolers in all 50 states and 15 foreign countries.
The program has more than 105,000 students enrolled in its tutoring programs, which are provided by more than 2,500 CC communities. CC provides resources, guidance and a community for a Christian homeschool curriculum using classical education in three developmental stages: grammar, dialectic and rhetoric.
Classical Conversations began in Franklin County in 2015 with three families and has grown to seventeen families this past school year. This fall CC of Franklin County will offer the Foundations, Essentials, Challenge A, and Challenge I levels. A Window Into Challenge Meeting is scheduled for June 11;
For more information, please contact Cathy Brubaker: 540-520-1054 or Dawn Hicks: 540-420-1664. For information on the Foundations & Essentials levels, please contact Judy Wisler: wisler03@aol.com. We also have a FB page where we post upcoming events: Classical Conversations in Franklin County, VA.