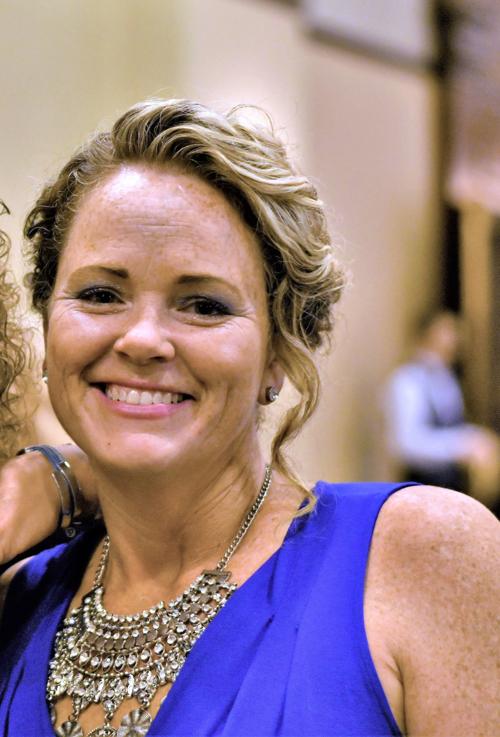 Last April, Franklin County High School English teacher Beth Deems received a life-changing email from a coworker that has since led her to facilitate a community conversation on April 5 about "finding peace and promise in military families."
Through history teacher Audrey Fizer, Deems learned about a five-day institute for educators, who were also veterans, for a project-based initiative to help classrooms and communities better understand the moral injuries of war.
After completing an extensive application, Deems received word she had been accepted for the project, "Troops to Teachers: Helping Classrooms and Communities Understand the Military Experience," which is designed to help teachers who have military experience translate that experience for their students and communities by drawing on a rich collection of literary resources.
Upon her acceptance, Deems said she was excited and had a wave of pride as she saw the program as a way to connect with her family's personal journey with the military.
Deems attended the institute for a week last June along with 13 other veterans who are educators, mostly from Virginia and North Carolina. She said the institute was designed to meet the veterans where they are in life. There were three women in the group that covered different branches, those who were officers and those who were not and those who had seen combat and those who had not.
"The lineup [of presenters] was amazing," she said, adding there were scholars, professors, authors and children of current and past military personnel. Besides listening to the presenters, Deems said there were collaborative activities and projects, as well as readings in poetry and military-related literature.
By the second day of the program, Deems said, "I came to realize [the program] was a lot more introspective than I had anticipated." She thought about the emotions of being a mom at home with two boys while her husband was in combat in Iraq. He served from 1998-2011 and she served from 1998-2001, being pregnant and discharged 11 days before 9/11.
The program attendees reconvened in January for a day at the National Humanities Center for a showcase in which the educators/veterans made presentations about how they were coming along for their community service projects that they are expected to do.
Deems' project is a free program for the community that will be held Sunday, April 5 at 4 p.m. in the FCHS auditorium at 700 Tanyard Road in Rocky Mount. There will be readings, a panel, open conversation and question and answer period. One of the panelists will be Dr. Christal Trivett-Presley, author of "30 Days with My Father: Finding Peace from Wartime PTSD" and founder of Blue Ridge Writing Academy.
Other panelists include Dr. Melvin Macklin, associate professor of English at Ferrum College and Vietnam veteran, and Dr. Eric Hodges, assistant professor of political science at Longwood University and a Marine Corps veteran who will also discuss the intricacies of the military members and their families' experiences, as well as the moral injuries of war.
There will be a book signing and purchasing opportunity available at the end of the event.
Attending the Troops to Teachers Institute has helped Deems in her work with students and the community. At FCHS, she said she finds students to be more engaged and able to identify with the theme of a battle as found in literature such as "Beowulf" and "Macbeth."
In the community, Deems is hoping the event will expose the community to military literature and that people will be able to meet others with similar shared experiences. She wants to support military spouses with empathy, healing and hope, letting them know it's not easy but that they are not alone.
Get local news delivered to your inbox!
Subscribe to our Daily Headlines newsletter.