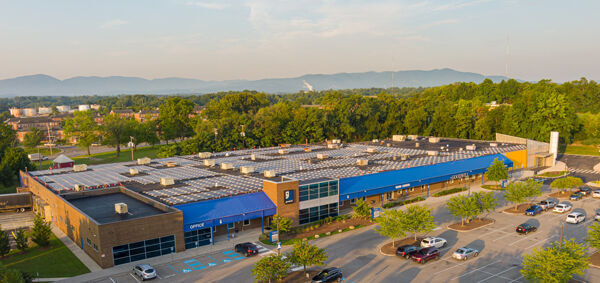 One of the largest rooftop solar energy projects in the Roanoke region is now operating at Goodwill Industries of the Valleys.
The nonprofit recently installed solar panels at its jobs campus building on Melrose Avenue. About 90% of the building's electricity will be generated by renewable energy, reducing annual carbon dioxide emissions equal to that produced by burning 581,000 pounds of coal.
"The new array will save us money and be a long-term solution to rising energy costs," Jackson Green, chief financial and compliance officer of the organization, said in an announcement Monday.
The solar panels will have a maximum capacity of 548 kilowatts at any given time, and over a year will produce up to 742 megawatt-hours of electricity.
"500 kilowatts is a good-sized system," said Aaron Sutch, the Virginia coordinator for Solar United Neighbors, a national nonprofit that promotes solar energy.
While solar has been growing in the Roanoke Valley, it so far consists mostly of relatively small arrays of panels on the rooftops and grounds of homes, businesses and institutions such as nonprofits and colleges.
The region has yet to see a utility-scale project, which would generate greater amounts of electricity that would go directly into the power grid, as opposed to being used to offset the power bills of individual users.
For Goodwill, the installation at its Roanoke Jobs Campus follows an earlier, smaller project at its Salem location.
"The money saved will provide for more opportunities for future investment in people, programs and new ventures which will strengthen our mission and the communities we serve," Green said.