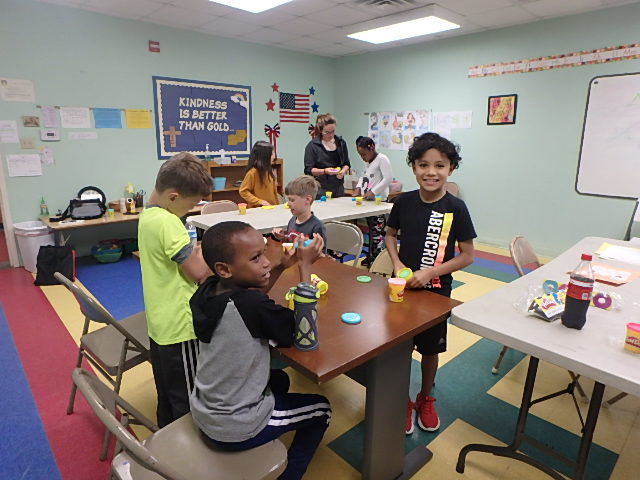 By LEIGH PROM
"After three months of closure and a very quiet building, there is laughter and smiles in the hallways again," said Jessica Hunt, the executive director at Henry Fork Center. "We have completed a great first week of the summer program."
Approximately 30 children from 2 years old through middle school age were in attendance. For some, it was their first year at HFC, but for many it wasn't. Hunt said the program is generational as she has children involved with the center whose parents attended when they were children.
Shawn Hunt is a staff member who works with fourth-graders through middle- schoolers. He's been involved with HFC most of his life, attending off and on as a youngster since he was 2 years old, volunteering and now on staff for the last four and a half years. He said he loves being involved at the center and is glad there's somewhere the kids can come.
The vision statement for HFC is, "to make God's love visible in the Henry Fork Community by being a positive Christian presence."
Many of the children have siblings who are also in the program or have been in the past. One preschooler is the last of seven children to be at HFC. In addition to the summer program, the center also has an after-school program during the school year.
Whether in the summer or during the year, academic enrichment is a big part of HFC. Kaylynne, an older elementary school-aged student who has a brother and sister in the program, said her favorite part of the summer program is "novel time," when classes focus on reading and students then write summaries of what they have read.
According to the center's website, Henry Fork Center started in 1967 with Charlotte Seegars, who was concerned about the large number of students dropping out of school. She rented a vacant service station on the corner of Doe Run Road and Sandy Ridge Road and began to reach out to the needs she saw in the rural community about two miles south of Rocky Mount. "Fighting, neglect, unemployment, broken homes, abuse, truancy, low incomes, illegitimacy and running moonshine were a few of the problems," Seegars sought to overcome.
From three mornings a week with preschoolers and three afternoons a week for after-school activities, it wasn't long until the program grew to serving youth five days a week. The service bay pit was filled in and turned into a classroom.
In 1985 a full-time director was hired and the program grew to offer many of its current services and programs. Additions were made to the building, yet there still wasn't enough room for the number of children attending HFC.
A new building was built and opened in 2005. In addition to offices, classrooms, kitchen and restrooms, HFC has a large multi-purpose gymnasium — a big help for rainy times like were experienced last week.
Whitney Steen is the center's pre-K/first-grade teacher. She has been with HFC for seven years and said she likes working there because, "This environment is different from a school setting and allows for more personal interaction."
One of her students, 5-year-old Elijah said, "It's fun here and I like going outside to play. We have a sandbox."
In addition to physical activity and academic enrichment, the nonprofit program includes Bible school and arts and crafts. Due to COVID-19, the youth will not be hiking, swimming, gardening and cooking as they have in the past. Still, there are many fun activities based on age and grade level, Hunt said.
Hunt has been with HFC for 20 years. A certified teacher, she began as an after-school instructor. In 2008 she became program director. Last November she took over the reigns as executive director.
"It doesn't feel like a job — it's a calling," Hunt said, describing her work at HFC. "I don't dread coming to work every day. I love it here."
This is Crystal Stanley's first summer working at HFC and she hopes to continue working for the center come fall.
"I love it here," Stanley said. "I love being around kids and teaching them good things like academics and the Bible."
Her preschool son attends HFC. "As a mom, I love it that they're actually preparing him for preschool."
Hunt said she has a wonderful group of staff, students and parents who have been very adaptable.
The summer camp is being held Monday-Friday between June 15 and July 31. The cost is $40 per person per month. Meals are provided free to children 18 and under throughout the summer. Transportation will be provided for the summer camp for those in the Doe Run area.
Hunt said the camp is filled near to capacity and to call 483-2819 for more information.