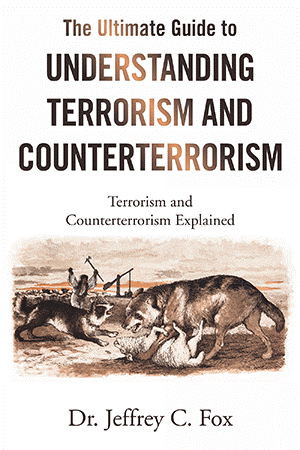 Rocky Mount resident Jeffrey C. Fox spent almost four decades dealing with terrorism — either studying it, training to stop or deal with it, or dealing with terrorists. Terrorism remains an ever-present danger. His goal is to train, educate and inform anyone who is interested in learning about terrorism in all its forms.
"The Ultimate Guide to Understanding Terrorism and Counterterrorism: Terrorism and Counterterrorism Explained" was published by Xlibris in July. The book looks at what terrorism is and is not, explores the historical roots of terrorism, discusses the causes of terrorism as well as terrorist typologies.
"Over these decades, I have seen an already-complicated topic become even more difficult to understand," Fox said. "The field of study has grown as the world has gotten smaller. This book addresses terrorism from a straight forward approach. When I began to teach homeland security, which includes terrorism, I made a promise to myself that I would never be politically correct. Political correctness is what some terrorists rely on and is one of our worse habits."
The book examines domestic terrorism and international and ethnic terrorism. Then it dives into religion and terrorism and looks at Islamic terrorism and Jihad. It also examines asymmetric warfare including terrorists' tactics and weapons of choice, and discusses terrorist financing and explores counterterrorism.
When asked what he wants readers to take away from the book, Fox answered, "Terrorism can be a politically charged topic. I ask that as you read this book, you check what is written, digest it and make your own decisions on what you have read. It is highly likely some of your thinking will be challenged."
Fox served for 27 years in the field of criminal justice, 21 of which were with the Virginia State Police. He earned an AAS degree in police science from Germanna Community College, a BLS degree in criminal psychology and sociology from Mary Washington College and a MS degree in criminal justice administration from Virginia Commonwealth University. He earned an MBA degree with a specialization in criminal justice, and earned a doctorate in business administration with a specialization in homeland security from Northcentral University.
He is a graduate of the Southern Police Institute Administrative Employees Course and the Virginia Commonwealth Management Institute. He completed the Virginia State Police Basic Academy, Rappahannock Regional Criminal Justice Academy and Military Police School. He has been teaching at various colleges and universities since 2001.
He retired from state service as the program coordinator and assistant professor for the Homeland Security & Emergency Preparedness and Criminal Justice Cohort Programs for Virginia Commonwealth University in Martinsville. His full-time job now is as public safety trainer/educator/consultant for his company called Fox—Public Safety Training, Educating, and Consulting LLC.