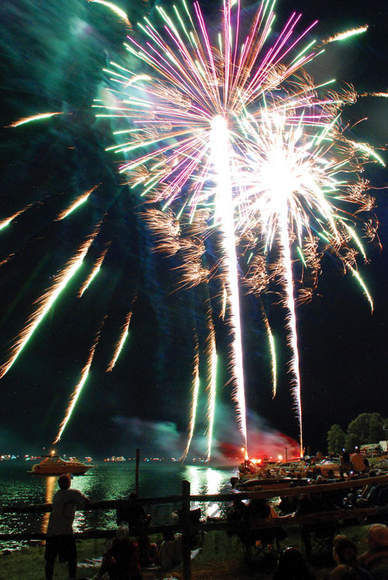 Smith Mountain Lake residents will have two opportunities to see fireworks from the water this year. Mitchell's Point Marina will put on a second show this year to raise money for Saunders Volunteer Fire Department.
The annual Fourth of July celebration at Parkway Marina to raise funds for Saunders Volunteer Fire Department was canceled earlier this month. Darrell White, president of the department's board, said last week there were issues in planning the department couldn't overcome.
After hearing about the cancellation, Mitchell's Point Marina owner Jeff Prowse decided to add another fireworks show to help out the fire department. "We love Saunders Volunteer Fire Department," he said. "It just seemed like a no-brainer."
In addition to the original fireworks show planned for July 2, a second show has been added on July 4. Prowse said, like in previous years, his July 2 show will be a fundraiser for the Semper Fi Fund that provides assistance to the combat wounded, ill and injured. The July 4 show will be a fundraiser for the Saunders Volunteer Fire Department.
There will be no one taking money during the fireworks shows on either day. Prowse said he encourages anyone who views either of the shows to donate to either the Semper Fi Fund or to the Saunders Volunteer Fire Department.
A GoFundMe page has also been created to raise money for both organizations. Any donations will be split equally between both the Semper Fi Fund and the fire department.
With no other fireworks shows planned for this year that can be seen by boat, Prowse said he expects a much larger crowds both nights. He encouraged boaters to be careful while attending the show and emphasized that, like shows held at Parkway Marina, the show's will be no-wake events.
The best viewing area for the fireworks show by boat is near channel marker C3 in the Craddock Creek section of the lake.
Boaters will be strongly encouraged to avoid wakes when entering and leaving both shows on July 2 and 4. Prowse said conservation officers with the Department of Wildlife Resources are expected to be patrolling the area during and after each show.
For anyone expecting to view the fireworks by land at Mitchell's Point Marina, Prowse warns there will be heavy traffic. He said the marina will accommodate as much as it can, but visitors may have to park as much as a quarter mile from the marina and walk down to the water to view the fireworks.
The fireworks show is expected to begin shortly after dark.