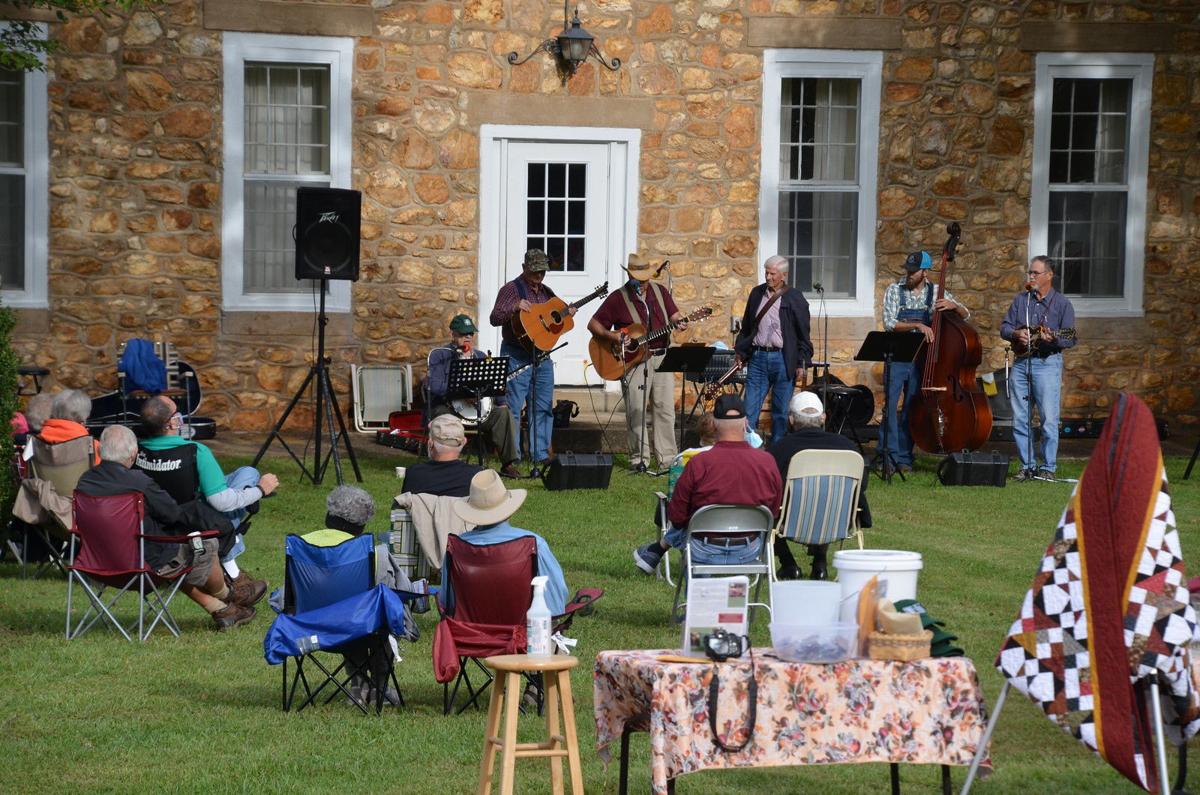 For about an hour and a half, a socially-distanced and mask-wearing crowd of approximately 80 people could forget about COVID-19 and the struggles it has produced and enjoy music, fellowship and refreshments on the lawn at the Phoebe Needles Center in Callaway on the afternoon of Sept. 19.
Local musician Alan Messenger and his friends provided the music.
"I thought it was an amazing turnout," said John Heck, executive director of the Phoebe Needles Center. He also commented on how nice it was to come and be outdoors with people as they listened to music and how it was almost as if things seemed "normal."
There was no charge for the program, but donations for Phoebe Needles Summer Camp Fund were accepted, and a large quilt was raffled off with proceeds going toward scholarships for next summer's camps. The quilt was pieced together by board member Marian Serge and the long-arm quilting was done by Cathy Sandel of Blue Ridge Quilting.
Emma Willis said she was delighted to be the recipient of the quilt.
"Oh, it's wonderful and it's beautiful," she said, adding that she was totally surprised to hear her name called.
Proceeds from the quilt raffle and donations made at the event will provide about 15 scholarships for next summer's camps.
As with most events, the camping program at Phoebe Needles looked different than usual. Dr. Bob Pohlad, president of the PNC board, said he was pleased with how the camping program went.
"So many camps had to stop and not do anything, yet at Phoebe Needles our camp and outreach program was safe and worked," Pohlad said. "The Phoebe group stuck with it in very difficult and challenging conditions."
He added how helpful Ferrum College was to allow the camp to use classroom space and access internet service.
"It was a real testament to the whole group of people here [in the area]," Pohlad said.
A report on Phoebe Needles' 2020 summer camp programs explained how the decision to proceed was made, the challenges and hurdles incurred, the types of offerings available and the results from the camp programs.
In mid-March, it became clear that summer camp would not likely happen in the way it had for the past 20 years. In mid-May a decision was made to proceed with "some type of summer camp program" for youth and children. Heck said he was pleased that PNC created an outlet for young people to be together outdoors, have some sort of normalcy and to provide some relief to parents. There were no charges for the camp.
The actual program was planned, advertised, posted on the PNC website and changed three times before a plan was developed that met the needs of campers and their families, the executive orders issued by Gov. Ralph Northam, the Centers for Disease Control and Prevention and Virginia Department of Health.
The camp offerings included in-person activities, virtual offerings and outreach opportunities in which campers had the opportunity to provide service to the community. Staff and campers worked on landscaping projects, three building projects, held car washes to raise funds for community outreach projects and volunteered at the Roanoke Rescue Mission and Heavenly Manna in Rocky Mount.
A parent testimonial listed in the camp report summed up the goals of the 2020 PNC camp experience: "Thank you so much for all you did this summer for our children! Being able to have them come to Phoebe Needles to interact with their friends again was exactly what they needed. For them to feel like a child again and have that social interaction, it is so important for their mental development."
Music in the Mountains served as a finale to the summer camp program and set the stage for whatever 2021 holds for its summer camping experience.