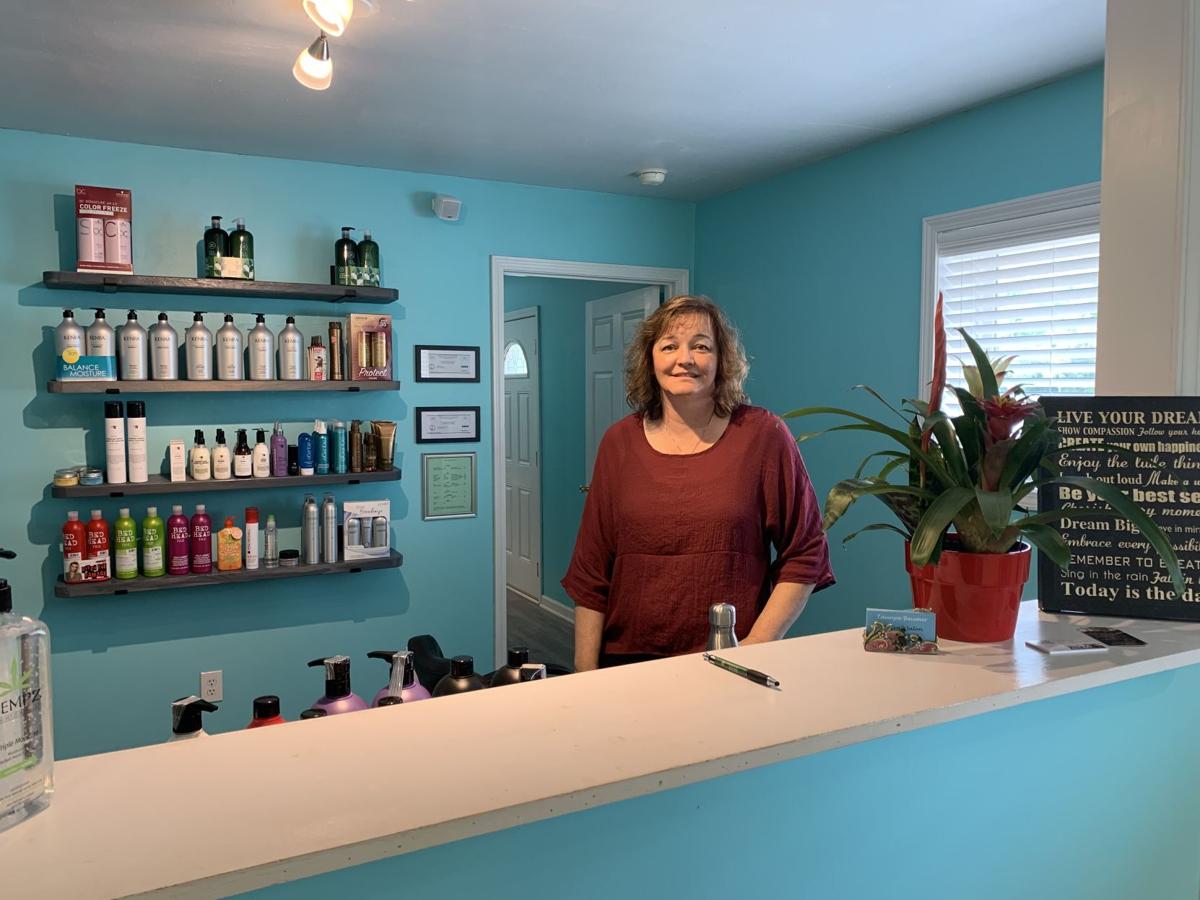 By BRIANA BARKER
Despite or perhaps because of the COVID-19 pandemic, Taunya Beumer opened a new hair salon in July.
Beumer has worked as a stylist for more than 28 years in her home state of California, Texas and Dusseldorf, Germany. Having been born and raised in the Napa Valley, it was there that she discovered her passion for the beauty industry and became a licensed cosmetologist.
She started her professional career in a well-established salon in Angwin, California, where she stayed until in 1993 when she moved to Germany to be with her future husband, Kai. Beumer lived abroad for five years and continued her professional growth by working for several high-end salons in different cities. After returning to the United States, she spent time in Sacramento and Los Angeles, California, as well as in El Paso, Texas. All the while she continued her career as a cosmetologist and a hair stylist. She said clients had approached her before about opening her own place, but because she moved around a lot with her husband, she never took the leap.
Beumer said being a stylist is more than a profession for her — it's a calling.
"I just like being able to make people feel good, and be creative and be part of the community, you get close to people," she said.
A little more than a year ago, she moved to Franklin County and joined the team at Oasis Salon in Rocky Mount, after she and her husband decided to make the area their permanent home, they began discussing opening her own salon. Beumer said COVID-19 hurried the process along.
"Just being able to have a little more freedom and control over keeping things compliant," she said, is what motivated her to move quicker with the opening.
She explained having her own space means added security for her clients whether it is at-risk senior citizens who are concerned about exposure to the coronavirus or the ability for family members to come together such as children and parents or individuals with special needs who have a guardian or parent come with them. Beumer said Centers for Disease Control and Prevention guidelines limit the number of persons in a salon and with other stylists and clients in the space she was limited to having only her client come inside.
Also having her own space means no drama, she added.
She said two days after securing the space, she and Kai had a contractor in the space installing new flooring and after two weeks of renovating the space, TM Craft Salon was ready to open.
Everything came together so quickly, Beumer said the fact that she now owns her own business has not really sunk in yet.
"I've been so busy putting it together and keeping up with clients that I really haven't had a chance to let it sink in yet," Beumer said with a giggle.
Beumer said services she offers include men's, women's and children's haircuts, color, perm, Brazilian blowouts and other hair services are available. Eyebrow waxing is also available.
Facials will be offered eventually, when CDC guidelines relax, but due to the face coverings requirement and guidelines, they currently aren't available.
While there is space in the salon for a second stylist, she said she doesn't currently have a plan to bring in an additional stylist. She said to do so, they would have to be customer-service oriented. There is also room to possibly expand for a nail tech eventually but no decisions have been made yet.
Beumer offers Oligo, Aquage and Kenra products for sale, along with other miscellaneous items.
TM Craft Salon is at 20733 Virgil H. Goode Highway, north of Rocky Mount. More information is available by calling 238-4739 or emailing tmcraftsalon@gmail.com.
Get local news delivered to your inbox!
Subscribe to our Daily Headlines newsletter.