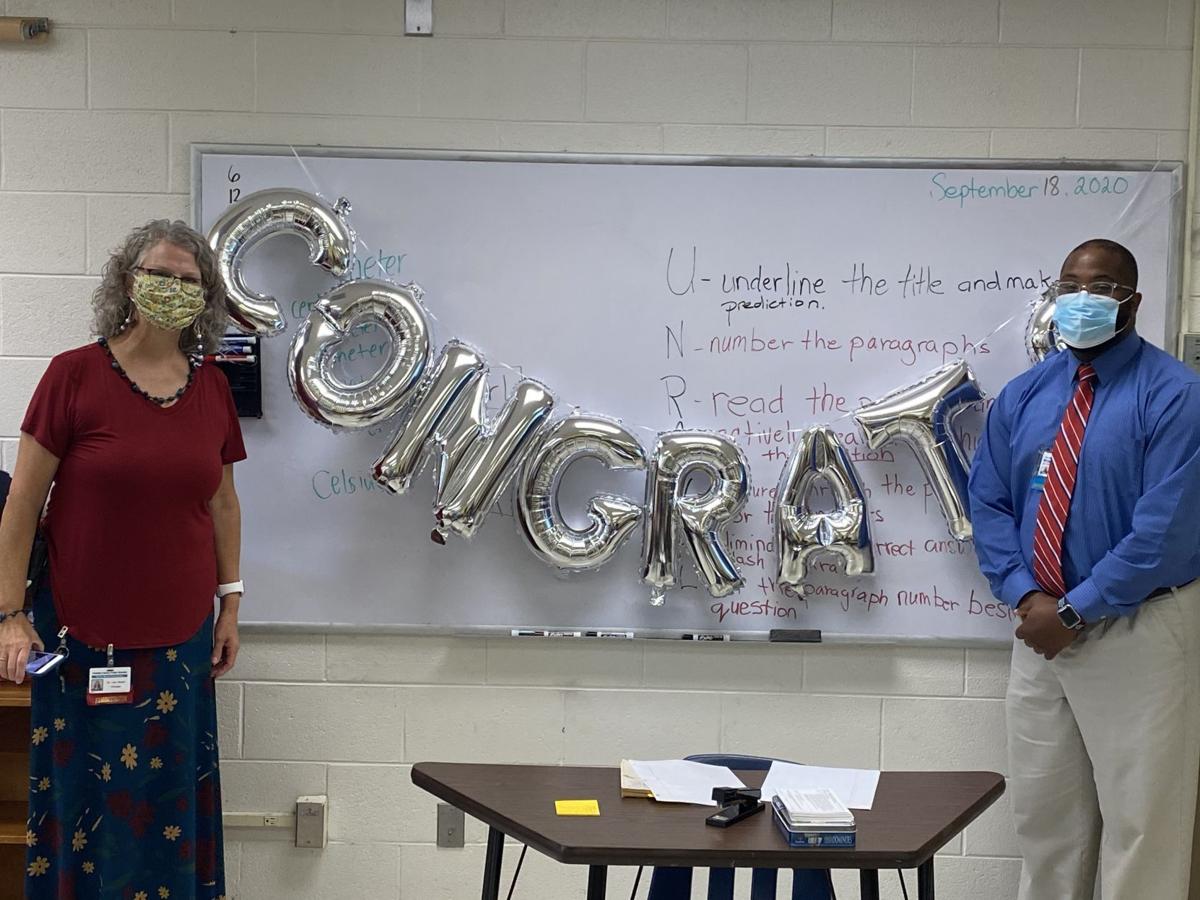 Franklin County's current Teacher of the Year is now one of eight contenders for the honor of Virginia's 2021 Teacher of the Year.
Anthony Swann, a fifth grade teacher at Rocky Mount Elementary School learned last week that he has been selected the 2021 Teacher of the Year for Region 6.
"It was a total surprise," Swann said. "A flood of emotions hit me all at once. My heart was pounding, my knees were shaking, and I was just in so much shock. I am still speechless. Winning this award only gives me another platform to let a child know that no matter the circumstances and no matter the situations you may find yourself in, if you just keep believing, the sky is the limit to what you can have."
The announcement was kept a surprise from Swann, but Franklin County Superintendent Dr. Mark Church informed the school's Principal Dr. Lisa Newell the day before and the two planned the Zoom meeting for 1 p.m. in front of faculty, staff and students.
"We were all elated," Newell said. "We were especially pleased this announcement came while Mr. Swann was in his classroom with his students, because he loves spending time and sharing positive things with them. He takes the opportunity to serve as a positive role model in every situation. When Mr. Swann stands in his classroom addressing his students, he is always confident and encouraging. However, in this moment, he was completely speechless."
The announcement and congratulatory messages were made virtually by Gov. Ralph Northam, first lady Pamela Northam, Secretary of Education Atif Qarni, Superintendent of Public Instruction James Lane, Virginia Department of Education Assistant Superintendent Dr. Samantha Hollins and Board of Education President Daniel Gecker.
"These eight extraordinary teachers are recognized by their local and regional colleagues as the best of the best," Northam said. "Their dedication to their students and preparing young Virginians for success is unwavering, even in the face of challenges such as the coronavirus pandemic and having to adapt to dramatic changes in how they teach and connect with their students."
Swann, a Danville native, spent over half his life either homeless or in the foster care system, where he played school to escape his hardships.
Newell called Swann "an inspiration" to many students and teachers in their school.
"Despite challenges early in his life, he found his calling to teach and stayed dedicated to his dream," Newell said. "His students know he cares about them, and he will do anything to encourage them to become their best. Naturally, we've all had challenges as we adjust to changes and safety precautions for the pandemic. This great honor allows all of us to focus on the positive aspects of education – the excellence of teachers and the lasting impact we make on our students."
Lane said the eight new regional Teachers of the Year "represent the tens of thousands of teachers across the commonwealth who are making this possible regardless of how schools in their divisions are reopening."
"Despite the challenges they face every day in this very different school year, they are committed to the success of all learners and to our shared values of inclusion, excellence, service and optimism," he said.
The teachers were selected from among candidates nominated by school divisions in each of the state's eight superintendents regions. The candidates submitted portfolios highlighting their accomplishments, educational philosophies and community activities.
A panel, including teachers and representatives of professional and educational associations, higher education and the business community, reviewed the portfolios and selected the eight regional Teachers of the Year.
Next month, the panel will interview each of the eight regional teachers to select the 2021 Virginia Teacher of the Year. The decision will be announced on Oct. 8, during virtual ceremony broadcast and streamed live by VPM and PBS affiliates across the state.
The 2021 Virginia Teacher of the Year will be the commonwealth's nominee in the National Teacher of the Year Program. The recognition is given by the Council of Chief State School Officers and program partners.
"Mr. Swann is a great choice for Regional Teacher of the Year," Church said. "This announcement is a real shot in the arm and something we can all rally behind. We now look forward to his announcement as the Virginia Teacher of the Year."
"If I am announced as the Virginia Teacher of the Year for the state, it would mean more than the world," Swann said.
"It would not just afford me the opportunity of a lifetime, but it would show other children who may feel like they can't do or be anything, that anything is possible if you believe. I dreamed of becoming a teacher as I was in foster care, not knowing that one day my dream would be made manifest and reaching thousands of people. I simply love serving children and would only hope that this award would serve as a beacon and a light of hope for those children who have a dream."
Franklin County boasts two previous regional Teachers of the Year – high school business teacher Marsha Lopez and Dr. Bernice Cobbs while she was teaching elementary students.
Get local news delivered to your inbox!
Subscribe to our Daily Headlines newsletter.