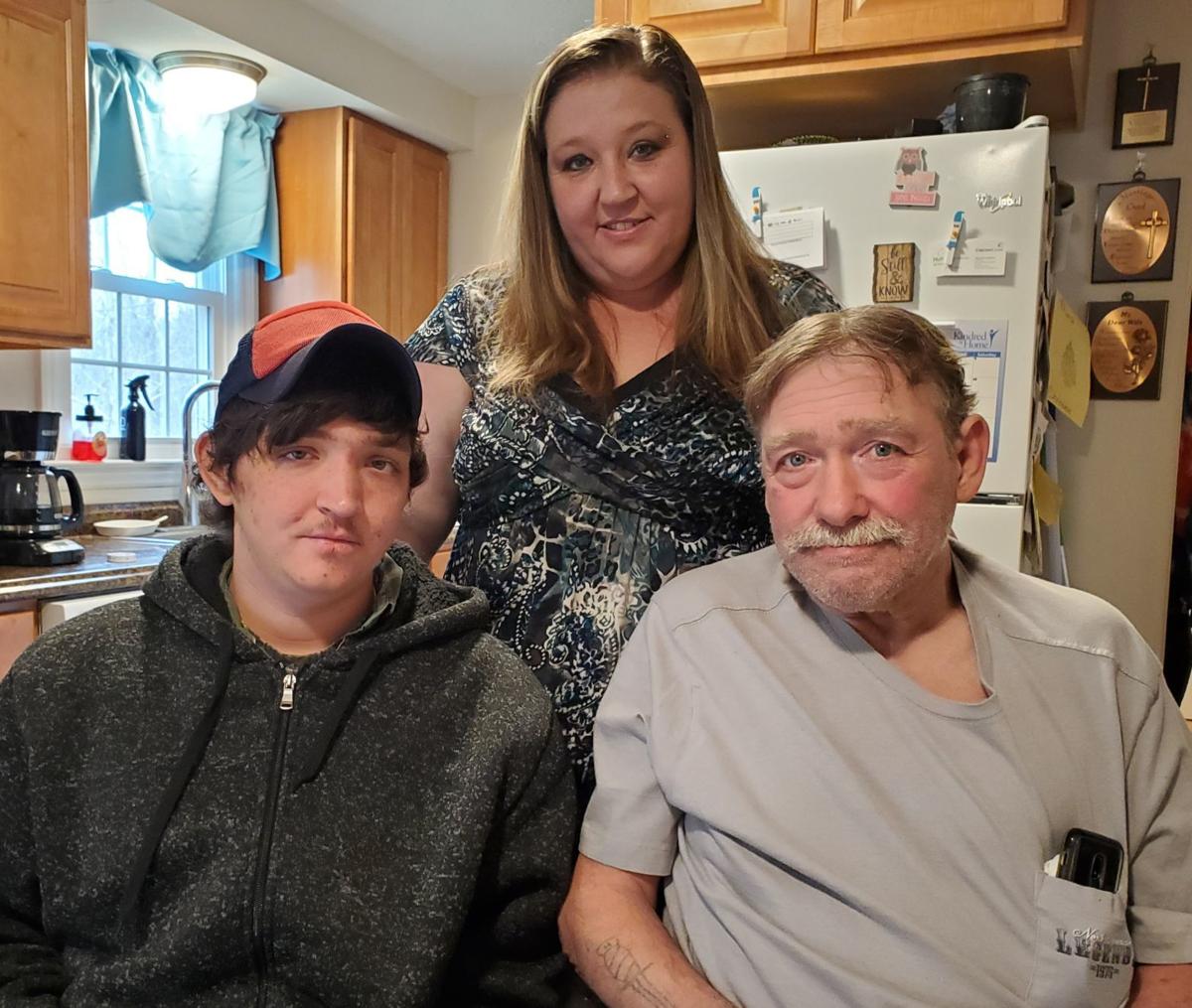 Rocky Mount family is reaching out in hopes of finding a lifesaving kidney for their son.
Jordan Sink, 20, is searching for a second kidney as he continues his yearslong battle with kidney disease.
His journey through kidney failure began when he was only 4. At that time, his mother, Barbara Chaney, took him to the doctor for his pre-K physical and "protein was found in his urine," Chaney said.
Sink was referred to a kidney specialist in Roanoke, who diagnosed him with minimal change disease, a renal disease that causes fluid buildup in the kidneys to release protein into the urine. Sink's condition worsened rapidly, and he was referred to University of Virginia Medical Center where doctors continued to treat him for minimum change disease with medications to help reduce the buildup of fluid.
During the course of his medical journey, Sink began developing other issues. He was diagnosed with dilated cardiomyopathy, hyperlipidemia, anemia, depression, anxiety, attention deficit hyperactivity disorder and high blood pressure. He was ultimately diagnosed with FSGS, or Focal segmental glomerulosclerosis, which according to the National Institute of Health is a common cause of kidney failure in both adults and children worldwide.
"It became clear that his kidneys were killing him," Chaney said.
In April 2004, both of Sink's kidneys were removed, and he was started on dialysis.
Sink's search for a kidney became a priority when he started kindergarten, and his medical problems began affecting his heart.
At age 6, Sink received his first kidney transplant from Shannon Whitlow of Bassett — a non-related living donor who was found to be a 99% match.
"We met her (Whitlow) two weeks before surgery," Chaney said. "She is a remarkable woman who saved, not just my child's life, but the lives of my whole family. We were destroyed with fear and depression. We have seen firsthand that faith is only faith when it is all you have."
When Sink was 8, he was diagnosed with a brain injury called static encephalopathy. He was also diagnosed with bipolar disorder.
Chaney said the origin of Sink's brain injury is unknown, but could have stemmed from lack of oxygen during one of his many treatments.
"It always seems when we finish one battle, another one just happens to come right along," she said.
When Sink was 10, he developed a stomach virus, which lasted for weeks. Tests found that Sink was showing signs of rejecting his donated kidney.
Doctors at UVA performed a biopsy on Sink's kidney and found that he had nephrotoxicity (poison from the immuno-suppressant Prograf) and mild t-cell rejection, as well as an increased amount of protein in his urine. At that time, the use of Prograf was halted, and Sink was prescribed a different immuno-suppressant, Chaney said. But more damage was being caused to the kidney, and Chaney decided to seek a second opinion from the Children's Hospital of the Kings Daughters in Norfolk.
Doctors there informed her that the nephrotoxicity had caused glomerulopathy.
"They told me half of Jordan's kidney filters were gone and the other half were diseased," Chaney explained.
Sink began receiving intravenous immunoglobulin treatments soon after and has remained on the treatments in hopes of slowing the rejection and keeping the kidney for another three to five years.
"It has been seven years since then," Chaney said. "So, we are very grateful to have been able to keep this kidney for as long as he has."
Sink's kidney function has now diminished to 16%, and he is only 6% away from needing dialysis, Chaney said.
"He has anywhere from three to eight months before we will be making dialysis decisions," she said.
The family recently met with Sink's transplant team at UVA, which recommended Sink seek a living donor rather than being placed on the UNOS (United Network of Organ Sharing) cadaver list.
"There is a four- to eight-year wait for those on the cadaver list," Chaney said. "There are over 101,000 people in the United States waiting on a transplanted kidney and over 3,000 of them are in Virginia."
The transplant team believes a living donor is Sink's best option.
"Jordan has O blood type, and he is new to the list," Chaney said. "This would place him at the bottom of the cadaver list. Anyone in need can accept a kidney from a person with O blood type, but a person with O blood type can only accept an O kidney."
In addition, Chaney said, Sink has developed antibodies to certain genetic markers due to having a foreign kidney already, so he cannot accept 26% of the O kidneys that he may be a match for and he cannot accept a kidney from a family member with the same genetic markers.
Chaney said Sink is always worried about the health and well-being of his potential donor.
"It's hard to convince my child that it is OK to allow someone else to try to save his life if they want to," Chaney said. "Knowing you are depending on another person to save your life by affecting theirs, and to be a 20-year-old kid with a brain injury — it's a very hard emotion. There are days when he wants to give up. He says he's done, but I tell him he is not."
Potential donors can request to donate to Sink specifically. If they are found to not be a match for Sink, they can then choose to donate to someone who is.
"Jordan's insurance covers 100% of the donor's medical expenses, testing, surgery and follow-up medications," Chaney said. "In the case that something was to happen to the donor's remaining kidney, they would be placed at the top of the UNOS list. Medicare covers the donor for life for anything kidney-related."
In most cases, the donor's remaining kidney would enlarge to help cover the job of two kidneys, she added.
Future fundraisers are being planned with proceeds to be used to help aid the donor with expenses for travel, food, medications and time off from work.
The link to apply to be tested to donate is at forms.uvahealth.com/donor/kidney.cfm.
For current updates on Jordan Sink's condition and to access the link to become a living donor, search "Jordan's Journey" on Facebook.