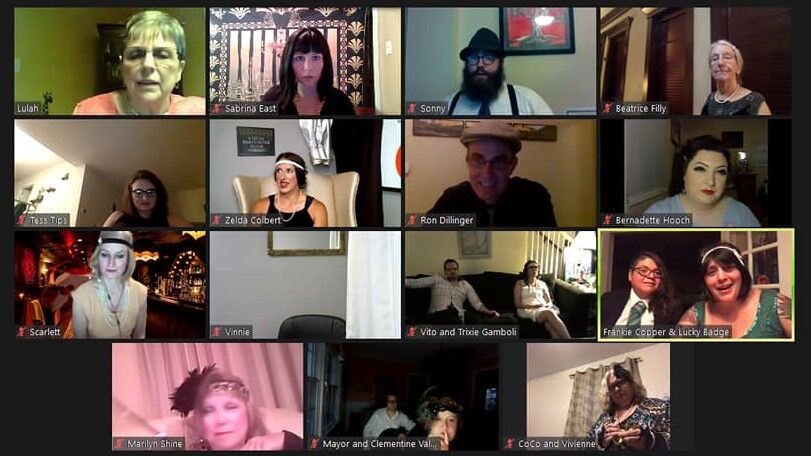 This past February seemed like the perfect time for Sabrina East to start something new. She took a hobby she enjoyed and turned it into a full-time business of entertaining others.
East has combined her love of mystery and entertaining into Jump into Mystery. She plans mystery parties for individuals, clubs and hotels, as well as for corporate team building.
When East started the business, she was completely booked for six months. It was the right time to leave her 20-year career in social work, she thought.
"I had left my full-time career, worked out a 30-day notice and trained my replacement," East said. "And by March 17, I had six month's worth of events canceled because of COVID-19."
The situation left East in disbelief, devastated and briefly depressed.
"Then I basically just sat down and had a chat with myself, and said you have got to make this work," East said. "You have got to find a way to make this work. There has to be a way. What can I do?"
About a year before the pandemic East added team-building events. She would plan a mystery event for businesses, and the coworkers would have to work together to solve the mystery.
The corporate officers started to ask if she traveled, and if she would do similar events for their offices in other cities.
"Thinking back on those moments, I thought if I somehow take this virtual," East said of the epiphany she had. "I could bring in the employees from other offices across the country. That's really where it started."
She reached out to the businesses she had worked with before to let them know about her virtual offerings and that she could include coworkers from any office. Since it worked well, she began doing virtual mystery parties for the public.
"I knew so many people who were sad the live events were canceled," East said. "They were missing that connection. They were missing meeting new people."
Virtual mystery events are similar to in-person events, East said. There is a story that ties everything together, and each participant is given a role in that story. During the virtual events, the roles, prompts and backstory are emailed to participants in advance. On Zoom, participants can use the private chat feature or create groups to meet in breakout rooms.
When the holiday season arrived, East organized virtual visits with Santa. She plans to do them again next year.
"What we've been able to do that's amazing is connect people overseas," East said. "Say the father is overseas — he is able to log on and watch the virtual visit with Santa, as well as grandparents. I had grandparents in the nursing homes. I've even had immuno-compromised children that are in the hospital that wouldn't be able to sit on Santa's lap anyway."
East most recently held a mystery on New Year's Eve called Murder at the Stroke of Midnight! The event allowed people to play characters, solve clues and interrogate suspects all from the comfort of home via Zoom.
"A lot of times people know each other from previous events, and they'll hop on Zoom 15 to 20 minutes early just to chat about life and catch up," East said.
The virtual events have not enabled East to recoup everything she has lost from the postponement of her live events, but it has sustained the business. Virtual events are smaller, and she does not charge as much.
When the in-person events resume, East said she will also keep some virtual offerings. Meeting the challenge of COVID-19 has also had a positive impact.
"I feel like now I can do anything," East said. "When you face that adversity of having to come up with an entirely new business model or rejoin the workforce in the middle of a pandemic, when jobs are already scarce, you realize you are able to adapt. It has definitely increased my confidence as a business person."