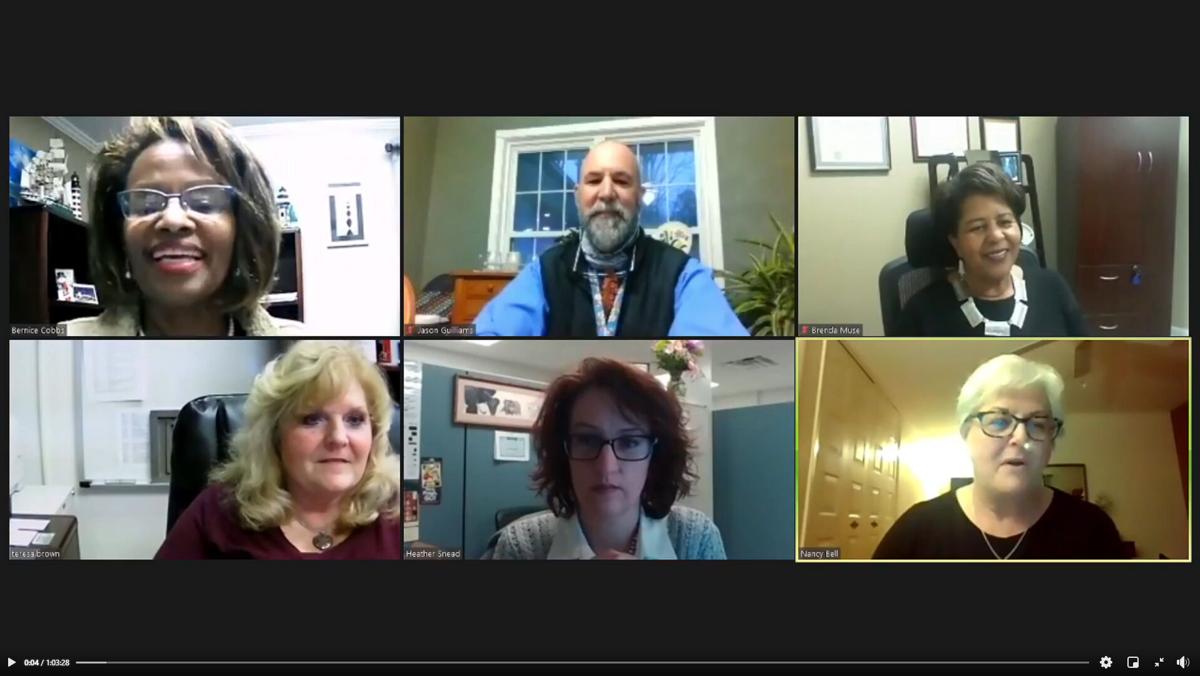 Franklin County Public Schools has implemented revised quarantine procedures for all students and staff based on guidelines from the Centers for Disease Control and Prevention. The revised procedures were emailed to parents last week.
"Beginning January 11, 2021, when there is a reported positive case in a school, contact tracing will identify individuals who were closer than 6 feet for longer than 15 minutes of the positive case," the statement said.
Following CDC guidelines, individuals will have to quarantine for 10 days without testing and may return to school on the 11th day if they have no symptoms.
Individuals with no symptoms after five days may take a COVID-19 test and, if the test is negative, may return to school after eight days with documentation of the negative test.
If individuals experience symptoms during their quarantine period, and they test positive, they must isolate for 10 days (from onset of symptoms) and can return to school after having no fever for 72 hours.
The school system has implemented additional mitigation strategies, according to the letter. Those include wearing cloth face masks, practicing social distancing, regular hand washing, cleaning and disinfecting, using tri-fold screens, creating teacher safe zones, contact tracing, collaborating with the local health department and using seating charts in classrooms (to help with contact tracing).
In a Jan. 7 Facebook live meeting, representatives outlined measures that are currently in place or would be in place as students return for the second semester of the school year that starts Jan. 26.
Jason Guilliams, FCPS director of operations, highlighted some of those strategies. "Most of them have been in place since we began school in September," he said.
However, Guilliams acknowledged that as most students are set to return to the classroom four days a week, maintaining a 6-foot distance might be a challenge. "Six feet is what we would like to attain," he said. "When our students are coming back, we are going to maintain 3 feet social distancing, and 6 feet as much as possible."
Also, when it's feasible, schools will practice cohorting, Guilliams said. "What cohorting refers to is, as possible, not mixing groups," he said. "And this is something that we can do at the elementary level. It's more difficult at the secondary level because of them going to multiple classes in a day."
Teachers will be asked to create seating charts and safe zones, too, Guilliams said. "We're trying to ask folks to stay within their bubbles, so to speak."
Other mitigation strategies that have already been in place will continue, including temperature checks and health screenings for students and staff and regular sanitizing of schools and buses. "The practices that we have in place seem to be working," Guilliams said.
To ensure students are safely distanced, Guilliams said the school system has purchased additional desks and cafeteria seating, as well as tri-fold screens to "create a barrier between students and staff for instructional purposes."
Each school has a separate isolation clinic for anyone with COVID-19-like symptoms, as well as a regular clinic for those who need medications and first aid, said Teresa Brown, the schools' coordinator of nursing.
Nancy Bell, population health manager and public information officer for the Virginia Department of Health's West Piedmont Health District, gave an update about COVID-19 vaccinations and ways families can protect themselves from contracting the virus.
Now that Virginia has moved into its Phase 1b vaccination period vaccinations will be available to frontline workers, including, child care workers and K-12 teachers and staff.
However, Bell predicted that vaccinations for the general population wouldn't happen at least until summer, which means Virginians will have to continue wearing masks and social distancing for the foreseeable future.
"We're going to have to muddle through this for a while," Bell said, adding that getting vaccinated will be the key. "This vaccine is what's going to return us to life as normal."
Also during the Jan. 7 event, Brenda Muse, K-12 director of curriculum and instruction, highlighted the Saturday sessions that are open and available to every Franklin County student (hybrid or virtual) from 9 a.m. to noon at each of the schools.
Muse said the school system hopes to continue offering the Saturday sessions through the end of April, "because we realize there is a learning loss that has occurred from March until current so we're trying to utilize every mechanism in place to try to recapture some of this learning loss. I cannot stress enough the need for families to take advantage of this."
A light breakfast and a take-home lunch will be provided to students who attend the Saturday sessions, Muse added.
On weekdays, breakfast and lunch will be provided at all county elementary schools for children (ages 18 or younger) from 11:30 a.m. until 12:30 p.m., through the end of the school year, according to Heather Snead, coordinator of Food Service & Nutrition.
"This is a very nice benefit to anybody, because, like I said, they're free, and you can pick this up for multiple days at a time," Snead said.
Video of the Jan. 7 meeting is available on the Franklin County Public Schools' Facebook page.
Mental health support will be discussed during the next Facebook live event on Jan. 14 at 5:30 p.m. On Jan. 21, topics, including safety protocols, mitigation strategies, SOL information and Canvas support, will be discussed.