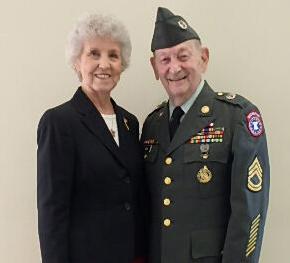 When Bud Roth enlisted in the United States Army at age 18, he said he had no intentions of making a career out of serving in the military, although that's exactly what he did, and for 33 years.
Now 86, Roth began that career in 1953 as a private and retired in 1986 as an E7 Sergeant First Class. His duties were in administration. Over the years he served in Louisiana, Kansas, Germany (three times), Georgia, Missouri, Washington, D.C., North Carolina, Vietnam and Virginia. Other than his time in Germany, he wasn't anywhere longer than a year or two.
Roth enlisted because, he said, "I always wanted to go into the military." He also said he was glad he served. "If I could do it again, I would."
Roth's uniform is adorned with 14 ribbons that include awards for meritorious service and the Bronze Star for valor. While in Vietnam, he was in the First Air Calvary Division.
While stationed in Georgia, Roth met and married Sandi, his wife of 60 years. She was from Martinsville and had been in Georgia working as a professional model. He said meeting Sandi was the best experience he had in the military.
Sandi Roth described her experience as a military wife. "I loved every minute of it," she said. "If we could do it again, we would." However, she added, the downside was "being away from family back home."
Roth's worst experience was the year he spent in Vietnam working with casualties, something he declined to remember or discuss.
Roth was born in Chicago and grew up in Mississippi where he graduated from a military school. He came from a family of two boys and two girls.
The Roths have lived in Rocky Mount since 1987 and have a daughter, a son, three grandchildren and six great-grandchildren.
Roth used his educational benefits from his time in the service to study law to work as a paralegal.
He also owned his own insurance agency before studying to become an evangelical pastor. With a chuckle, he said he went from being in Uncle Sam's army to being in God's army.
Sandi Roth used her singing talents to work alongside her husband while he served as a traveling evangelist. They traveled the East Coast from Maine to Florida. "We loved it," Sandi said. "We were used to being on the move."
The couple also served in prison ministry.
These days Bud Roth works independently in the bail bonding business, which he has been doing for 24 years.
He also is a member of the Veterans of Foreign Wars and a past Gideon.
Roth said serving the Lord is his only interest these days. The couple are members of Franklin Heights Church in Rocky Mount.
Pastor emeritus of the church, J. Larry Holland, spoke fondly of Roth. "I cherish his friendship," he said. "What stands out about Bud is he is always so positive. I've never heard him say a negative word about anyone."
While reflecting on more than three decades in the service, Roth said if a young person wanted to go into the military, he'd absolutely recommend it.
Be the first to know
Get local news delivered to your inbox!