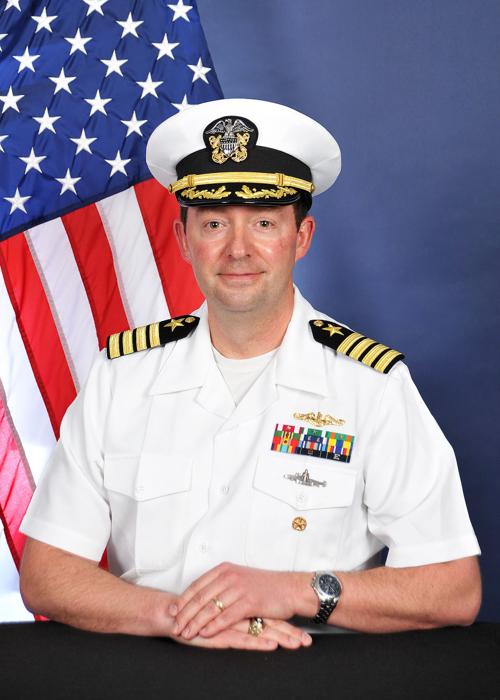 Submitted by David Thorp
Rocky Mount native J. Travis Thorp recently promoted to the rank of Captain (O6) in the U.S. Navy.
Thorp graduated from Franklin County High School in 1993 and then earned a Bachelor of Science degree in Chemistry from the United States Naval Academy in 1997.
Thorp and his family, including his wife Erin and sons, Logan and Riley, are stationed at U.S. Strategic Command in Omaha, Neb., where he leads the United States Strategic Command's Advanced Warfare Capabilities Division. He and Erin maintain their residency in Franklin County so that they can continue to vote locally.
A nuclear-power trained submarine officer, this is Thorp's first joint tour in his 22-year Navy career. Previous tours include service on the USS Louisiana (SSBN 743)(Gold), USS Columbia (SSN 771), and USS Ohio (SSGN 726)(Blue).
Most recently, he was the last commanding officer of USS City of Corpus Christi (SSN 705) and completed the 34-year-old warship's final operations and decommissioning.
Thorp and family have been assigned to duty in various stations across the country from Norfolk to the state of Washington, and even in Hawaii and Guam. He holds a master's degree in engineering from the Catholic University of America and a master's degree in foreign affairs from the U.S. Army War College.
Thorp is the oldest son of David and Betty Thorp of Rocky Mount and the brother of U.S. Coast Guard veteran Taylor Thorp.
His grandfather, Sid Mason also of Rocky Mount, said he hopes Thorp will retire to Franklin County and make a run for state or national office.