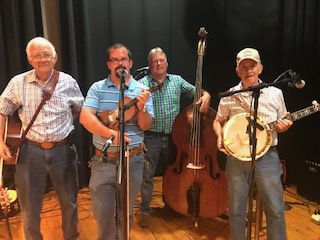 Submitted by Jim Gerhart
Two Young Two Old played its first show 12 years ago at the Spencer-Penn Centre in Martinsville.
The band leader and fiddle player, Charles Bowman, was only 16 years old at the time.
The group has played different venues throughout Virginia and North Carolina, but Bowman said Smith Mountain Lake State Park in Huddleston is one of his favorites.
Two Young Two Old will play at the state park's beach pavilion on Saturday, Aug. 24 at 8 p.m.
They play a variety of styles to accommodate the flat-footers and slow dancers.
They will be accompanied by the Old Dominion Cloggers, who will demonstrate their freestyle flat-footin' and clogging steps.
Guests are encouraged to bring chairs. Soft drinks, food, snacks and ice cream will be available for purchase.
Admission is $7, and parking is free. Children 12 years old and younger will be admitted for free.
For more information, contact the park at 297-6066.