Deaths of American children and teens spiked between 2019 and 2021, the result of increased car wrecks, shootings and drug overdoses, according to a Virginia Commonwealth University survey of federal data published Monday in the Journal of the American Medical Association.
The death rate of youngsters ages 1 to 19 rose 20% in the three-year span, the largest increase in the past 50 years. It reverses a decades-long trend of generally lower death rates thanks to the prevention and treatment of disease.
Dr. Steven Woolf, an author of the report, said he hasn't seen an increase like this in his career.
"This is a red flashing light," Woolf added. "We need to understand the causes and address them immediately to protect our children."
Overall life expectancy has decreased since the pandemic. Life expectancy dropped more than two years since the start of the pandemic to 76.6 and is lower than that of many other wealthy countries. 
Woolf, who analyzed data from the Centers for Disease Control and Prevention between 1999 and 2021, determined the death rate of children and teens rose 11% between 2019 and 2020 and an additional 8% between 2020 and 2021. A majority of the deaths came in adolescents and teens between the ages of 10 and 19.
In 2021, motor vehicle wrecks claimed almost six deaths per 100,000 residents - more than homicides, suicides and accidental overdoses. Car wrecks involving pedestrians have risen nationally and locally since the pandemic. 
Vehicles used to be the largest killer of youngsters by far. But increased safety in cars, better seat belts and bicycle helmets substantially lowered the risk. Now vehicle deaths slightly outpace homicides and suicides. 
But guns claim more young lives than vehicles. There were more homicides and suicides involving a firearm than vehicle deaths. Guns accounted for almost half of the increase in mortality in 2020. 
There were almost 5 homicides per 100,000 in 2021, the highest in at least 20 years. The rate of suicides has risen since 2007. 
In Richmond, four Richmond Public Schools students were shot last weekend in two different incidents, and a 13-year-old boy died. In late 2021, a 9-year-old boy and a 14-year-old boy were the random victims of a shooting in Church Hill. Then-Police Chief Gerald M. Smith said the next day he would start a task force to investigate repeat offenders. 
"Once again, the pattern continues," Smith said at the time. "Our young people are falling victim to random gunshot violence over and over again." 
Smith identified a lack of jobs during the pandemic and conflicts arising on social media as causes of violence in 2021. Gun violence decreased nationally and locally in 2022. 
The study's authors noted that increased access to firearms and a deepening mental health crisis likely led to the rise in suicides. The mental health crisis also contributed to the overdose surge. 
Overdose deaths were generally flat in the late 2000s and 2010s. Then they ramped up again in 2020. Colleges, including Virginia Commonwealth University, have increased the mental health services they offer students. About 1 in 10 VCU students seek mental health care, Jihad Aziz, VCU's director of counseling services said in 2021. 
During the pandemic, students faced added loneliness, depression and anxiety. In Virginia, there aren't enough child and adolescent psychiatrists, according to the Virginia Mental Health Access Program. Access to opioids, especially fentanyl, precipitated overdose deaths. 
The number of fatal overdoses in the city of Richmond increased from 41 in 2018 to 135 in 2021. Henrico and Chesterfield counties saw similar spikes. Experts linked fentanyl to about 75% of fatal overdoses in Virginia last year. 
COVID-19 did not substantially contribute directly to the increase in child and teen deaths. But the ripple effects of COVID may have indirectly contributed, the authors said. 
The combined effect of guns, wrecks and drugs has had a startling impact on young deaths, the researchers said. 
"We've now reached a tipping point where the number of injury-related deaths is so high that it is offsetting many of the gains we've made in treating other disease, said Dr. Elizabeth Wolf, a VCU pediatrician and co-author of the report.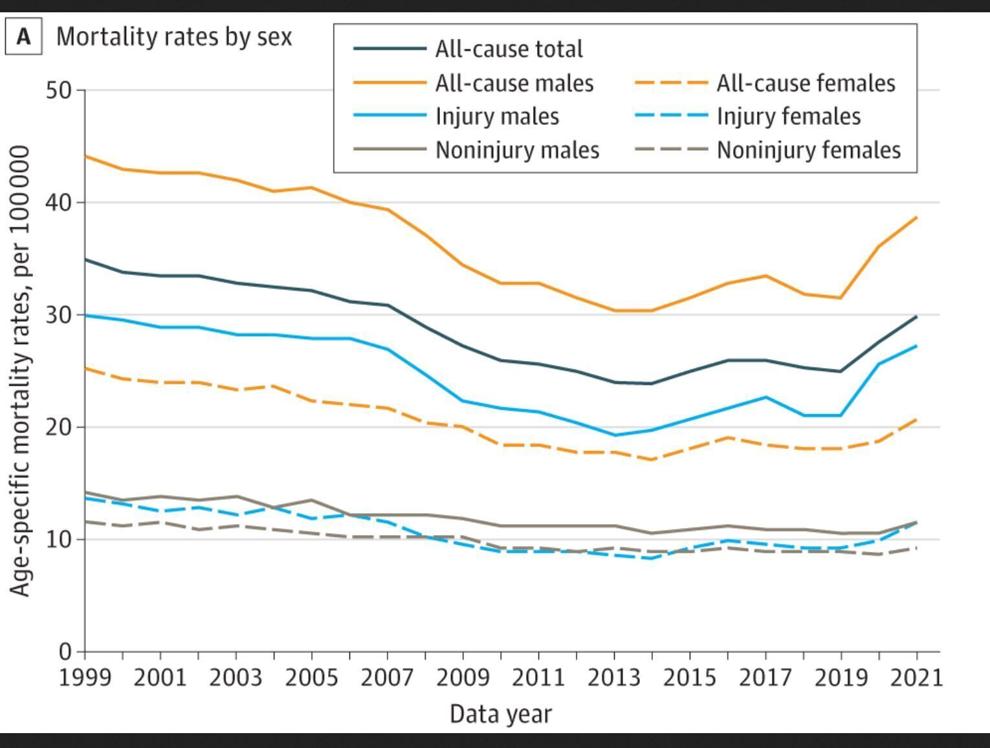 Deaths occurred in boys almost twice as often as girls. Black children faced substantially higher death rates than white children. 
In 2021, the homicide rate of Black adolescents and teens ages 10 to 19 was 20 times higher than white and Asian youths and six times higher than Latino youths. 
Black youths were also more likely to die by suicide and transport-related deaths. Historically, white adolescents and teens have died at high rates from drug overdoses. But increases in the rates from Black and Latino populations have made the death rate among races almost identical.  
These trends could continue if the country doesn't address these issues and some of their root causes, including depression, suicidal ideation, drug use, systemic racism, widening inequities and societal conflict, the authors said. 
"Without bold action to reverse the trend, children's risk of not reaching adulthood may increase," the authors wrote. 
Eric Kolenich (804) 649-6109
@EricKolenich on Twitter