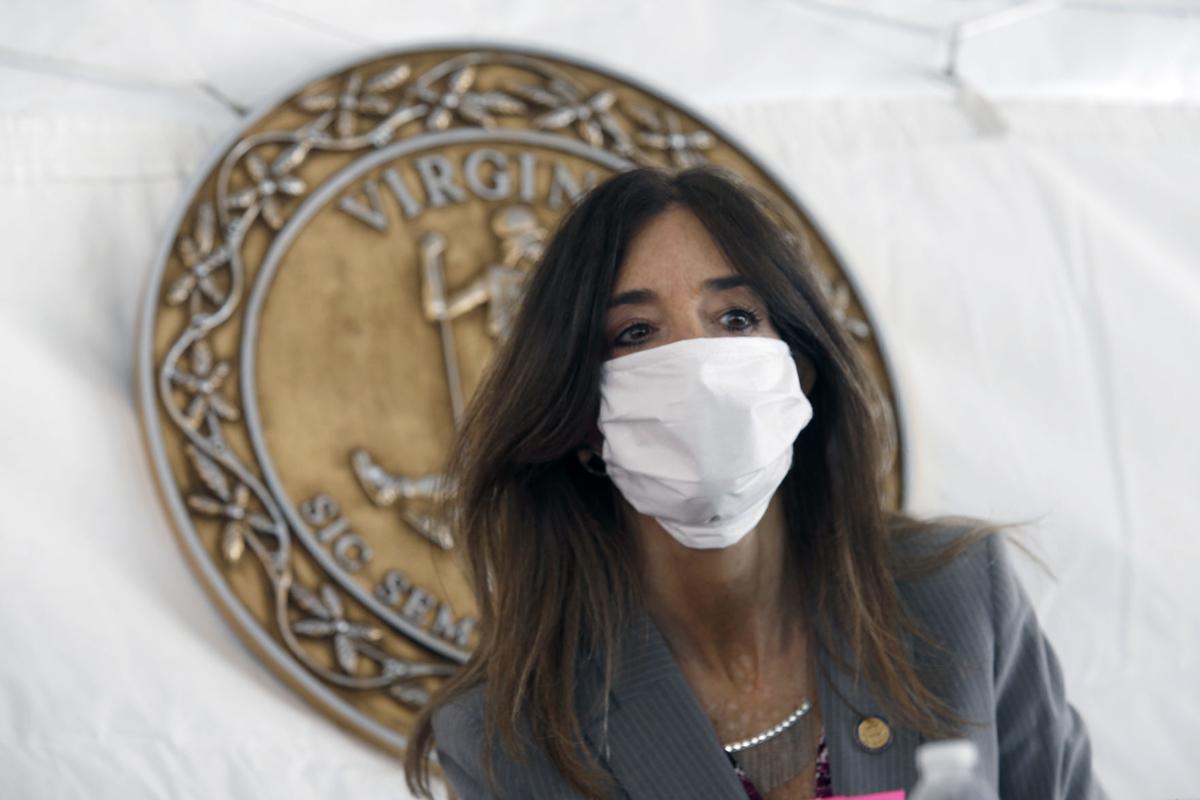 The House of Delegates and Senate will return to the Virginia Capitol on Monday to meet in its historic chambers for the first time in almost 17 months, but they won't leave behind the issue of whether to wear face masks for indoor gatherings to forestall a new surge in the COVID-19 pandemic.
Legislators, who have been told to wear face masks inside the Capitol and the Pocahontas Building if they are not vaccinated against the coronavirus disease, will decide whether to allow people to wear masks publicly as protection against COVID-19, despite a longstanding state law that generally forbids the wearing of masks in public.
"We will be encouraging everyone to wear masks in the Capitol and Pocahontas building," House Clerk Suzette Denslow said Friday after the Richmond-Henrico Health Department recommended that people wear masks when indoors with people who are not in their family.
Plexiglas shields have been installed between desks in the Senate, which lost a member to COVID-19 with the death of Sen. Ben Chafin, R-Russell, on Jan. 1. Senate Clerk Susan Schaar said, "No masks are required, but we are encouraging people to be masked."
Gov. Ralph Northam proposed on Friday to restore an exception to the state mask law for public health. The exception had lapsed with the expiration of his public health emergency order on June 30. He included the provision in a 17-page budget bill for the assembly to consider in the special session to spend $4.3 billion in federal aid Virginia has received under the American Rescue Plan Act.
Northam also proposed to reinstate lapsed protections for tenants from being evicted for not paying their rent by allowing landlords to be paid from more than $700 million in unspent federal emergency funds in Virginia. The program also ended with the governor's emergency order, but the proposed budget would extend it to the end of next June.
"We need every tool in the toolbox to get these dollars out to landlords so people won't be evicted," said Christie Marra, director of housing advocacy at the Virginia Poverty Law Center.
With an estimated 1,000 eviction cases pending in Virginia courts and a federal eviction moratorium expiring on Saturday, Marra said, "The sooner this gets signed, the better we'll all feel."
Passage of the governor's proposed budget appears to be on a fast track in both Democrat-controlled chambers, much to the dismay of Republicans who complain bitterly at being left out of the process by Northam and leaders of the assembly money committees.
The governor and Democratic leaders already had publicly rolled out plans to spend more than $3.1 billion of the federal emergency aid. The bill includes an additional $169 million for the state's public health system and $120 million to help people pay their public utility bills - proposals that had not previously been announced.
Northam has unveiled key components of the Democrats' spending plan over the past two weeks, pledging $700 million to accelerate expansion of broadband telecommunications networks in every community, $485.5 million to bolster behavioral health treatment in state institutions and community programs and $400 million for cleaning up sewage overflows in Richmond and two other cities, upgrading public drinking water systems and reducing pollution into the Chesapeake Bay.
"It's one of the most dysfunctional things I've ever seen," said Del. Barry Knight, R-Virginia Beach, a senior Republican on the House Appropriations Committee who was briefed on the spending plan the previous day. "No one's communicated with us."
Knight, who is unhappy with the amount of money proposed for replenishing the Virginia Unemployment Trust Fund and helping the struggling hospitality industry, said Friday that legislators are seeing the budget document one business day before the session begins and being blocked from offering amendments.
House Appropriations Chairman Luke Torian, D-Prince William, told delegates in a memo last week that they would not be allowed to offer amendments on how to spend the money, as they would in a normal budget process. "It simply would be impossible to thoroughly evaluate those items in what is expected to be a short and expeditious special session," he wrote.
Torian said Friday that delegates may propose amendments on the House floor to be voted up or down. He did not say whether members could offer amendments in committee, but he expects the panel to act on the governor's proposed budget on Monday, the first day of the session.
"That's our hope," he said.
Communication about uses of the federal aid has been informal in the House, but Senate Finance Chair Janet Howell, D-Fairfax, surveyed every member of the Senate about their spending priorities.
"We were able to fund pretty much all of their priorities," Howell said.
Sen. Steve Newman, R-Lynchburg, a senior Republican on the finance and appropriations committee, said he participated in the survey and worked with committee leaders to provide $25 million to Lynchburg to end combined-sewer overflows into the James River.
However, Newman said that was the extent of bipartisan cooperation on how to spend the federal aid, which he said was decided by a handful of House and Senate Democratic leaders and the governor's staff.
"The process is one that I think is deeply flawed and has become partisan when it comes to the budget," he said. "We would have done these things better together than we're doing them with just a couple of members."
Newman said he is concerned that the House could adopt the budget without considering floor amendments, but he said he is confident the Senate will act "more deliberately."
"I don't think there's any chance of the budget moving at lightning speed" through committee, he said.
Democratic leaders are anxious to avoid a repeat of the special session that lasted 84 days last summer and fall, especially with House members facing re-election contests in November. Republicans criticized them for failing to agree on a procedural resolution on the first day of that session to set the rules and boundaries for how it would be conducted.
Passing a procedural resolution will be among the first orders of business on Monday. It is expected to limit the session to the adoption of a budget for spending the federal aid and to elect eight judges to the Virginia Court of Appeals, which always is a contentious issue between the House and Senate. The length of the session remains undefined.
The budget introduced on Friday would appropriate more than $3.1 billion in the current fiscal year, which began July 1 and represents the limit of the current assembly's authority.
However, Northam proposes to authorize almost $354 million to be included in the two-year budget he will propose in December for the next General Assembly to consider in January.  He also has said he intends to propose state funds for raises for state police and direct-care staff at state behavioral health institutions in the second year of the next budget because the federal aid is one-time money.
One of the budget issues remaining to be settled is how much of the federal aid to leave uncommitted as a hedge against a surge in COVID-19 fueled by the delta variant.
Northam has proposed to spend about $3.5 billion and leave $800 million untouched, while Torian and Howell say they would like to leave up to $1 billion off the table.
Sen. Adam Ebbin, D-Alexandria, said he sees the unspent federal aid as an opportunity to get more help for hotels in the next budget than they would be guaranteed under the governor's proposal, which would channel $250 million for hospitality businesses through the existing Rebuild VA grant program.
"I was hoping that we would have invested more money in helping the tourism industry, particularly lodging," Ebbin said. "We do have almost a billion dollars that we're going to leave to spend in January on COVID relief, and I'm hopeful we can get more at that time."