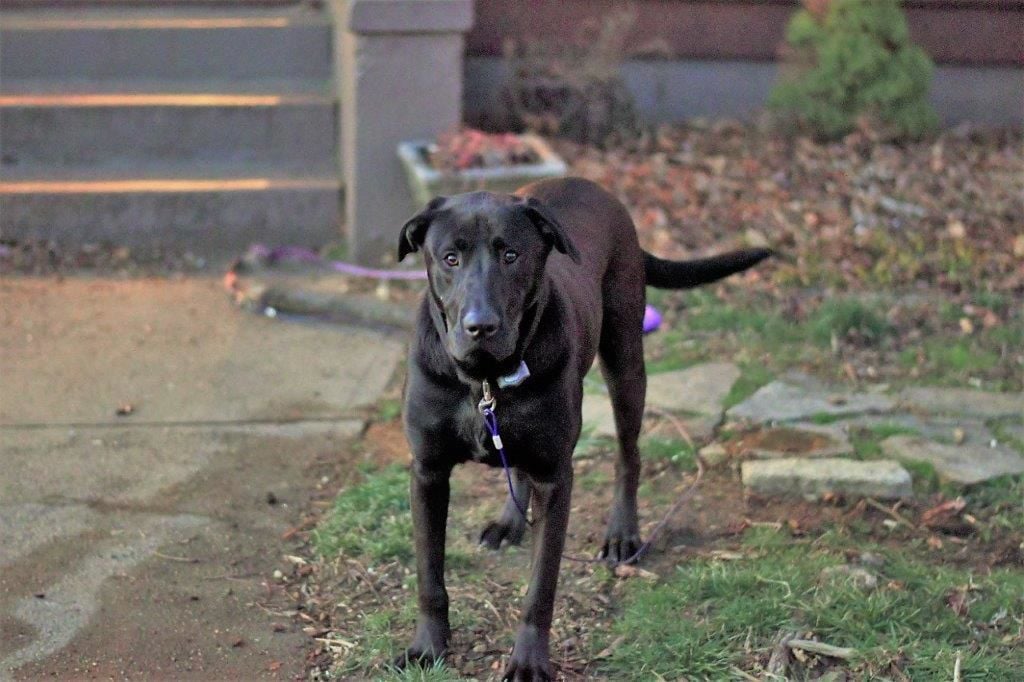 When I arrived home this past Friday evening, I was a bit surprised to find a small horse on my front porch waiting for me. Upon closer inspection, it wasn't a horse at all, just an oversized black Lab who seemed quite happy to see me.
Now let me make it clear: I am a certified, lifelong, die-hard dog lover. You can ask any of the three well-loved canines that currently reside in my home and sleep on the beds of their choice. If I had a home in the country with lots of space, I would consider more than three dogs; however, that is not the case. With five adults, two teenagers, three dogs and a cat sharing a house in town, I consider us a "no vacancy" residence.
My wife quickly calmed my nervous concerns and explained that the dog was wandering lost, and we were simply keeping him safe until the owner could be found. It was getting dark by that time, and the forecast was calling for a deep freeze overnight, so we moved the dog into an indoor space and began a fervent search for the owners.
Now say what you want about Facebook, because God knows I have had my own negative opinions about it. But in spite of its faults, I can say without hesitation that it has always proved to be a dog-friendly community.
We posted a picture of the dog with a brief description, and it spread like wildfire. I even received a posting from a sweet lady in Nebraska. I was tempted to remind her that Labradors are not quite that fast, but I just politely thanked her instead.
Special kudos to Carla Moore and Dotti Murphy who administer the "Lost and Found Pets of Franklin Co." Facebook page. With their help, I quickly had an army of friends helping to get our sweet visitor back home. Our visitor did spend the night with us, but by early the next morning he was reunited with his family.
There is good news and bad news from this simple story. The good news is obvious. We have a lot of caring dog lovers in our community. The bad news is there continues to be more than enough reason to have concern for the proper care of dogs in Franklin County.
First of all, we continue to have way too many dogs roaming the streets alone. Whether they are lost or just allowed to roam doesn't matter. Both are a problem. I understand that from time to time any dog can get loose and run off. My neighbors have witnessed me chasing after my Bubba on more than one occasion. But this is the exception and shouldn't be the rule.
Secondly, as I move around town and see the conditions that many dogs are kept in, I have even greater concerns. Especially now in the winter months, many dogs are residing in less than adequate environments for their well-being.
I use the word "adequate" purposefully. This is the same term that the state of Virginia uses in its codes related to the ownership and care of pets. The code states that pet owners are responsible to provide adequate shelter, adequate food, adequate space and even adequate exercise for their pets. Failure to do so is a class 4 misdemeanor.
Now if you are like me, you would quickly question the ambiguity of a word like adequate and be concerned that it is way too subjective. Without question there would be disagreement over what constitutes adequate shelter. I can't help but reminisce over the dog houses my dad built for our pets when I was a kid. They were nothing short of castles. We could get four kids and the dog comfortably inside one of them.
Fortunately for us, the state of Virginia does not leave us hanging to define these terms. They do that for us. With closer reading you can find in Title 3.2-6500 in-depth clarification to the definitions of the word adequate. And I am pleased to say that they are favorable to the animals.
The following is an example in the state code defining adequate shelter:
"Provision of and access to shelter that is suitable for the species, age, condition, size, and type of each animal; provides adequate space for each animal; is safe and protects each animal from injury, rain, sleet, snow, hail, direct sunlight, the adverse effects of heat or cold, physical suffering, and impairment of health; is properly lighted; is properly cleaned; enables each animal to be clean and dry, except when detrimental to the species; during hot weather, is properly shaded and does not readily conduct heat; during cold weather, has a windbreak at its entrance and provides a quantity of bedding material consisting of straw, cedar shavings, or the equivalent that is sufficient to protect the animal from cold and promote the retention of body heat."
I personally believe that every pet owner should read and understand these codes prior to owning a pet. It is far too easy for someone to simply say "I want a dog." The real question is, "Are you willing to love and properly care for a dog?"
It is not my intention to instigate quarrels among neighbors. I do believe, however, that we all need to be educated on the law when it relates to these animals. They truly depend on us for their safety and health.