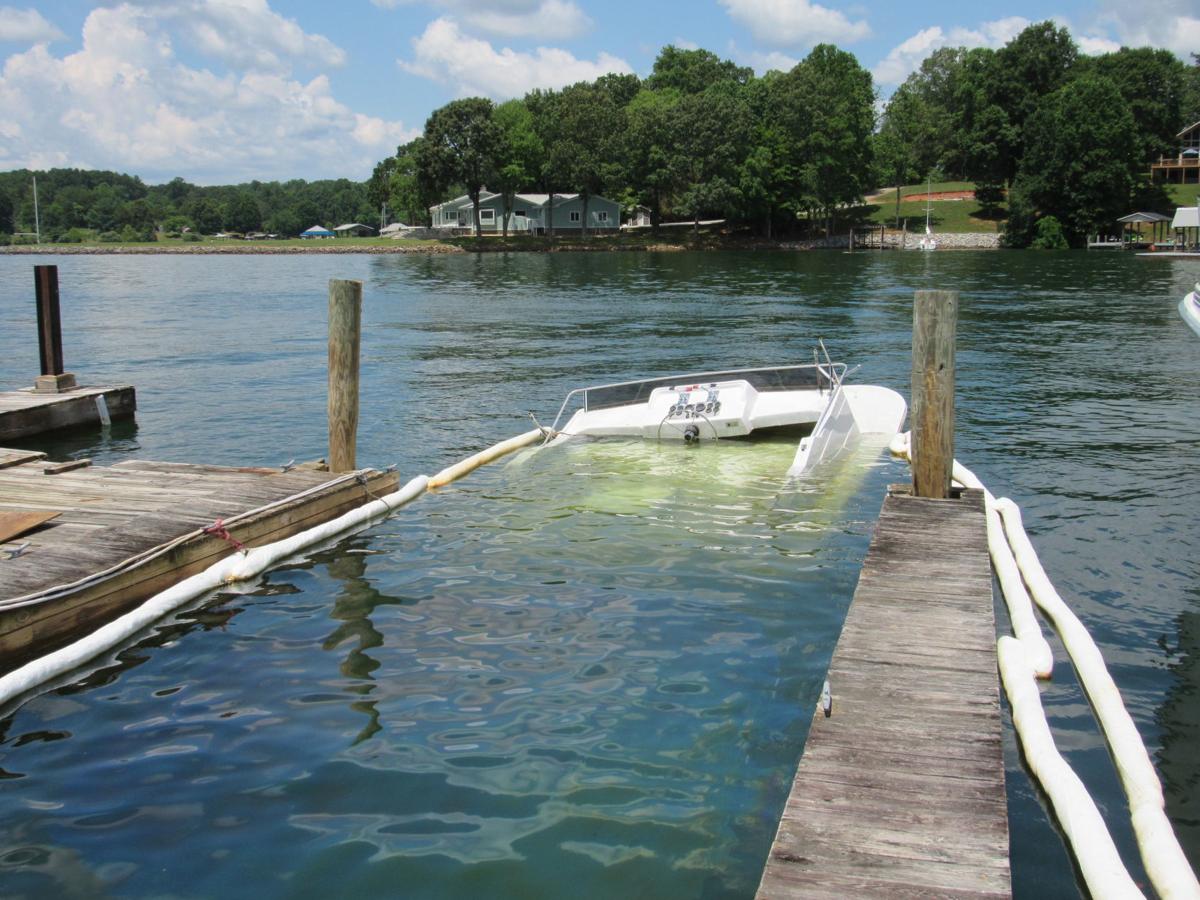 On the high seas, they attract divers who want to explore history or observe marine life who have made a sunken ship their home. But in Smith Mountain Lake the dozen or more boats that have sunk have created a public safety hazard for boaters.
Neil Harrington, SML Water Safety Council member and member of the SML Marine Volunteer Fire Department, said at least six of the dozen or so boats counted so far are navigational hazards for other boats traveling on the lake, including the one at Virginia Dare Marina.
A 40-foot Gibson houseboat began sinking at Virginia Dare Marina on June 18. It was partially submerged for several weeks before fully submerging earlier this month. It is now slowly moving into the cove where it could become an obstacle to other boaters.
The Department of Wildlife Resources says there isn't much they can do, and the marina owner said he is unsure what to do at this point.
The Department of Environmental Quality also responds to sunken boats at the lake. The organization spent more than $10,000 working to contain the gas and oil spilled from the sunken boat at Virginia Dare Marina by placing a boom and oil absorbent pads in the water.
Gas and oil that would otherwise pollute the lake and threaten its wildlife.
Alan Linkenhoker with DEQ's Blue Ridge Regional office, said DEQ is seeking legal means to try and recover the cost from the boat's owner. He said in extreme cases when excessive amounts of gas and oil are leaking there is a fund that can be used to cover the cost of raising the boat, but if leakage is minimal or low enough that it's not be deemed a substantial threat then they don't raise the boat.
It seems there would be some legal avenue to require boat owners to remove their waste from the lake even if it is in the form of a sunken boat. Even if leakage is minimal, how many boats would it take to add up to a substantial amount of pollution? Over what time period does it take for chemicals to leak from a vessel? Does insurance not cover the cost of raising a boat that is sinking?
DWR Sgt. Tim Dooley said he suggests counties create ordinances forcing the owners of sunken boats to remove them, but then whose responsibility would it be to enforce that? Smith Mountain Lake is bordered by Bedford, Franklin and Pittsylvania counties. If a boat sinks at Virginia Dare marina but manages to float its way to another area whose responsibility does it become?
Catch the latest in Opinion
Get opinion pieces, letters and editorials sent directly to your inbox weekly!