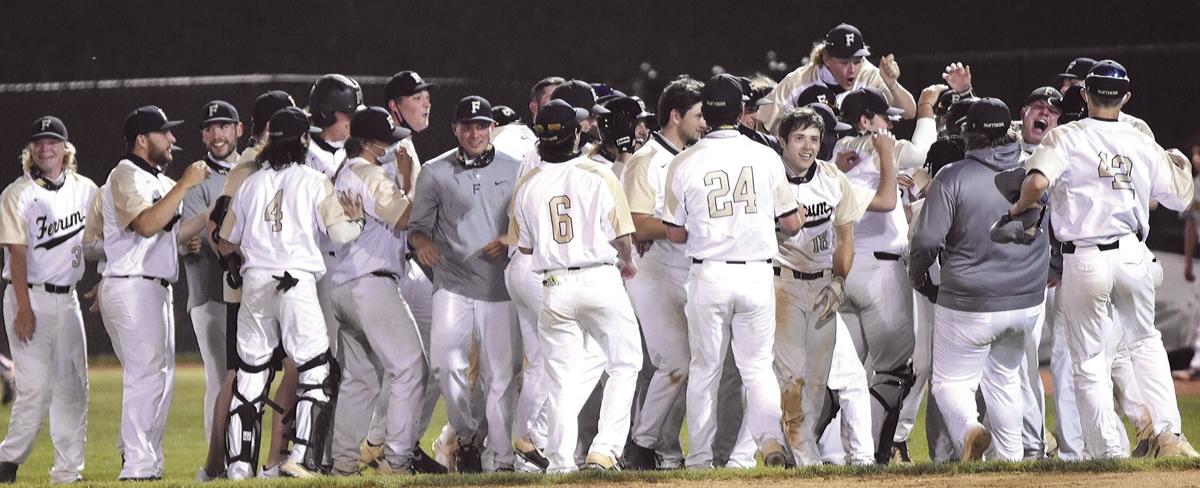 BROWNS SUMMIT, N.C. — Ferrum College's men's golf team completed its season Monday by placing ninth out of 11 teams in the 2021 Old Dominion Athletic Conference (ODAC) tournament.
The 54-hole championship event was staged on Bryan Park's Champions Course, which plays 6,895 yards and is par 72.
Guilford (N.C.) College edged Hampden-Sydney College by two strokes, 884-886, for the championship and Washington and Lee University (897) came in third, 13 shots in arrears.
Rounding out the top five were University of Lynchburg (926) and Bridgewater College (929).
Finishing sixth was Randolph-Macon College (953), followed by Shenandoah University (959), Roanoke College (967), Ferrum (999), Virginia Wesleyan University (1,003) and Emory & Henry College (1,023).
Brett Pennington led the Panthers by placing in a tie for 29th with a 54-hole total 240 (24-over-par).
Hunter Shelton (26-over-par 242), a senior playing in his final tournament for the Panthers, finished in a deadlock for 32nd.
John Hatcher Ferguson (Franklin County), a Hampden-Sydney junior, was tied for fifth along with Tigers teammate Meade Slonaker and Bridgewater's Ronnie Uszenski, all at 8-over-par 224.
Ferguson has been slowed this season by knee injury.
Guilford's play on the tournament's second day enabled the Quakers to overtake the Tigers, the day-one leader.
Hunter Martin of Hampden-Sydney edged Guilford's James Mishoe by one shot, 211-212, to claim the league's individual championship.
Martin, at 5-under-par, and Mishoe, a 4-under-par, were the only golfers to better par (216).
Washington and Lee golfers Pierce Robinson (222) and Caleb Chose (223) came in third and fourth at 6-over-par and 7-over-par.
Seven of the eight players on Ferrum's team, coached by Erick Cox, a former Ferrum player and alumnus, are eligible to return next season, according to information released by the college.
Guilford's head coach is Adam Crawford, a former Ferrum player, alumnus and former Panthers head coach.
Generals win ODAC crown, Panthers place seventhBROWNS SUMMIT, N.C. — Ferrum College's women's golf team finished sixth out of seven teams in the Old Dominion Athletic Conference (ODAC) tournament, the final event of the Panthers' 2021 spring season.
The 36-hole event was contested on Bryan Park's Champions Course, which plays 5,813 yards from its women's tees and is par 72.
Washington and Lee University won the team title by 13 strokes over the University of Lynchburg, 641-654.
Bridgewater College (682) came in third, followed by Shenandoah University (744), Randolph-Macon College (777), Ferrum (795) and Sweet Briar College (823).
Jiwanan Masoot (174) led the Panthers with a 12th-place finish and Hunter Tharpe (187) was 22nd.
Megan Kanaby of Washington and Lee won the individual championship with a 5-over-par 149 total.
Lynchburg golfers Emily Erickson (157) finished second and teammate Emily Brubaker (160) and Washington and Lee's Grace Owens (160) tied for third.
Washington and Lee's Savannah Johnson (165) came in fifth.
Three of Ferrum's four players are eligible to return next year according to information released by the college.
Arin Bunker is the Panthers' lone senior.
Erick Cox, a former Ferrum player and alumnus, is the Panthers head coach.
Montague joins Ferrum baseball staffFERRUM — Tag Montague has been hired as an assistant baseball coach at Ferrum College to fill a vacancy on the staff of Ryan Brittle, the Panthers' skipper since 2014.
The staff includes assistant coach Chip Shaffner, who is in his first season with the Panthers and volunteer assistant Mike Dixon.
"It's with great pleasure that we welcome Tag into our program,'' Brittle said in a prepared statement.
"To be able to have someone with his experience and expertise (is) a great asset to Ferrum College and (our) baseball family. I have known him for (more than) 20 years and I know he will be a great mentor to the young men in our program.''
Montague has coached at George Mason University (2013-2019), University of Richmond (2011-2013), Old Dominion University (2009-2011), Marist College (2005-2007), George Washington University (2002-2004) and Virginia Wesleyan University (2001-2002).
Montague has served as a head coach at the high-school level in Richmond at Douglas Freeman (2008-2009) and as a personal instructor for East Coast Baseball Academy in Charleston (S.C.) County from August to November 2020.
Montague is a 1998 graduate of Virginia Commonwealth University, earning as bachelor's in physical education.
Montague played one season of baseball for the Rams following a transfer from Pfeiffer (N.C.) University where he played three years for the Falcons.
Coyle accepts full-time coaching postFERRUM — Carly Coyle has been promoted to a full-time assistant coaching role in women's lacrosse at Ferrum College, the school confirmed in a prepared statement.
Coyle will work alongside head coach Karen Harvey, who is in her 15th year in charge of the program.
Coyle was added to the staff in a part-time capacity at the start of the 2021 season.
The Panthers finished 9-4 (4-3 in the Old Dominion Athletic Conference) and earned their first postseason berth in the league.
Ferrum, seeded sixth in a seven-team tournament, lost to No. 7 seed Randolph-Macon College in a first-round match that the Panthers hosted Monday, 14-4.
"I'm really excited to offer Carly the (assistant's) position on a full-time basis.'' Harvey said in the statement. "She stepped in this year after we had already started practicing and has done a phenomenal job.
"She has a great work ethic and I'm excited to continue working with her.''
Coyle is a recent graduate of the University of Virginia's College at Wise where she earned her bachelor's in administration of justice with a minor in sociology.
A former prep player at Cosby in Midlothian, Coyle earned second-team Class 6 Confernce 3 accolades in 2015 and 2016.
The Titans won the Conference 3 championship in 2016.
Franklin County was a rival of Cosby's in Conference 3, which has since disbanded.
Coyle competed for UVa.-Wise and during her playing career, the Highland Cavaliers won back-to-back Mountain East Conference championships in 2018 and 2019 and were undefeated in 2018.
Coyle starts in her new role June 1.
Panthers end season with shut-out lossWINCHESTER — Shenandoah University squared its Old Dominion Athletic Conference (ODAC) volleyball record Sunday with a 3-0 league victory over Ferrum College at the James R. Wilkins Jr. Athletics & Events Center.
Set scores were 25-12, 25-16, 25-19.
Ferrum (0-8, 0-8 ODAC) ends its abbreviated 2021 spring season with the setback.
The Panthers lost six matches by 3-0 shut-out scores this season; they managed to win two sets—one each in their two other setbacks.
Ferrum, which has lost 20 straight ODAC matches, has not won a league contest since besting Hollins University, 3-1, on the road during the 2018 season.
The Hornets (6-5, 5-5 ODAC) netted the first 14 points of the opening set and led 15-1 at one point.
Mikayla Thorpe's kill off an Arielle Tritt assisted produced the Panthers' first point of the match.
The Panthers answered the second, 14-point deficit, by outscoring the Hornets 11-10 over the remainder of the set.
Shenandoah led 5-3 in the early stages of the second set before manufacturing an 11-1 scoring surge. A Jillian Warter kill marked the final point in that run.
Ferrum's best chance for a victory came in the third set when the Panthers built a 13-9 advantage.
The 13th point was the product of a M'Kayla McBride kill off a Tritt set.
The Hornets; however, erased the deficit with a 13-5 run that propelled them to a 22-18 advantage. They completed the sweep by tallying three of the match's last four points.
Aaliyah Chunn's kill closed out the set and the match.
Shenandoah finished the match with advantages in hitting percentage (.276-.023), blocks (5.0- 3.0), digs (46-44) and aces (10-4).
Two players combined foe six of those aces, each with three.
Warter led the Hornets with 15 kills and nine digs. Kate Poppo netted nine kills and eight digs and Mehan Hillyard passed out 16 assists and collected eight digs.
Also, Peyton Clary's three blocks were a team-best total.
McBride finished the match with six kills and two blocks, while Tritt distributed eight assists, Ashley Roberts totaled 13 digs and six assists, Thorpe registered nine digs and two kills and Chemaiya Jordan served three aces.
Ferrum has seven players who are eligible to return this fall for what is expected to be a traditional season of competition.
NOTES: No. 1 seed Washington and Lee University, No. 2 seed Virginia Wesleyan University, No. 5 seed Bridgewater College and No. 6 seed Randolph-Macon College have advanced to them semifinals of the ODAC's postseason tournament.
Semifinal-round matches and the tournament's championship contest are scheduled for Saturday at Washington and Lee.
The four semifinalists have combined to win 28 of the conference's 38 volleyball championships dating to 1982, the first year a title was contested.
Virginia Wesleyan is the ODAC's reigning champion. The Marlins won the 2019 title.