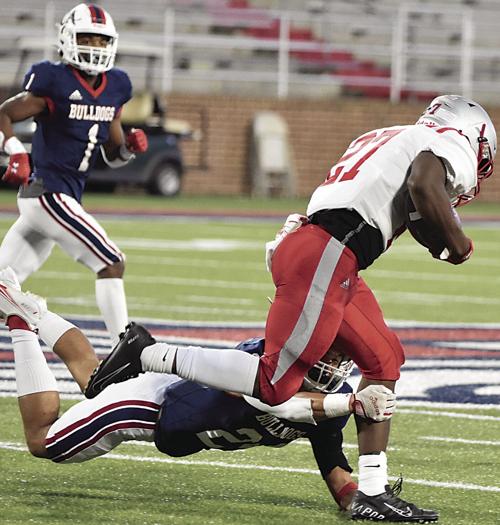 LYNCHBURG—Mathematically, one is a prime number.
At Liberty Christian Academy (LCA), it's the number that identifies the Bulldogs' prime offensive performer – running back/returnman Jaylin Belford.
Belford scored four touchdowns: two rushing, one receiving and one on a kickoff return Friday night as LCA (3-0) more than doubled the count on Franklin County (0-2) winning 56-26 in a non-district football match-up at Liberty University's Williams Stadium.
FCHS was playing for the first time since falling to Bassett in its season opener on Aug. 27 at home.
A second week contest against reigning Class 4 state champion Salem was postponed because of COVID-19 issues within the Eagles' program; the game has since been rescheduled.
Eagles head coach J.R. Edwards said moving forward, the Eagles need to consistently play games. Starts and stops to their season will not suffice.
"LCA is a very good football team. I felt like our fight was in the right place, but we have to get better…I think we are going to get better,'' Edwards said.
"The starts and stops are tough, but every team has to deal with COVID, every team has to deal with injuries. …There are a lot of things that these kids are battling right now, but we are going to be all right,'' Edwards said.
FCHS suffered its fifth straight loss dating to the 2020 season, one that saw the Eagles finish 4-3 after a 4-0 start with that final setback coming in the Class 6 Region A playoffs. The campaign was contested last spring.
Salem put an end LCA's tenure in Class 4 with its win over the Bulldogs in the state semifinals. Now in Class 3, the Bulldogs' primary area rivals are Lord Botetourt, cross-town Seminole District foe Heritage, which they will play later this season, and previously conquered opponents Magna Vista and Bassett from the Piedmont District.
Belford produced 272 yards of offense on 29 touches; he rushed for a game-best 234 on 27 carries and caught two passes for 38 yards.
Belford's TD scores covered 10 yards (rushing), 60 yards (rushing), 25 yards (receiving) and 86 yards (kickoff return) as the Bulldogs led from wire-to-wire in their third win over the Eagles in three tries dating to the first contest between the two teams in 2015.
"When the ball is in his hands, something great happens,'' LCA head coach Frank Rocco said of Belford.
Scoring-wise, this brief series, which continues next year with its fourth match-up, has been one-side with Liberty holding a 149-46 edge in points.
Friday, the Bulldogs scored multiple touchdowns in the second, third and fourth frames; they were driving to reach the 60-point plateau for the second time this season in the final stanza.
FCHS trailed 14-6 in the second quarter and 21-12 in the third frame.
LCA responded to a 23-yard TD connection between Eagles' quarterback Eli Foutz and receiver Jamerise Holland with Belford's kickoff return score and a 35-yard scoring hook-up between signal caller Davis Lane and receiver Jaden Skates as the Bulldogs pushed the spread to 35-12.
The Eagles pulled to within 15 points (35-20) and 16 points (42-26) in the fourth quarter after Jahylen Lee's 47-yard scoring sprint and a 44-yard toss and catch TD between Foutz and Holland.
From there, the Bulldogs secured the triumph with a 14-point scoring surge after Lane and reserve Justis Belford found the end zone of rushes of 15 and 45 yards.
Lane, who was 8 of 9 passing for 102 yards, also rushed for a one-yard score in the second quarter and Foutz, who was 6 of 17 passing for 144 yards, ran for a two-yard score in the same frame.
Holland caught four passes for a game-best 122 receiving yards in his first game of the season.
Lee finished with 83 yards on 16 totes.
"He is outstanding,'' Rocco said. "Bassett has a nice running back that we've faced and I compare (Lee ) to him. Franklin County has some nice pieces. I don't know how their schedule playas out from here, but they should be fine. The quarterback (Foutz) is a nice player.''
LCA accumulated 461 offensive yards on 54 plays—354 rushing, 107 passing—and 18 first downs.
The Bulldogs did not commit a turnover and benefited from two Eagles' miscues—both fumbles.
FCHS produced 285 yards of offense on 48 plays and those yards were almost evenly distributed: 141 rushing, 144 passing.
The Eagles were penalty free.
Ian England and Trey Dillon also caught passes from Foutz.
Elijah Witcher led FCHS's defense with eight tackles, all solo stops, and two of those tackles were for loss.
FCHS travels to Ridgeway to face Magna Vista Friday at 7 p.m.