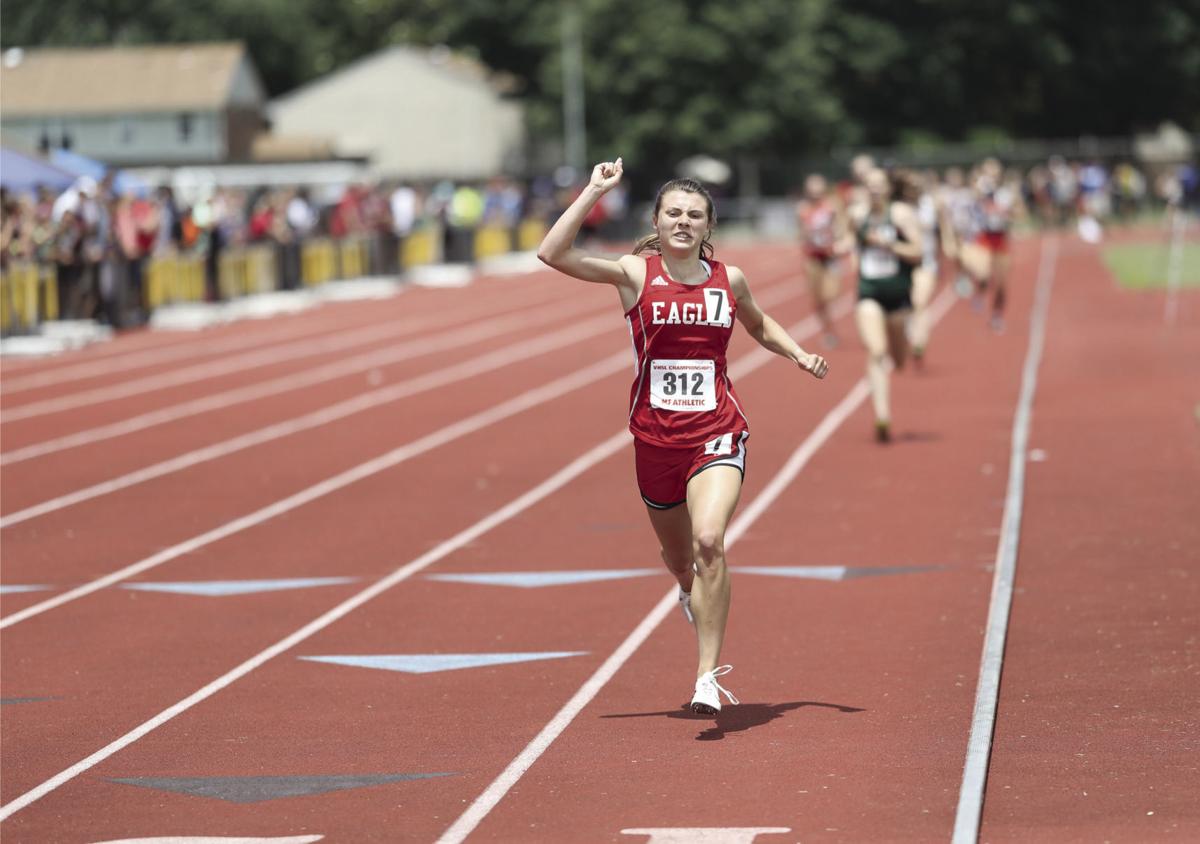 NEWPORT NEWS — Franklin County's Kylie Cooper capped her high school freshman year the best way a student-athlete could Saturday.
Cooper passed Woodbridge's Laura Webb with 200 meters to go and built an insurmountable lead from that point to claim top accolades in the girls 1,600-meter (mile) run at the Class 6 state outdoor track and field championships at Todd Stadium.
Cooper crossed the finish line in 4:58.15 — a personal-best time. Webb, who won the stste championship in the girls 3,200-meter (two mile) run, was next at 5:01.59, followed by a runner from James Robinson of Fairfax (5:03.02) in third.
Cooper was seeded seventh in the finals.
"I didn't really think I was going to win,'' Cooper told the Roanoke Times. "I was seeded seventh. Top five I was thinking, never first.''
With the win, Cooper, who earned Class 6 All-State laurels based on her performance, becomes the 11th FCHS competitor to win a state championship and its youngest by age and academic classification.
And by winning, Cooper has put a possible event four-peat in play.
FCHS's track program has produced two state champions this year and four overall.
Cooper, the Eagles' first outdoor state champion since the mid 1990s, joins a list of FCHS state track champions that includes Travis Walter, Leticia Claytor and teammate Trent Whittaker, who became the school's first state indoor track champion earlier this year.
Also, FCHS's athletics program has produced five state champions in wrestling – Clifton Koger, Joe Callaway, J.J. Price, Bryan Jones and Taylor Horner – and two in golf – Matt Chandler and John Hatcher Ferguson.
Callaway and Price won their state titles in the same year (1989).
The championships won by Ferguson, Whittaker and Cooper are the only ones in Class 6; the others were achieved when FCHS competed in Group AAA; the Virginia High School League's (VHSL) top classification from the 1970-71 to the 2012-2013 academic years.
Prior to Saturday, Ferguson, a rising sophomore at Hampden-Sydney College, was the youngest of the group. He won his state championship as a junior in 2016, while FCHS's other state champions were seniors when they won their titles.
FCHS does not have a team state championship to its credit, but it does have four runner-up finishes, all in Group AAA: baseball in 1977, dual team wrestling in 1995 and 1996 and golf in 1999.
Group AAA was the only classification to crown a state champion in dual-team wrestling.
As a team, FCHS finished 15th with 15.5 points.
Cooper also competed in the 800-meter run Saturday and finished 12th in 2:21.08.
Cooper began her high school athletic career in the fall of 2018 by placing in the top 15 in the Class 6 state girls cross country meet as part of an Eagles squad that was competing for team accolades for the second time in program history. During the winter sports campaign of 2019. Cooper bypassed indoor track and field and competed on FCHS's girls junior varsity basketball team.
Youth was served for the Eagles' girls team at the state championships as first-year thrower Alexis Carter, a sophomore, finished sixth in the discus with a toss of 129 feet, 4 inches. That's a school-record and a personal-best throw for Carter.
With the showing, Carter earns All-State honors.
Carter also placed ninth in the shot put with a personal-best throw of 36 feet, 10 inches.
Freshman Addie Shorter competed in the 1,600-meter run and finished 15th in a personal-best 5:20.09.
There were top showings by FCHS seniors too.
Gracie Arrington completed her high-school track and field career and earned All-State laurels by finishing fifth in the girls' pole vault. She placed second in the event during the indoor season.
Whittaker saw his bid to add an outdoor state title to his resume end with a second-place finish in the 800-meter run; however, he was later disqualified for impeding another run, which FCHS head coach Chris Renick defined as "the incidental contact that can occur during running events.
"(Trent) got clipped, stumbled and reached his hand out to catch himself and in doing so, he pushed another runner out of the lane,'' Renick said.
Malik Carter, a senior, came in 15th in the 100-meter dash and 12th in the 200-meter dash.
Whittaker, Cooper and Carter are slated to compete in the New Balance Nationals, June 13-16 at North Carolina A&T State University in Greensboro.
"I want to thank all the 16 seniors for their dedication they have put into this program and the leadership they brought to the younger group coming up,'' Renick said. "Best of luck to them in the future.
"I also want to thank coaches Ricky Young and Chris Williams on an outstanding season. The future looks bring going forward with the program and I cannot wait to see what next year holds,'' Renick said.