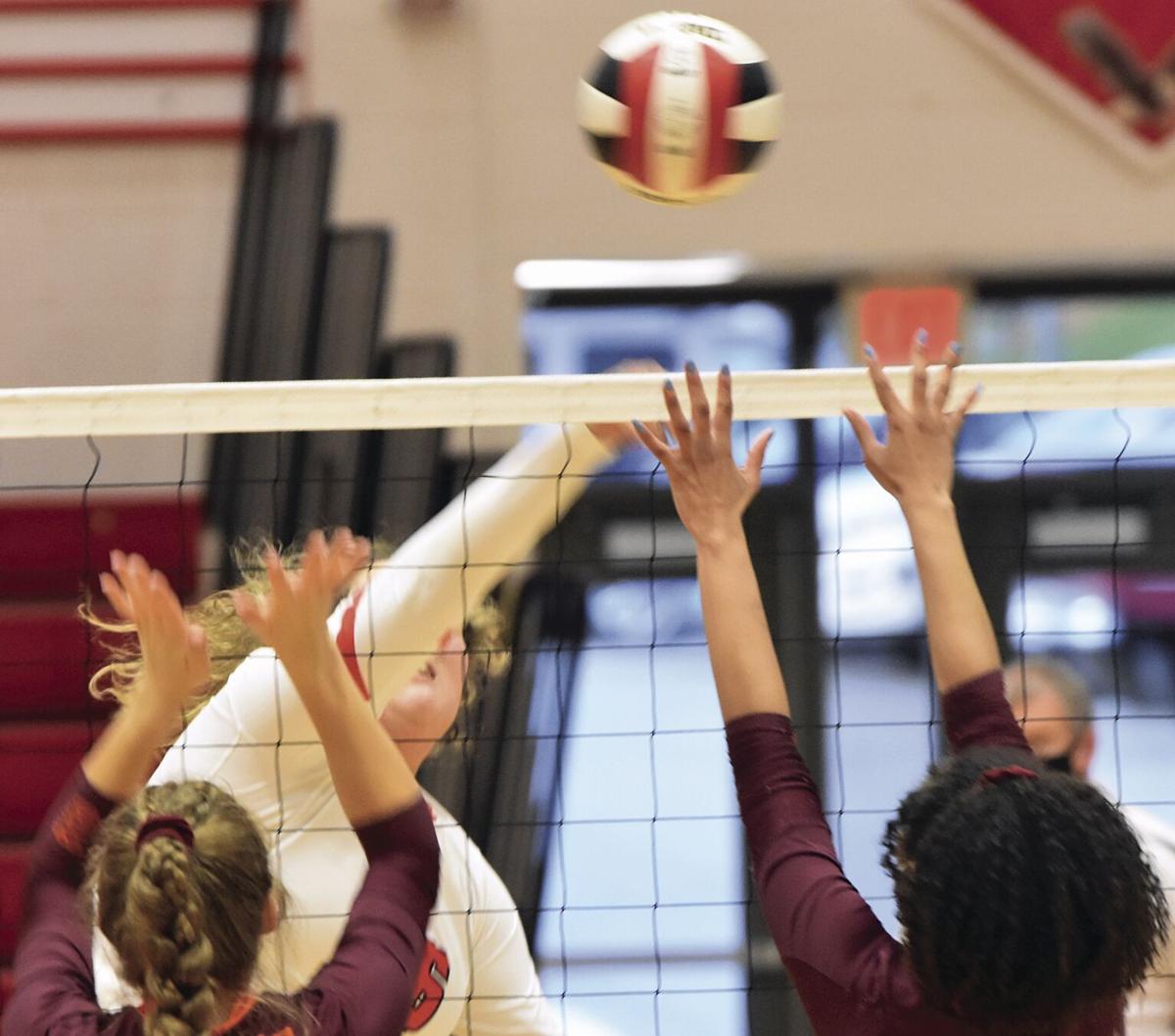 Franklin County's varsity volleyball team complete regular-season play last week with a 3-1 victory over Blue Ridge District rival William Byrd at Samuel M. Hawkins-Central Gymnasium.
With the win, the Eagles (8-2, 7-1 in the Blue Ridge) avenge their lone district loss of the season, a 3-2 setback to the Terriers in March.
FCHS returns to action Tuesday (April 13) in the semifinals of the Class 6 Region A volleyball tournament in Richmond against Cosby.
The regional final is scheduled for Thursday (April 15) at the site of the higher seeded team.
Only the regional champion advances to the state tournament this year in all Virginia High School League (VHSL) classifications.
Volleyball jayvees end season with second straight win
Franklin County's junior varsity volleyball team blanked William Byrd, 2-0, in a Blue Ridge District match last week.
The victory is FCHS's third over William Byrd this season in four matches played.
All four matches between the two teams were decided by 2-0 counts.
The Eagles (7-5) ended their season with a two-match winning streak.
Football jayvees drop season finale
ROANOKE—William Fleming edged Franklin County, 7-0, in a junior varsity football contest last week on the Colonels' home field.
The contest was the season finale for both clubs.
FCHS (0-6) suffered its fourth straight shut-out loss.
The Eagles were outscored 158-14 this season.
The Colonels (3-3) squared their record with the win, their second in a row and second by shutout this season.
Blue Ridge golf concludes today
SALEM—Blue Ridge District golf teams conclude their five-match, regular-season series today at Hanging Rock Golf Club.
Northside is the host for the five-team match.
Lord Botetourt goes for a sweep of the series; the Cavaliers have won all four matches to date played at Copper Cove Golf Club, Blue Hills Golf Club, Botetourt Country Club and Mariners Landing Golf and Country Club.
FCHS has three second-place finishes and one third-place showing to its credit.
Lord Botetourt (997) ranks first in the cumulative standings, followed by FCHS (1,087), Northside (1,119), William Byrd (1,242) and Staunton River (1,348).
Cavaliers golfers Samir Davidov, the reigning district champion, Ashton Harper and Kaitlyn Mosdell ranks first, second and third in the individual standings, while Eagles golfers Cutter Harvey, Sam Fransler and Brayden Walmsley are fourth, sixth and seventh.
Rounding out the top 10 are Peyton Spangler (Northside) in fifth, Jake Koffman (Lord Botetourt) in eighth, Nick Crawford (Northside) in ninth and Owen Simmons (Staunton River) in 10th.
Blue Ridge cross country ends Thursday
ROANOKE—Blue Ridge District boys and girls cross country teams will race in competition against one another one last time before regional races commence Thursday at Northside.
Franklin County junior Addie Shorter and sophomore Nathan Atchue seek their third individual wins this season.
Blue Ridge District teams have not faced off since a March 22 meet at William Byrd in Vinton.
Lord Botetourt won the girls race, 37-49, over William Byrd with Northside (60) and FCHS (75) placing third and fourth.
The Cavaliers defeated the Eagles, 30-46, in the boys race with Northside (52) and William Byrd (99) claiming third and fourth.
Staunton River had runners in both the girls and boys races, but the Golden Eagles did not have enough competitors (4) to comprise a scoring team.