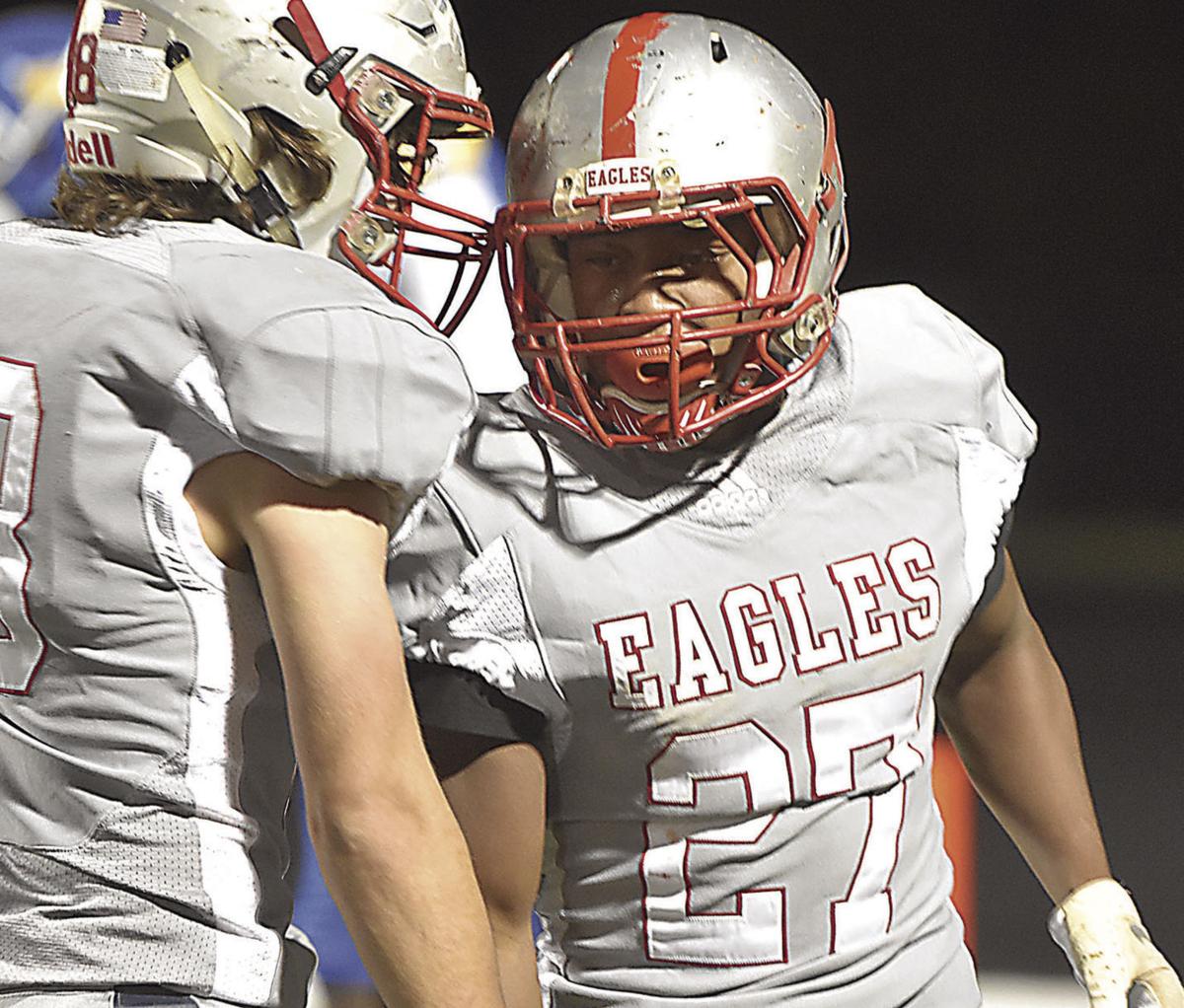 In the regular-season's final week, Franklin County's football team is guaranteed a berth in next week's eight-team Class 6 Region A playoffs.
But the Eagles still have things to play for tonight when they entertain Blue Ridge District rival William Byrd. Kickoff for the Senior Night contest is 7 at C.I. (Cy) Dillon Stadium-Fred M. Brown Memorial Field.
FCHS (2-2 in the Blue Ridge District, 5-4 overall) clinches a winning season if it is triumphant in its first regular-season contest against the Terriers since 1977.
For the Eagles to host a quarterfinal-round playoff game, they'll need to win and either Thomas Dale or Landstown must lose.
Thomas Dale is No. 3 in this week's Class 6 Region A power rankings, while Landstown is No. 4 and FCHS is No. 5.
If both Thomas Dale and Landstown were lose, the Eagles could jump to No. 3, a possession they held until falling in the rankings following consecutive losses to Blue Ridge District rivals Northside and Lord Botetourt.
Thomas Dale, Landstown and possibly Cosby are possible quarterfinal-round opponents for the Eagles, who have qualified for postseason play for the third year in a row and for the ninth time in program history.
If FCHS were to play Thomas Dale, it would be a rematch of the 2017 Class 6 Region B quarterfinal-round contest, one in which the Knights were victorious in rout-like fashion, 50-0.
If FCHS were to play Landstown, it would mark the first time that it has played a team from the eastern part of the state since completing a series of games against Booker T. Washington in 1988 and 1989.
FCHS is 4-8 in 12 playoff games with wins over Colonial Forge (2009 and 2011), Woodbridge (2010) and Clover Hill (2018) and setbacks to Osbourn Park (2002, 2003), Osbourn (2005), Battlefield (2009, 2011), Colonial Forge (2010, 2018) and Thomas Dale (2017).
A 14-game series between the Eagles and the Terriers stands at 5-5-4. It includes games from 1950 and 1951, 1960-69 and 1976-1977.
William Byrd employed its B-team in those first two games, which were contested during the Eagles' first two interscholastic campaigns. The set of games from 1960-1969 predate the old Group A, AA and AAA classification structure that was used by the Virginia High School League. The last two games were played when the Eagles were members of the old Roanoke Valley District.
The two rivals split in 1950 and 1951; the 1960-1969 mark was 3-3-4; the two foes split again in 1976 and 1977.
William Byrd is the high school alma mater of Eagles sideline boss J.R. Edwards, but he will not be match football wits against his coach, long-time Terriers mentor Jeff Highfill, who retired following the 2018 campaign.
Brad Lutz is the Terriers' first-year head coach. His club is a week removed from a 42-0 triumph over league foe Staunton River.
FCHS is a week removed from a 21-14 overtime victory over Blue Ridge District rival William Fleming.
In that contest, freshman running back Jahylen Lee rushed for 201 yards on 31 carries and scored a 15-yard touchdown in the fourth quarter that broke a 7-7 stalemate.
In overtime, Lee's six-yard dash set up Joshua Luckett's four-yard, game-winning score in overtime and FCHS's defense kept the Colonels out of the end zone on four plays from the 10 yard line on their possession of the extra stanza.
FCHS has played nine overtime games since post-regulation play became part of high school regular-season football in the mid 1980s.
Three of those games were decided in multiple overtime stanza: a 13-6 loss to Martinsville in 1989 (2 overtimes), a 31-30 win over E.C. Glass in 2006 (3 overtimes) and a 37-36 loss to Halifax County in 2012 (2 overtimes).
The Martinsville loss occurred during the prep career of former University of Virginia standout Nikki Fisher. In the win over Glass, an FCHS running back gained four yards rushing on four carries and scored four touchdowns. The loss to Halifax ended a 15-game Western Valley District winning streak by FCHS and was its third overtime setback of the 2012 campaign.
Dean East (1-1), Billy Miles (0-1), Ben Boyd (1-0), Chris Jones (0-3) and Edwards (2-0) each guided the Eagles in an overtime game or games.
FCHS's post-regulation victories are at the expense of Booker T. Washington (1988), Glass (2006), Hidden Valley (2017) and William Fleming (2019). Its losses are to Martinsville (1989), Pulaski County (2005), Salem (2012), Christiansburg (2012) and Halifax County (2012).
When post-season play begins next week five of the six Blue Ridge District teams will seek advancement: FCHS in Class 6, William Fleming in Class 5 and Lord Botetourt, Northside and William Byrd in Class 3.