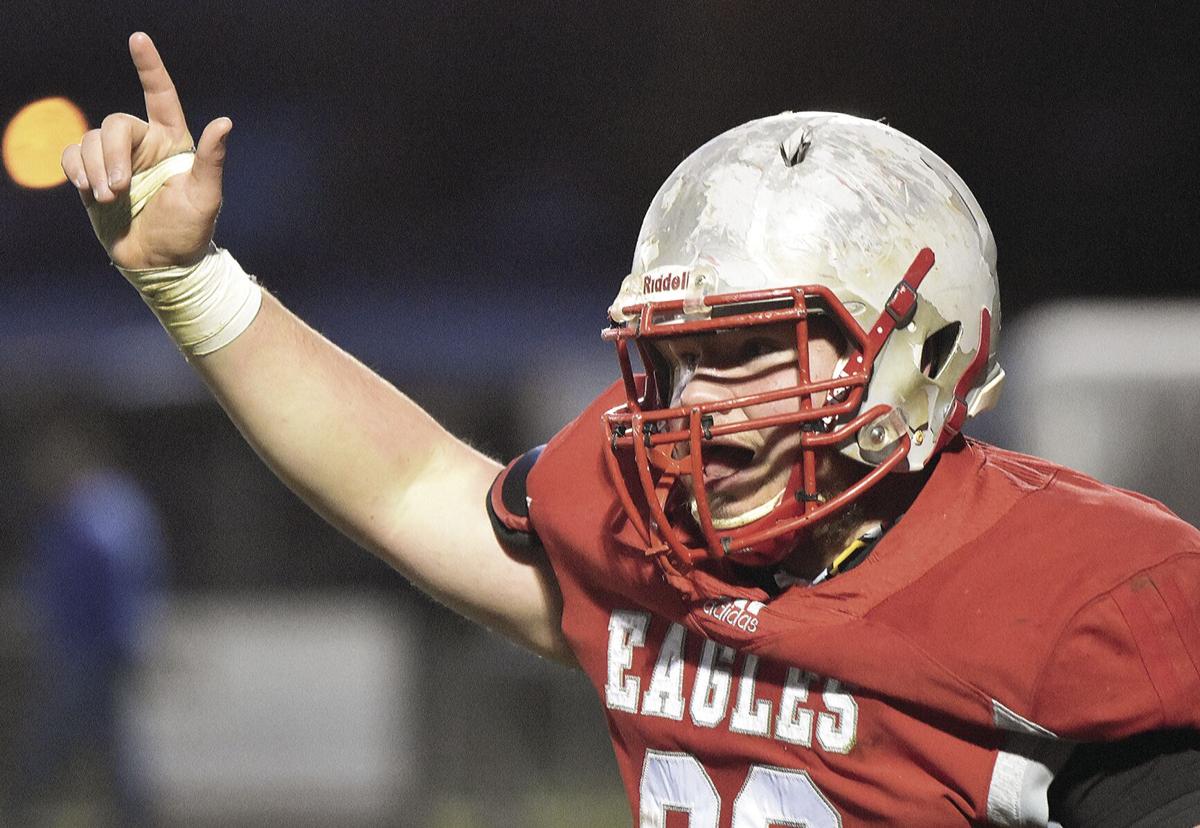 Despite finishing its first spring football regular season with consecutive setbacks, Franklin County has advanced to post-season play for the fourth straight season.
The Eagles (4-2) enter the Class 6 Region A playoffs as the No. 3 seed and are paired against No. 2 seed Thomas Dale (5-0).
Kickoff is Thursday at 7 p.m. in Richmond.
Because of the threat of inclement weather Friday, the game was rescheduled for Thursday, Tuesday morning, according to an email from Ricky Talman, Thomas Dale's Director of Student Activities.
In the other half of the bracket, No. 1 seed Oscar Smith (5-0) entertains No. 4 seed Grassfield (3-3).
The winners play for the regional championship at the site of the higher seed Friday, April 16.
In other Class 6 playoff games, Gar-Field (6-0) entertains Patriot (4-1) and Massaponax (6-0) hosts Battlefield (5-1) in Region B; South County (6-0) is at home against West Springfield (4-2) and Robinson (4-2) plays Lake Braddock (4-2) in Region C; and James Madison (6-0) is matched against Wakefield (4-1) and South Lakes (3-1) faces Chantilly (5-1) in Region D.
FCHS brings a 4-9 record in 13 postseason games dating to 2002 into the contest. That mark includes a two-game losing streak: 42-7 defeat to Colonial Forge in 2018 and a 35-27 setback to Landstown in 2019.
The Eagles faced Thomas Dale in a 2017 match-up and was routed in that contest by the Knights, 50-0.
Thomas Dale's featured player that year was Chris Tyree, who competed last fall as a true freshman for Notre Dame.
Only three of the Blue Ridge District's six teams qualified for postseason play.
In Class 5 Region D, William Fleming (4-2) is the No. 2 seed. The Colonials entertain No. 3 seed Harrisonburg (3-2). In the other half of the bracket, No. 1 seed Patrick Henry (5-1) faces No. 4 seed Mountain View (3-3).
In Class 3 Region D, No. 1 seed Lord Botetourt takes on No. 4 seed Christiansburg (3-3).
Also, No. 2 seed Abingdon (5-0) squares off against No. 3 seed Carroll County (4-1).
Blue Ridge District clubs Northside, William Byrd and Staunton River failed to qualify for postseason play. FCHS was 4-0 against the Vikings, the Terriers and the Golden Eagles this season.
Besides Thomas Dale and Landstown, FCHS has been bested by Colonial Forge twice, Osbourn Park twice, Battlefield twice and Osbourn once in postseason play.
FCHS's post-season wins are at the expense of Colonial Forge (twice), Woodbridge and Clover Hill.
Former head coach Chris Jones led the Eagles to a 3-3 post-season record and former head coach Billy Miles was 0-3.
Current head coach J.R. Edwards has a 1-3 playoff record.
During the regular-season, FCHS was ranked as high as No. 2 in the Region A power rankings.
Oscar Smith was ranked No. 1 from start to finish, Thomas Dale advanced from third to second and Grassfield made its debut in the top four following last Friday night's action.
The top four in each region in Classes 1 through 6 earned playoff berths.
In traditional fall football campaigns, it takes six victories to capture the state championship; this season, it will take four wins: victories in the regional semifinals and finals and triumphs in the state semifinals and finals.
In Class 6, the winner of the state semifinal match-up between the champions of Region A and Region B will host the state championship game.