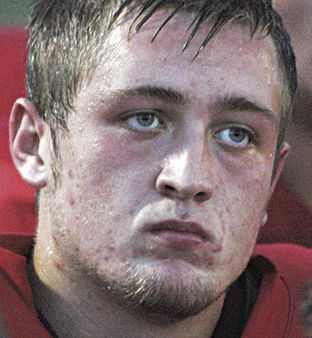 Editor's Note: This story ran on September 11, 2015 prior to Franklin County's second game played on the date of the Terrorist Attacks. The Eagles played their first game on the date in 2009 against Salem at home. Had the 2020 season not been postponed, the Eagles would be playing in Lynchburg tonight against E.C. Glass. This year is the 19th anniversary of the attacks, next year is the 20th anniversary and September 11 falls on a Saturday.
Franklin County senior tri-captain Nate Ellis takes the field tonight at Kenneth Dobson Stadium as a newly-minted 18-year-old.
The date of tonight's match-up between the Eagles and Group 4A Pulaski County is one of remembrance for Ellis, his family and this nation.
The 9-11 Terrorist Attacks on New York City's World Trade Center and the Pentagon in Washington, D.C. were 14 years ago on this date, and the aftermath of those attacks forced Ellis to be separated from his father for more than a year while he was part of military operations in the Middle East, the world's most-noted geopolitical power keg.
"It's crossed my mind,'' Ellis said when asked about playing football on the 9-11 anniversary. "You've got to play as hard a you can. You never know, there might be someone in the stands who was an ex-military member or someone might have been affected by the tragedy.''
Ellis said he still remembers the day that his father left home from Salem en route to Indiana — a stop-over before he left for active duty.
"Our whole family was at the reserve center. It was very emotional. We were upset that he going somewhere overseas during a time of war. It was something really serious,'' Ellis said.
As an Army Reservist, Ellis' father, Rex, was sent to the region when his youngest son was a small child and his deployment continued into his son's first year of school in kindergarten at Rocky Mount Elementary.
"When (my dad) was over there, he would call me at school and I would talk to him over the phone,'' Ellis said. "He would call me and check in on me.''
Ellis said he took those calls from his father in the principal's office. Phillip Poff was Rocky Mount's principal at the time.
"He would call when he could. I thought that was awesome that he would be able to call and that I would be able to talk to him while he was over there,'' Ellis said.
"It was a very scary thing during that time — especially with me being little. Even though I really didn't understand what was going on because of my age. I knew what he was going through over there and it was rough on our whole family.''
Ellis said he conversations with his father during his school day would last anywhere from 10 to 20 minutes.
"They were good conversations,'' he said, adding that his father would also call his older brother who was a student at the high school at the time.
"I always got excited to hear from him. It always made me feel better to know that he was okay and safe. That's what the majority of those phone calls were all about.''
Because of his father's commitments and responsibilities, the calls were not on a set schedule,'' Ellis said.
"I never knew. The calls were out of nowhere — it could be any day of the week. It would vary,'' Ellis said.
The first time he went to the principal's office to receive a call was a unique experience too.
"I thought I was in trouble ti first time, but they told me that my dad was on the phone. I was relieved to hear him (on the line). Just to hear from him was incredible,'' Ellis said.
"I freaked that first time I got called to the office,'' Ellis said.
Sometimes, the elder Ellis would webcam his family so they could see his face, the younger Ellis said.
"We'd play games like checkers (on the computer). I was little and I loved that stuff. He was gone on Christmas, but he'd webcam then and I'd show all the stuff I got from Santa,'' Ellis said. "That's how we'd communicate either by webcam or by phone.''
Ellis said his father was able to come home for short stays during his deployment, and that was an even greater joy.
"He would come home and I wouldn't know about it. One day, I got off the bus from school and he popped around the corner and scared me,'' Ellis said.
"He came home about three or four times (during his deployment) and it was always great to see him and talk to him,'' Ellis said.
Rex Ellis was a sandlot football coach in the county before his deployment and upon his permanent return from duty, he resumed that role and was able to coach Nate.
"It was great for him to come back and help coach me,'' Ellis said.
Today, the towers in New York have been rebuilt, but the many stories of heroic acts and deeds on the day of the attacks and the days thereafter have become a fabric of this nation.
Ellis and his family are part of that fabric.
"It happened and we had to retaliate. People lost lives and we needed to show that those lives were not lost in vain,'' Ellis said. "My dad went (to the Middle East) to help protect our country from terrorism.''
Be the first to know
Get local news delivered to your inbox!