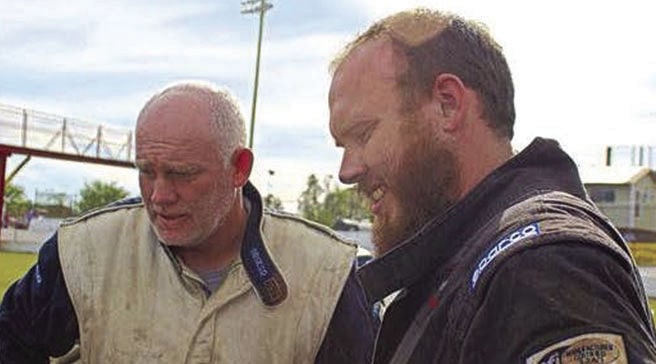 A.J. and Stephen Sanders, a father and son racing team from Central North Carolina, are hoping to pick up a win in the Mini-Stock portion of the Southern Turkey Derby at Franklin County Speedway on Sunday.
A.J. Sanders, 51, from Mocksville, N.C.,has won Mini-Stock championships seven tracks in his career. His son Stephen, 29, from Midway, N.C. is heading to Franklin County, the track where he made his first Mini-Stock start, fresh off his second consecutive championship at Carteret (N.C.) County Speedway 
"We have had a great year everywhere we've ran," Stephen said. "Going to Franklin County, where I've had great success over the years, I feel like it will be a good race day. I'm hoping to leave with a top-five at the end of the day. Of course I'm going for the win, but with all the stiff competition coming, I would be satisfied with a top-five.
"I've won races there and been fast in the past, so I hope that carries over into this upcoming weekend."
Like Stephen, A.J. has also had success at Franklin County and he said he expects to be in contention for the win against a very competitive field that already has more than 20 confirmed entries.
"I've got confidence that I should run well there with my past history," A.J. said. "There will be some stiff competition there with some of the drivers that's coming to race, so it should be a great race."
For both father and son, being at the track together is always a fun time and both enjoy racing against each other.
"It's fun times for sure, but when it comes time to race, we race each other like any other driver," Stephen said.
"We are both very competitive. It would be great to beat him. I've only done it once since I started racing 14 years ago, but as long as one of us takes home the win, we will be happy as a team."
"It's always a ball racing with Stephen because, no matter who you are, his daddy or his worst enemy, he's going to race you as hard as he can," A.J. said. "That is a hard-racing kid. No matter who wins, him or me, we are a team."
Stephen and A.J. said they're both excited to return to Franklin County Speedway for the first race held at the track under Moonshine Capital Promotions and promoter Langley Austin since 2017.
"I love Franklin County Speedway," Stephen said. "I considered it my home track for years in the mid-2000s. That's where I got my first start in 2005. I always look forward to being able to get to run there. I think it's awesome what Langley is doing so we can have another premiere event there."
A.J. Sanders has won championships at Ace Speedway, Bowman Gray Stadium, Concord Speedway, Tri-County Motor Speedway, Friendship Motor Speedway, and Caraway Speedway. However, it's always exciting for him when he can make it to Franklin County.
"Franklin County is one of my favorite tracks," A.J. said. "It should be a good race, hope it's not a wild race."
The Mini-Stock division is one of six classes that will compete in Sunday's Southern Turkey Derby. Late Model Stock Cars, Chargers, U-CARs, Stock-4 and Any Cars will all be in action.
Green flag racing gets underway at 2 p.m.
Tickets are $15 for adults, $5 for youth ages 6 to 10, and youth age 5 and younger are admitted free of charge.
Editor's Note: Marquis writes for race22.com