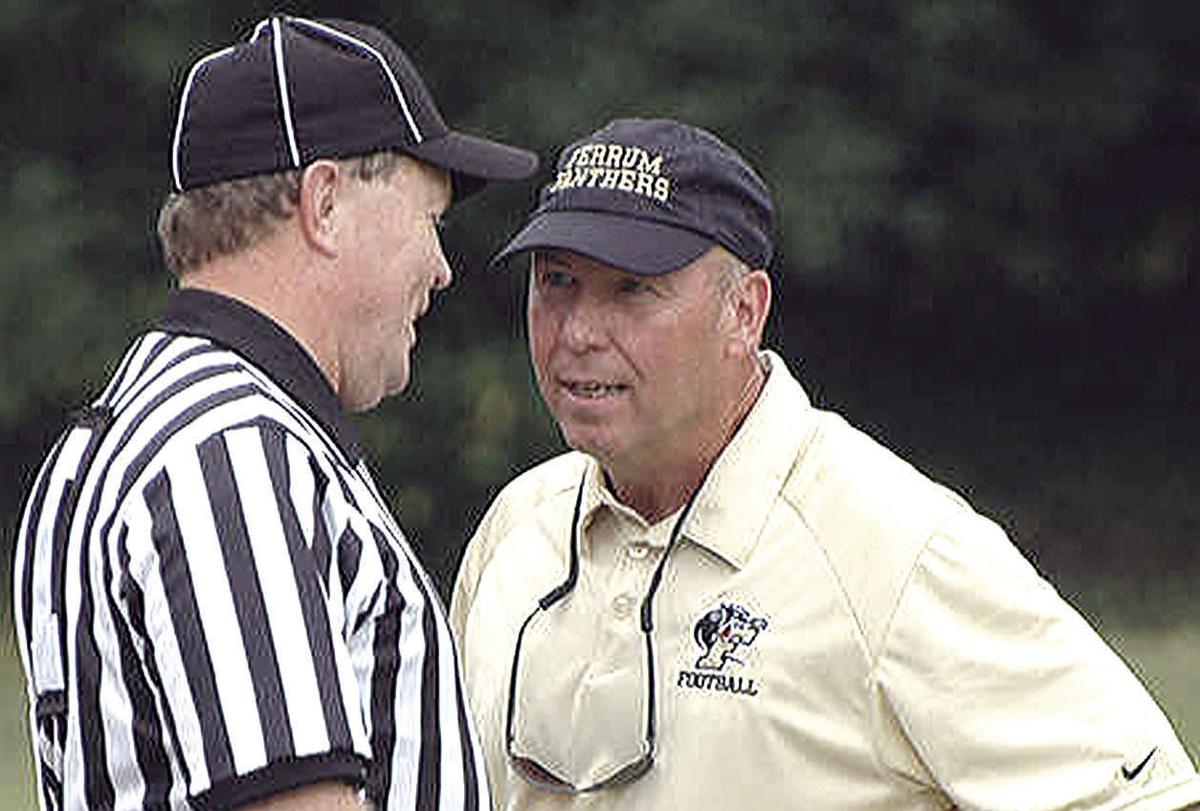 FERRUM – In his final post-game remarks to his team, Ferrum College sideline boss Dave Davis was direct, to the point and pulled no punches.
He told his players why they had just lost a 23-21 heartbreaker to USA South Athletic Conference foe Maryville (Tenn.) College. He challenged those returning to the fold for next season to get better, then he thanked them for the effort they'd given.
It was a simple ending, yes, but poignant and sad as well.
The Panthers (4-3 in the USA South, 4-6 overall) pulled out all the proverbial stops in this one, but they couldn't send their retiring head coach out a winner in his 166th game at helm, 87 of which he won.
Two, first-half fumbles by Ferrum – the only turnovers committed in the game – were too much to overcome as was Maryville's dominance of the Panthers' offensive line.
It was a sad day for Ferrum's 11 seniors who also were defeated in their last games. The Panthers have not won on Senior Day at W.B. Adams Stadium since 2003.
Ferrum entered the contest with a chance to split the USA South championship three ways. But to do that, the Panthers had to win and league rivals North Carolina Wesleyan College and Christopher Newport University had to lose.
The Bishops and the Captains won their games; the Panthers did not.
"I don't like to lose. I don't care if it's the last game or the first one,'' Davis said.
"I can look back on this season and see things that were very good, very positive. I'm not as happy as I would have been; obviously, if we'd have won some of these games…I'm going to miss some things (involved with coaching).
"It didn't even hit me (that Saturday would be my last game) until Thursday's practice. I was coaching my butt off Thursday; I was really getting after it. I try so hard to get the losses out of me…I don't have to get ready (for a game) next week. How I'm going to handle it, I don't know, but I know I am going to hate it,'' Davis said.
Davis guided the Panthers to a share of three USA South championships (2001, 2002 and 2005) and one NCAA Division III playoff appearance.
Ferrum also finished second in the Atlantic Central Football Conference in 1999 and 2000.
Overall, Davis steered the Panthers to eight winning seasons, including four in a row from 1998-2001.
Both teams met at midfield after the game, then Maryville coach Tony Ierulli sent his players back to Davis to give him one last farewell.
"Coach Davis is a class act and I wanted to do something that I thought would be special,'' Ierulli said. "Everything about him is class.''
And winning for Davis was certainly an objective.
"We wanted to win it for Coach Davis, it being his last game, but we made some costly mistakes and we didn't pull it out,'' said receiver Tyler Brubaker, a former Franklin County standout. "I think we gave it everything we had. We didn't want to lose it for him, that's for sure.''
"Coach Davis is fun to be around. He jokes around with us sometimes in practice, but he knows when it's time to be serious too,'' quarterback Marcus Mayo said. "At the end, he told us why we got beat, but that's him.''
Now the program goes into a transitional stage until a new coach is hired.
Ferrum athletic officials have said they want a new coach in place by the end of first semester.
Many in the program hope offensive coordinator David Harper, a former Panthers' All-American who has served as an assistant coach for 18 years, is chosen to succeed Davis.
Ferrum took a 7-0 lead in the first quarter with a bit of trickery.
Mayo handed the ball off to Steven Harris who in turn handed the ball to Brubaker, who battled Mayo for the starting quarterback job in preseason before breaking into the line-up as a receiver.
Brubaker, in turn, spotted Mayo open in the right corner of the end zone and fired a scoring strike to the junior, two-sport athlete with 6:18 left in the opening stanza.
Maryville responded with 16 unanswered points.
A Chad Brooks' five-yard run with seven seconds left in the first quarter capped a 13-play, 85-yard drive and tied the score.
Early in the second quarter, Maryville's defense forced Mayo to fumble after a gain of 10 yards.
The Scots (3-4 in the USA South, 4-6 overall) recovered in the red (scoring) zone and three plays later, kicker Andrew Noboa booted a 32-yard field goal that would put Maryville in the lead for good.
Harris fumbled the ensuing kickoff and the Scots recovered on the Panthers' 12-yard line to set up a short-field TD.
After a nine-yard pass to Brooks from quarterback Dustin Williams, Brooks found the end zone from three yards. But Noboa missed the extra point, leaving the count at 16-9.
Ferrum ended Maryville's scoring run with 30 seconds left in the opening half when Mayo hit Brubaker with a 47-yard TD pass.
But Maryville was able to enhance its lead by scoring its final points on its first drive of the second half.
A seven-play, 71-yard drive ended with Williams firing a 16-yard TD pass to Wesley Idlette with 11:44 left in the third quarter.
Ferum rallied to within two points, 23-21, when Mayo tossed a 33-yard scoring pass to tight end Vince Munch with 1:45 remaining in the third quarter.
The Panthers blocked a Noboa field goal try from 47 yards with 13:29 left in the game, and Noboa missed a 38-yard attempt with 6:18 to go.
Those misses gave Ferrum chances to score, but the Panthers failed each time.
Maryville's dominance up front was displayed by its six sacks of Mayo and by Ferrum's final rushing totals: 31 carries for 21 yards.
Mayo, who became the first Ferrum quarterback to throw for more than 1,000 yards since 1989 in the Panthers' win over Averett University, was 8 of 13 for 222 yards.
Five receivers caught passes from Mayo.
Be the first to know
Get local news delivered to your inbox!