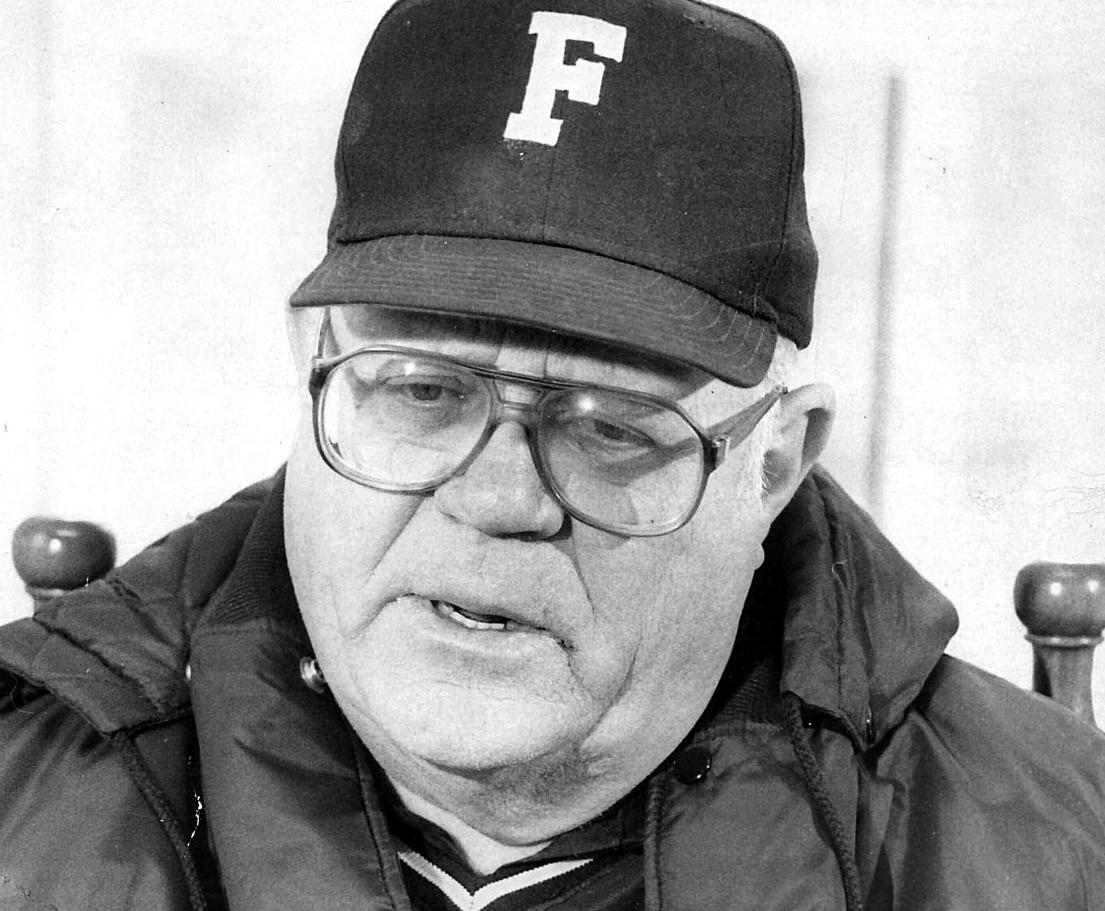 Editor's Note: This story detailing Hank Norton's last game as Ferrum College's head football coach was published in November 8, 1993 edition of The Franklin News-Post.
EMORY – Those who remember the phantom touchdown can now wonder about John Poindexter's balance.
Instead of an apparent no-catch being ruled one as was the case a year ago, the latest installment of the annual Emory & Henry College-Ferrum College football rivalry turned on whether a reserve quarterback doubling as a receiver stepped out of bounds before racing to the end zone for a possible game-winning score.
E&H (7-2) survived what almost turned out to be a third consecutive comeback victory by Ferrum (5-4) here Saturday, 16-13.
The loss ended the coaching career of legendary Ferrum head mentor Hank Norton, who announced during the first week of preseason drills that 1993 would be his last sideline campaign. Norton completed a 34-season tour of duty with a 244-77-11 record.
By winning, Lou Wacker's E&H club evened the victory count in the all-time series (Division III era for both clubs) at 5-5. E&H has won the last three games in the series, matching a Ferrum three-year win streak from 1988-1990.
E&H, ranked No. 6 in the most recent NCAA Division III South Region poll, has an outside chance to reach the playoffs. First, it must defeat Maryville (Tenn.) College in its final regular-season game, then; it must hope that a team or teams ranked ahead of it lose.
Ferrum trailed 10-0, 13-0 and 16-7 before embarking on a comeback mission for the third consecutive week. Against Montclair (N.J.) State, Ferrum won courtesy of a "Hail Mary'' touchdown pass. Against Mansfield (Pa.) University, it blocked a field goal attempt, then, it returned the block for a touchdown, and then it made a 2-point conversion.
Ferrum was in that position again. When Poindexter, a sophomore, caught a Millard Vining pass on third and 11 and sprinted to the end zone untouched, it appeared that Ferrum had taken command.
During a jubilant end zone celebration, it was ruled that Poindexter had stepped out of bounds at the E&H 45, Then, thoughts of Chris Turner's "did he or did he not'' TD reception which provided E&H with a 21-14 comeback win last year, cast a spooky shadow on Saturday's contest.
"Last year, they won a game with a pass that was not caught. It ran down (Turner's) stomach and hit the ground. I can show you that one on film. …I don't know whether John Poindexter scored or not,'' Norton said. "The kids said he did. I wasn't close enough to (the play) to make a comment on it. The kids will always tell you that he scored. If he stepped on the line, they'll say he didn't.
"If he didn't touch the line, I'd be very disappointed,'' Norton said.
The play occurred just after senior James Williams dropped a long pass that had a chance to go for six points. Ironically, Poindexter was wide open on the other side of the field.
"We thought that (Poindexter) might try to come around the end and throw the ball. We didn't know he was that good of a receiver. He's got good speed,'' Wacker said. "We thought something might be up, but you don't know what. I don't think they caught us off guard, but no matter what they do, you've got to defend Williams.''
Poindexter' play turned out to have a bad omen for Ferrum. Later, E&H was penalized 15 yards for a dead ball foul. With the ball at the 24, Ferrum's David Anthony picked up 19 yards to move the ball to the 5. He fumbled on the next play and E&H recovered.
After Ferrum's defense held, Vining has a pass attempt intercepted by E&H's Casey Kelley. On E&H's ensuing drive, one of its backs appeared to have fumbled. At first, it was signaled that Ferrum had recovered. Later, it was ruled that E&H had retained possession.
"The man fumbled and then he said he heard a whistle. There wasn't a whistle. One referee said, 'It's Ferrum's ball,'' said Ferrum defensive end Billy Ellis, who returned to the line-up after breaking a bone in his leg in Ferrum's loss to Newport News Apprentice.
Ferrum's defense later forced a punt. E&H retained possession a second time when Ferrum was called for roughing the kicker. Three plays later, the game was over.
"E&H deserves the credit. They came out with a good game plan. I thought at the end of the game, we were the better team, but things didn't go our way,'' Norton said.
"The defense held them, then, we had a roughing the kicker (penalty). I felt like we could win it with a minute to go, but we didn't get the ball back and they ran the clock out,'' Norton said.
What hurt Ferrum was a series of mistakes: it fumbled five times and lost three of those; its receivers dropped passes; and Vining threw two interceptions.
"We made so many mistakes. We fumbled the ball at the five when we were going in for the win. We dropped passes. We had so many opportunities. We threw interceptions,'' Norton said.
"We beat ourselves. Football is a game of mistakes and we made more than they did. We played Montclair Mansfield and Emory & Henry back-to-back-to-back and it was almost like we didn't have time to catch our breath,'' Norton said.
"(E&H) did some things that they've never done against us before and it took us a half to adjust. Our kids fought back, but it was too late.''
It was Vining's 1-yard run with 11:09 that got Ferrum within three points, 16-13 (its extra-point try was blocked). A 42-yard pass play from Vining to Williams set the drive in motion.
For most of the game, E&H tried to take Williams away by running him into double coverage.
"Williams is a super receiver,'' Wacker said. "No matter what they do, you've got to defend Williams. You can double a few people, but you can't double everybody. They've got a lot of weapons. They put you in situations where you're forced to go one-on-one with Williams and we don't have many people who can do that.''
E&H got a field goal from Wade Vidal to cap its second drive of the game. Later in the first quarter, Thomas Nelson recovered an Eric Bates fumble and returned it 22 yards for a TD and a 10-0 edge.
Second-quarter field goals by Vidal (20 yards) and Jay Garnett (38 yards) completed E&H's scoring.
Vidal's second three-pointer was the result of Ricky Webb's interception of a Vining pass. Garnett's field goal finished E&H's ensuing drive after Ferrum's first score – a 17-yard pass from Vining to tight end Brad Jones.
"If you had told me that we'd win by kicking three field goals, I'd have bet you 100 to 1 that that would never happen,'' Wacker said.
"This was a good football game. Lord knows we're thankful to win. But I think enough of Coach Norton that I almost hate to see him lose his last ball game. I thought that it was a hard-fought, well-contested football game,'' Wacker said.
Be the first to know
Get local news delivered to your inbox!