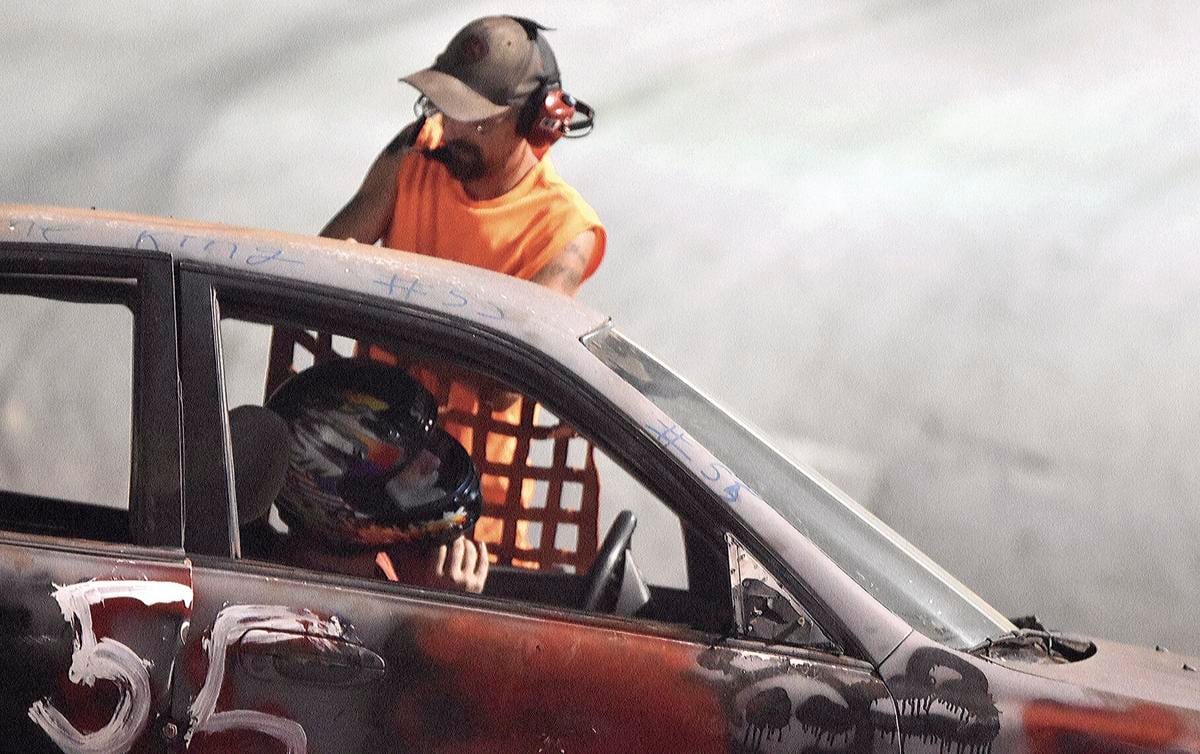 CALLAWAY—Franklin County Speedway makes a second attempt to open its 2021 racing season Sunday when the Carolina Mini Stock Challenge Series makes its debut at the 3/8-mile Callaway bullring.
The track had planned to drop the green flag on a new season Saturday, March 27, but inclement weather canceled that event.
Also on Sunday afternoon's card is a feature for the Virginia Vintage Racers, which is making its first appearance of the season at the track.
Races for the Late Model Stock Cars, Stock 4 and Any Car/Enduro classes are scheduled.
The Any Car/Enduro feature is a $1,000 to win event.
Tickets are $15 for adults, $5 for youth ages 5 to 9 and children younger than 5 are admitted free of charge.
are citedFormer Franklin County standouts Luke Hoffman and Robert Hoyt captured top accolades in the Swing Into Spring golf tournament at Willow Creek Country Club.
Hoffman and Hoyt bested the duo of Coty Hern and Mark Hudson for first-place laurels in the first flight.
In the second flight, the team of Dave Aveline and Jeff Johnston were victorious, while the duo of Trey Dudley and Brad Hearn finished second.
In the third flight, Digger Wells and Justin Forry finished first, while Phillip Bruce and Keith Hubbard came in second.
Tournament play is on the schedule for Saturday at the nine-hole course in Rocky Mount.
SML Sandlot to stage benefit tournamentMONETA—SML Sandlot 10U baseball team is hosting and staging a four-team round-robin tournament tonight and Saturday with proceeds benefiting Matt Foutz and his family.
Foutz, a former head football coach at Chatham and Martinsville high schools and a former assistant football coach at Franklin County, is a health and physical education teacher and a strength and conditioning coach at the high school.
Foutz is receiving cancer treatments in Houston, Texas.
Foutz is the father of FCHS three-sport student-athlete Eli Foutz (football , boys basketball and baseball) and former Eagles girls' lacrosse player Holland Foutz.
Six games—one Friday and five Saturday—are scheduled to be played at the field that sits adjacent to Westlake Baptist Church on 2075 Sruggs Road, Moneta.
All games are six innings or 1 hour, 45 minutes—no new inning will be played after the time limit is reached.
Concessions will be available for sale with all concession proceeds going to Foutz and his family.
Restrooms are located inside the lower level of the church.
There is no gate fee, but patrons are encouraged to make a donation.
Also, a silent action and a 50/50 raffle will be held with the proceeds going to Foutz and his family.
Play begins Friday at 6 p.m. with SML Sandlot 10U playing SML Anglers 11U.
Saturday's games are Team VA 10U versus SML Anglers 11U at 10 a.m.; SML Anglers 11U versus Carolina Curve 11U at noon; SML Sandlot 10U versus Team VA 10U at 2 p.m.; Team VA 10U versus Carolina Curve 11U at 4 p.m.; and SML Sandlot 10U versus Carolina Curve 11U at 6 p.m.
Head coaches are Josh Herman (SML Sandlot 10U), Micah Christman (Carolina Curve 11U), Will Floyd (Team VA 10U) and Neil Mustard (SML Anglers 11U).
Cheerleading tryouts scheduledTryouts to select the Franklin County varsity and junior varsity sideline cheerleading squads and the Benjamin Franklin Middle School sideline cheerleading team for the 2021-2022 school year are scheduled for Monday through Wednesday, May 3 through May 6 at the high school.
Rising seventh and eighth grade students, male or female, who are enrolled at BFMS for the current school year are eligible to try out for the BFMS squad.
Rising ninth through 12th grade students enrolled at the high school are eligible to try out for the FCHS squads.
Each candidate must have a Virginia High School League (VHSL) physical form dated after May 1, 2020 on file with the FCHS Athletic Department in order to try out.
Cheerleader candidates will be taught a cheer and a dance routine for the tryouts.
Candidates do not need to know how to tumble or do gymnastics in order to try out.
Also, candidates may be asked to stunt.
Mascot candidates will be asked to dance to the tryout song while in costume.
Open gyms for those students interested in trying out are set for Tuesday and Wednesday, April 27 and 28th from 3:30 p.m. to 5:30 p.m. in the high school's Roy M. Law Gymnasium.
All COVID guidelines will be followed during conditioning and during tryouts.
Those interested should obtain an informational packet from the offices at BFMS or the Gereau Center or any office at FCHS.
Questions can be directed to FCHS head cheerleading coach Marsha Lopez through the FCHS Athletic Department, (540) 483-5332.
Annual tournament is scheduled for May 1HUDDLESTON—Franklin County High School's Career and Technical Education Department is hosting and staging its annual Captain's Choice golf tournament Saturday, May 1 at Mariners Landing Golf and Country Club on Smith Mountain Lake.
Proceeds will help support all career and technical education programs at FCHS.
Cost is $240 per four-player team and includes lunch, entry fee, 18 holes of golf with use of a cart, one red tee and one mulligan per team member.
Prizes will be awarded for 1st through 5th place: 1st—$500, 2nd—$300, 3rd—$200, 4th and 5th—local green fees.
All players who compete will receive a goody bag with a gift certificate from a local restaurant or business.
Also purchased 50/50 tickets enable players to win many other prizes, such as a Legacy (PineHurst) passes, a Golf Dart board, a small picnic table, SkillsUSA backpack, concert tickets and more.
There will be closest to the pin contests on all par 3 holes, including a hole-in-one contest worth $800 as well as long drive contests.
Hole sponsorships are available for $100.
Contact Robbie Dooley (540-483-0221), Ken Kilinski (540-483-0221), Doug Conklin (540-420-8172) or Gerald "Peanut" Hall (540-493-3276) to enter a team or sponsor a hole.
VHSL Hall of Fame induction goes virtualCHARLOTTESVILLE—The Virginia High School League (VHSL) Class of 2020 Hall of Fame Induction Ceremony is going virtual on Sunday, April 25, league officials announced in a statement released last week because of the COVID-19 pandemic and restrictions on public gatherings in the state.
"The VHSL is disappointed that it will not hold its annual in-person ceremonies to honor this (induction) class and their outstanding achievements,'' league officials said.
"However, we will still celebrate each inductee as in past years, but it will be done virtually. In addition to this virtual celebration, the VHSL will recognize the 2020 Class at the next in-person banquet.''
The presentation is hosted by the National Federation of High Schools (NFHS) and is free to the public with no registration fees required.
The Class of 2020 in comprised of 14 individuals, eight of whom are being honored as athletes, three of whom are being cited as coaches and three of whom are being saluted as contributors.
Here is a list of the inductees:
PLAYERS: Frank Beamer (Hillsville), Barney Cobb (John Marshall), Wheeler Hughes (Dunbar), Leroy Keyes (G.W. Carver) Cora Jackson (Robinson, Essex), Jeff King (Pulaski County), Tara Sheets (Gate City) and Jasmine Thomas (Oakton).
COACHES: Gregg Conner (Powhatan), Darnell Dozier (Princess Anne) and Jim Larkin (Chancellor).
CONTRIBUTORS: Charlie Cloe (Central Virginia Football Officials), Tom Dolan (Jamestown High School/VHSL) and Valerie Kibler (Harrisonburg).