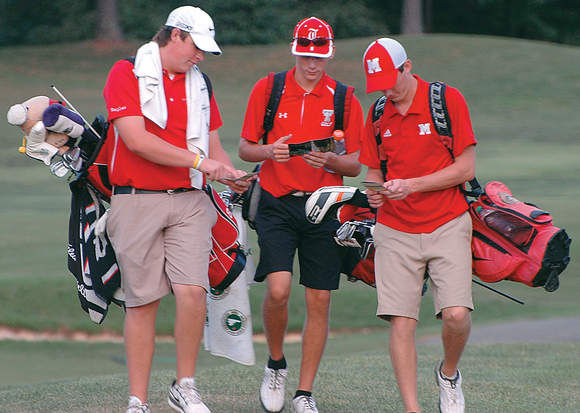 WESTLAKE -- Tunstall, which placed third in last year's Group AA state golf tournament, posted five scores in the 70s and edged Franklin County by four strokes in a Piedmont District quad match Monday at The Westlake Golf and Country Club.
The Trojans, who return all six of their players from last year's squad, which also captured the Piedmont District and Region IV championships, posted a 308 to FCHS's 312.
Bassett finished third with a 334 and Martinsville was fourth with a 358.
Tunstall is the first Piedmont District team to defeat FCHS this season.
The Westlake Golf and Country Club is the site for next week's eight-team postseason district tournament. League schools Magna Vista and Patrick County will be competing on the layout for the first time, while Halifax County and George Washington-Danville played on it during their tenures in the Western Valley District.
The Westlake Golf and Country Club is one of FCHS's two designated home courses. The other is Willow Creek Country Club in Rocky Mount
The Eagles, whose score is four strokes higher than their 308 season average, turned in four scores in the 70s and an 80.
Eric Squier, one of 10 golfers who broke 80, carded a 74 to earn medalist accolades.
Tunstall also counted a 77 from Chandler Wilkins, a 78 from Rand Gibson and a 79 from Andrew Moon.
Scores by Katie Pritchett (79) and Casey Dillon (87) did not factor into the Trojans' score.
Jeremy Lester paced the Eagles with a 76, while Landon Prillaman fired a 78 and Tyler Peterson and Nash Hammock each shot a 79.
Scores by Robbie Canipe (80) and Brice Arrington (91) were non-counting ones.
Bryce Varner led Bassett with an 82.
The Bengals also counted a trio of 84s shot by Nick Willianson, Ria Farley and Austin Wright.
Scores by Coty Hearn (91) and Jacob Sowers (93) did not count in Bassett's score.
Austin White led the Bulldogs with a 79.
Other counting scores were turned in by Cody Martin (82), Avery Mills (96) and Tyler Hairston (101).
Scores by Sam Dickerson (102) and Carson Rigney (103) did not count in Martinsville's score.
Be the first to know
Get local news delivered to your inbox!