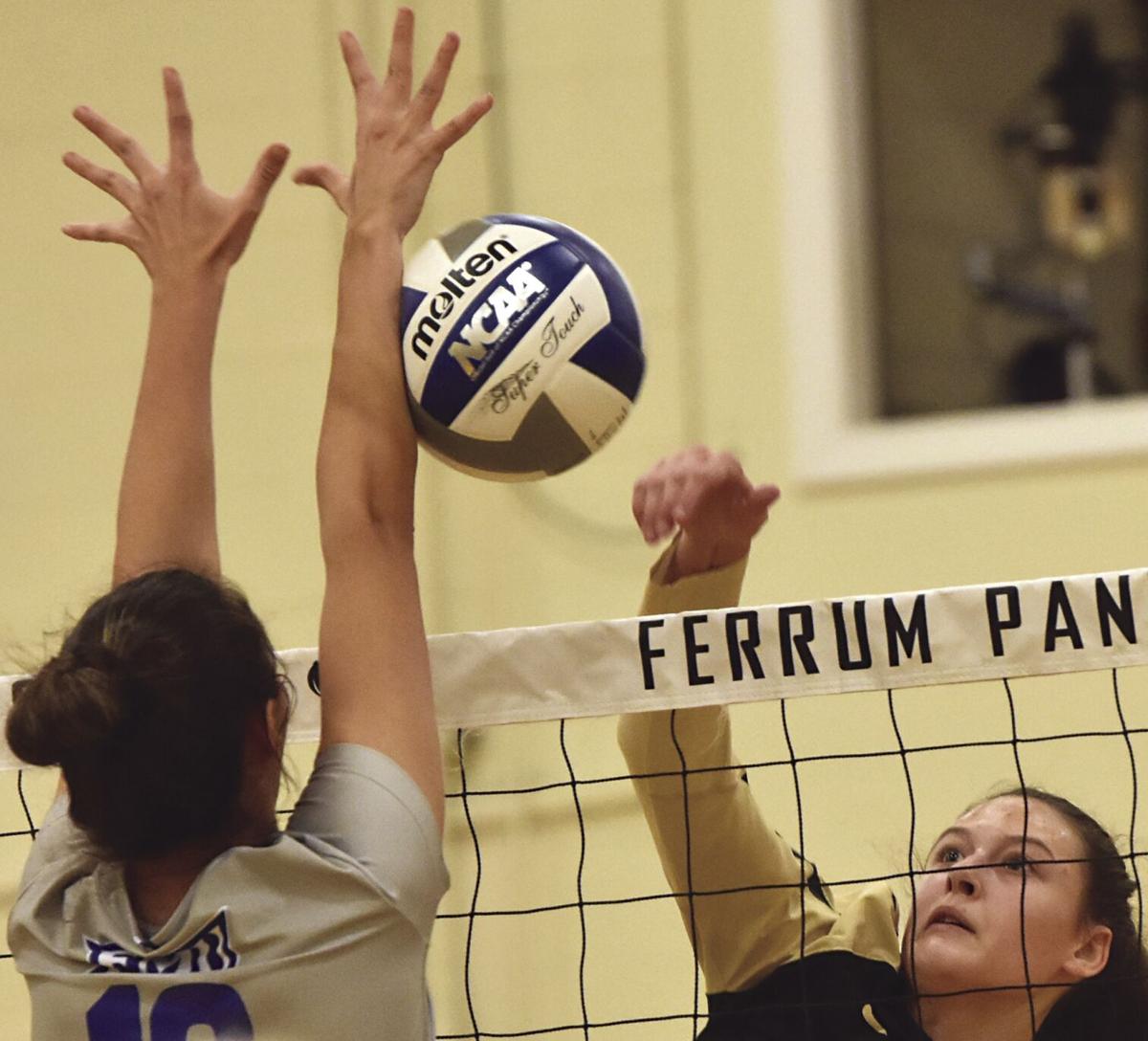 FERRUM - Freshman Shelby Waltrip netted 10 kills and distributed 18 assists, both match-best totals as Ferrum College won its first Old Dominion Athletic Conference volleyball match of the season, 3-0, over Randolph College Wednesday at William P. Swartz Gymnasium.
Set scores were 25-21-25-18, 25-15.
With the win the Panthers  (1-6 in the ODAC, 5-14 overall) match their 2019 victory total (5) and end a 26-match conference losing streak that was extended with setbacks in 2019 (12), spring 2021 (8) and fall 2021 (6).
The Panthers did not win a match during the abbreviated spring season, one in which they faced league opponents only.
Prior to Wednesday's victory, Ferrum's last ODAC triumph came on Oct. 23, 2018, 3-1 over Hollins University.
Wednesday's victory is Ferrum's second in its last three matches with both wins coming at home.
"We are now at the midpoint of the (fall) season and it seemed like we were able to put everything together and we gelled as a team,'' Panthers head coach Ruthanne Duffy said.
"Not only were we able to execute consistently, but we were able to shake things off and focus on the next play.
"(We owe a) big thanks to the amazing crowd in Swartz Gym. They made it a fun environment for us to play in,'' Duffy said.
In the first set, Randolph (2-4 in the ODAC, 7-9 overall) turned an 8-4 deficit into an 11-10 edge, courtesy of a 7-2 scoring spurt.
Leading 23-21, the Panthers secured the win after a Randolph serving error and a Waltrip kill.
In the second set, the Panthers led 8-3 after kills from Taylor Joyner, Anna Rymer, Alex Christoff (Franklin County) and Waltrip.
Ferrum pushed the spread to 20-8 and soon thereafter the Panthers claimed the set following a Joyner kill.
In the third set, a Saryn Pennell kill produced an 11-4 Ferrum edge.
Randolph was able to cut the deficit to four points, but could get no closer.
Rymer and Savanna Walker netted kills to score two of the final three points as the Panthers completed the sweep.
Nikki Hurt led Randolph with nine kills, Emily Barcenas passed out seven assists and Kenleigh Gunter served two aces.
For Ferrum, Arielle Tritt distributed 11 assists, Joyner produced nine kills and 10 digs, Christoff registered 12 digs. and Sami Kircher served two aces.
Ferrum held advantages in hitting percentage (.245-.028), blocks (6.0-1.0), digs (50-38) and aces (3-2) at match's end.
Ferrum's next match is Saturday against ODAC foe Roanoke College.