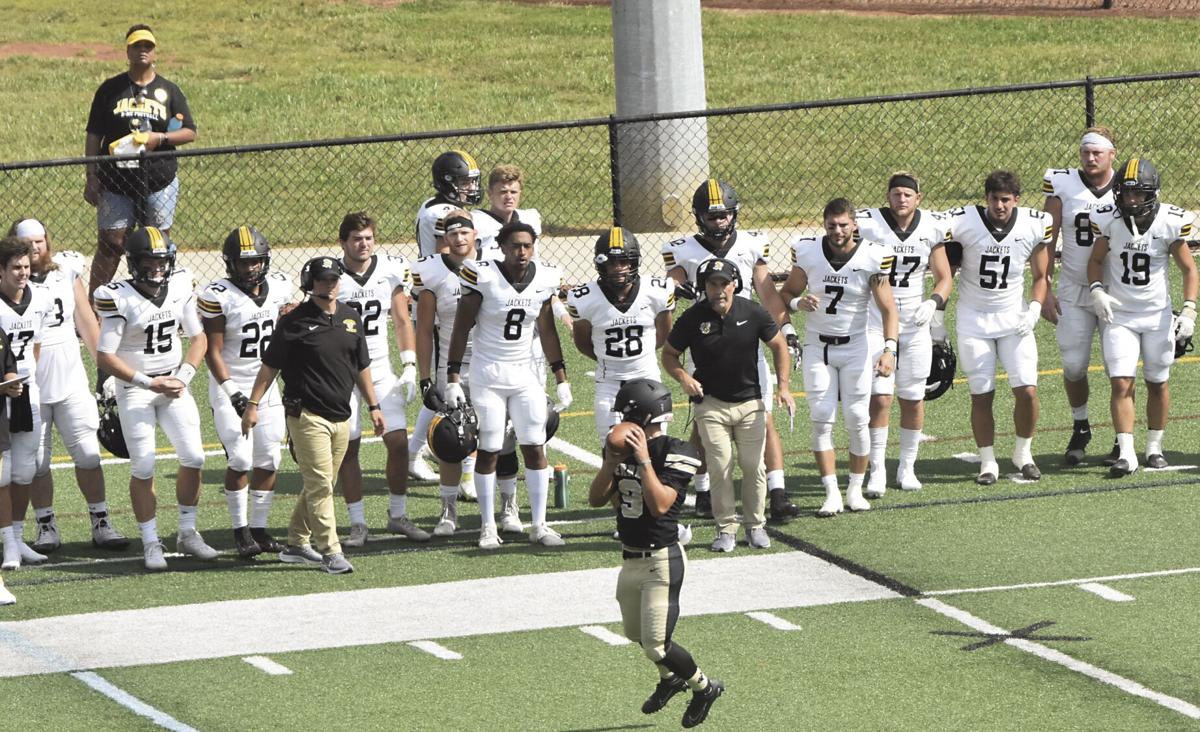 BRIDGEWATER—Nic Cook caught a 26-yard, game-winning touchdown pass from Titus Jones with 1:40 remaining as Ferrum College claimed its fourth win of the season and its first in Old Dominion Athletic Conference (ODAC) play, 14-10 over Bridgewater College.
Cook's TD reception provided the Panthers (1-1 in the ODAC, 4-1 overall) with their only lead of the game.
The catch completed a five-play, 66-yard drive that erased 1:20 from the clock.
Seth Deaton's point-after-touchdown (PAT) kick finished the scoring.
Jones was 11 of 29 for 180 yards passing. He completed passes to seven receivers. And averaged six yards a completion. He was sacked four times.
Cook's TD catch was his only reception.
Daniel Lamb caught five passes for a game-best 68 yards.
Ferrum trailed 10-0 at intermission and didn't score until the 11:29 mark of the third quarter when Zac Smiley bullied his way into the end zone from one yard.
Following Isaiah Clark's extra point, the Panthers were three points in arrears, 10-7.
The Panthers traveled 72 yards in nine plays in 3:25 for the score.
The Eagles (0-3 in the ODAC, 2-4 overall) moved in front 3-0 after Jackson Hendren split the uprights from 21 yards with 5:40 showing in the initial frame.
A 12-play, 59-yard drive—on that took 5:27 to finish—produced the field goal.
The Eagles' lone TD came in the second stanza when Demetreus Jalepes found the end zone from two yards.
Bridgewater's TD drive took 13 plays from a distance of 80 yards and 6:15 to finish.
Bridgewater accumulated 339 offensive yards on 80 plays to Ferrum's 255 yard on 68 plays and the Eagles held an advantage of almost 9 1/2 minutes in time of possession (34:41 to 25:19).
Bridgewater, led by first-year head coach Scott Lewis, gained 112 yards on the ground to 75 for Ferrum.
Bridgewater quarterbacks Matt Lawton and Kenneth McCray were a combined 26 of 46 passing for 227 yards. Each was intercepted once as the Eagles committed the game's lone turnovers.
Ja'Kari Williams and Rah'Quan Payne had Ferrum's interceptions.
Williams' interception stymied the Eagles' final drive of the game which reached the Ferrum 34.
Nine receivers caught passes for Bridgewater with seven of those receivers making multiple receptions.
Chad Jones (5 for 55 yards) and Viante Tucker (6 for 54 yards) combined for 11 catches for 109 yards.
Bridgewater totaled 15 first downs to Ferrum's 14 and converted 29% of its third-down plays (6 of 21) and 67% of its fourth-down plays (2 of 3). Ferrum was 5 of 16 (31%) and was 0 of 1 on fourth down.
The two teams combined for 11 penalties: six for 51 yards were assessed to Ferrum, five for 60 yards were charged to Bridgewater.
The Eagles' defense forced 10 punts; the Panthers' defense forced nine.
Ferrum freshman punter Josh Luckett (Franklin County) averaged 39.9 yards-per-boot. Only three of his punts were returned.
Luckett's best boot covered 60 yards. He placed one inside the 20 yard line and one was a touchback.
Luckett's 10 punts were two shy of matching the single-game program record of 12 set in a 1986 loss to the University of Dayton by Steve Schweingruber.
The Flyers competed in NCAA Division III football at the time, but now play in the Football Championship Subdivision (FCS).
Linebacker Billy Higgins led the Panthers with 11 tackles a forced fumble and two quarterback hurries.
Brett Tharp had 11 tackles, one sack, one tackle for loss and a pass break-up for the Eagles.
This series dates to 1986, Ferrum's second year of NCAA Division III play.
Ferrum has won 11 of the 19 games played, but entered the contest with a four-game losing streak in the series having lost to Bridgewater in 2013 (51-28), 2018 (42-21), 2019 (53-10) and 2020 (26-16).
Bridgewater, which captured its last ODAC title in 2019, has lost four games in a row after a 2-0 start.
Bridgewater has won 19 of its past 26 games.
In one other conference contest, Shenandoah University bested Guilford (N.C.) College, 52-25.
In non-league play, Randolph-Macon College edged Emory & Henry College, 34-31, and Washington and Lee University routed Apprentice, 42-13.
Hampden-Sydney College had the week off.
Ferrum's next game is against Shenandoah, Saturday (Oct. 16) at W.B. Adams Stadium.
The Panthers' homecoming game kicks off at 1 p.m.