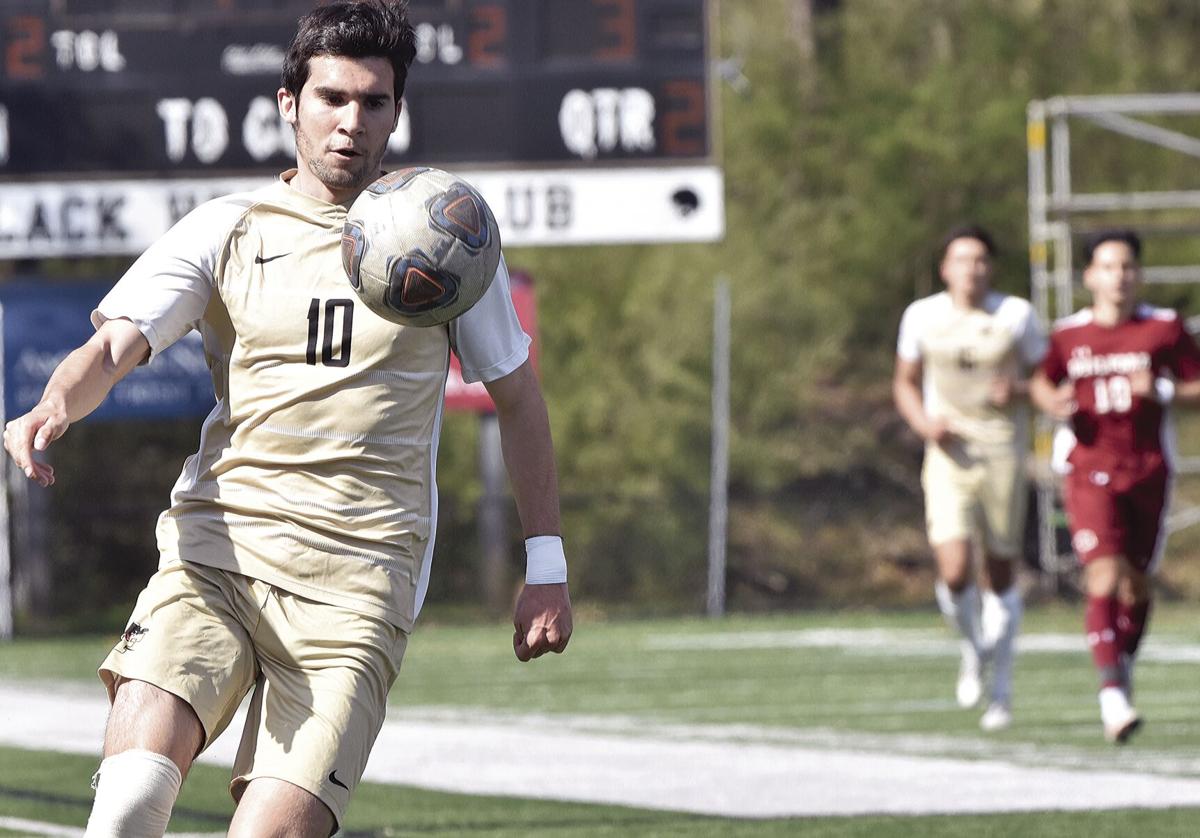 HAMPDEN-SYDNEY—Ferrum College second appearance in the Old Dominion Athletic Conference (ODAC) men's soccer tournament was akin to its first in 2018 with the Panthers bowing out of the eight-team, single-elimination championship event in the quarterfinals.
The similarities stop there because a resolution was rendered at the end of regulation play.
Tuesday, the No. 8 seed Panthers and No. 1 seed Hampden-Sydney battled for 90 regulation minutes and 20 minutes of overtime to a 0-0 stalemate.
The Tigers (8-0-1), however, were able to advance to Friday's semifinals by winning a penalty-kick shootout, 3-2.
For record purposes, the match is considered a tie, thus the Panthers finish their eight-match, spring 2021 campaign with a 4-3-1 mark.
In the shootout, each team took five, one-on-one shots against the opposing goalkeeper.
The Ferrum quintet of Jeffrey Calix, Leo Galpin, Clayton Sanchez, Martin Zuluga and Daniel Aguire faced off against Tigers keeper Gray Sutter.
The Hampden-Sydney quintet of Kade Wheeler, Boyce Purdie, Ben Beason, Stefan Ngoh and Luke Carter took on Panthers keeper William Winters.
Wheeler led off the shootout with a make, followed by consecutive misses by Calix and Purdie.
Then, Galpin, Ferrum's second shooter, found the back of the net to square the count at 1.
The score was even at 2 after makes by Beason and Sanchez.
The score remained deadlocked after failed attempts by Zulaga and Ngoh.
Carter broke the stalemate on the Tigers' fifth try and when Aguirre failed to match it, Hampden-Sydney had earned tournament advancement.
The Tigers are matched against No. 4 seed University of Lynchburg, a 3-2 quarterfinal-round winner over No. 5 seed Randolph College, in the semifinals.
In the other semifinal, No. 6 seed Guilford (N.C.) College entertains No. 7 seed Roanoke College.
The Quakers edged No. 3 Randolph-Macon College, 4-3, in overtime and the Maroons upset No. 2 seed Washington and Lee University, 1-0, in Tuesday's other quarterfinal-round matches.
Felix Vu, Ferrum's 10th head coach in program history, completes his first year at the helm with the setback.
"I am super proud of the guys for fighting it out against a strong Hampden-Sydney side,'' Vu said.
"Obviously, this is a tough way for a season to end, but we look forward to building off the successes we found this year. The spirits are high as we move into the fall.''
Ferrum outshot Hampden-Sydney, 12-11, but shots on goal were even at 6.
The Tigers held a 6-4 edge in corner kicks.
Each team had one scoring chance voided by an offsides infraction.
Ferrum committed 25 fouls to Hampden-Sydney's 15.
Six yellow (warning) cards were issued—four to the Panthers, two to the Tigers.
Hampden-Sydney and Ferrum played twice the season with the Tigers winning 1-0 during the regular season when they netted the match's lone goal in the closing four minutes of regulation.
Winters and Sutter each logged 110 minutes of action prior to the shootout and each registered six saves.
CORNER KICKS: Ferrum finished better than .500 in the ODAC for the first time this season.
The Panthers were 2-2 at home and 2-1-1 on the road.
Ferrum won two matches by shutout. Each of Ferrum's seven regular-season matches was decided by a goal.
The Panthers surrendered five goals in eight matches, which is fewer than a goal-per-match.
- Ferrum is 0-10-1 in postseason conference tournament matches since 2008; the Panthers failed to qualify for postseason play in 2009 and 2019.
Nine of those matches came during the Panthers' tenure in the USA South Athletic Conference. Of those nine matches, five were against Methodist (N.C.) University, two were against Greensboro (N.C.) College, one was against Maryville (Tenn.) College and one was against North Carolina Wesleyan College.
Seven of Ferrum's 10 postseason defeats are by shutout.