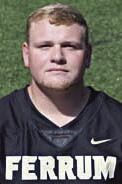 FERRUM – Senior offensive lineman Cade Rouse is the 2020 recipient of the Big Green Award.
The award is presented annually by Ferrum College's football program to the senior who best demonstrates the qualities of courage, hustle and desire as a role model to their teammates.
Rouse (6 feet, 260) hails from Rural Retreat and is a former player at the high school there.
Rouse played in 16 games during his Ferrum career.
This past season, Rouse was part of an offensive line unit that aided in the production of 111 points (22.2 points-per-game) and 1,789 yards of offense (357.8 yards-per-game).
Rouse is the second offensive lineman in as many years to win the award—he follows former All-American Jordan Patti on the list of recipients which stands at 55.
The Big Green Award, given since 1971 serves as a memorial to the seven former Ferrum football players and former Panthers assistant coach Rick Tolley, all of whom perished in the Marshall (W.Va.) University plane crash, Nov.14, 1970.
Those seven players were part of Ferrum's 1968 junior college national championship team.
The Panthers defeated Phoenix (Ariz.) 41-19 in the Shine Bowl to complete a 10-0 season and capture the National Junior College Athletic Association (NJCAA) national championship in 1968, the second of four national titles Ferrum won in football during its junior-college era (1955-1984).
Tolley served as Hank Norton's top assistant from 1965-1967 before leaving Ferrum to take an assistant coaching position at Wake Forest (North Carolina) University. He was with the Deacons for one year; he left the Winston-Salem school for Marshall.
Tolley was in his first year as Marshall's head coach in 1970.
The crash, the school's recovery and later rise to football prominence are chronicled in the movie "We Are Marshall.''
Tolley and the seven players, known as "The Ferrum 8,'' all are enshrined in the college's Alumni Sports Hall of Fame along with several other players and coaches from the 1968 squad, most notably team captains Renso (Rock) Perdoni and Horace Green.
Green is a former assistant coach at Ferrum and a former head coach at Franklin County.
A portrait of Tolley, pictures of the seven players and a plaque with the names of the Big Green Award winners are displayed in the Hank Norton Center, Ferrum's athletic complex, which opened in May of 2012.
Ferrum's football locker room and the press box at W.B Adams Stadium are named in Tolley's honor.
Former Ohio University, Wake Forest University and Baylor University head football coach Jim Grobe and former college assistant coach Kevin Sherman are past award winners.
Also, former Franklin County prep players. Ricky Cruze (1983), Kevin Slough (1996) and Alveno Matthews (2017) are past recipients.
Ferrum finished 2-3 in an abbreviated spring campaign, the first under the coaching direction of Clevie Adams, a Ferrum graduate and former Panthers player and assistant coach.