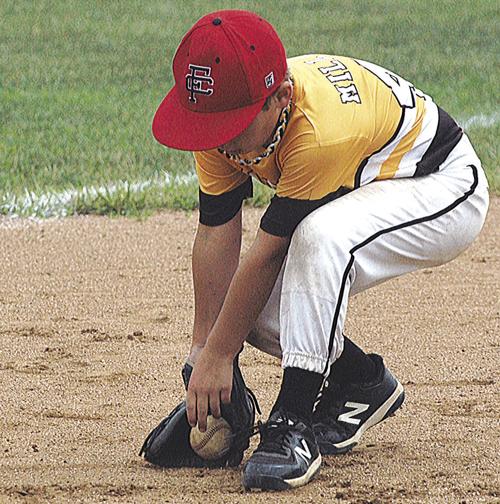 MONETA — SML Sandlot 10U is hosting the Smith Mountain Lake Fall Classic baseball tournament Friday and Saturday, Oct. 9-10.
The two-day, four-team round-robin event is being staged at the Westlake Baptist Church field.
One game is set for Friday, Oct. 9 and five games are slated for Saturday, Oct. 10.
All games are six innings or 1 hour, 45 minutes with no new inning to be played after the time limit.
Concessions are available at the field for purchase, and restrooms are located inside the lower level of the church.
Tournament officials ask that patrons parking in the lower gravel lot at the church if possible.
SML Sandlot faces SML Anglers in the tournament's first game at 6 p.m. on Friday, Oct. 9.
The scheduled match-ups for Saturday, Oct. 10 are 5 Star Rays-Blue Ridge versus SML Anglers at 10 a.m.; SML Anglers versus Carolina Curve at noon; SML Sandlot versus 5 Star Rays Blue Ridge at 2 p.m.; 5 Star Rays-Blue Ridge versus Carolina Curve at 4 p.m.; and SML Sandlot versus Carolina Curve at 6 p.m.
Ferrum distance runners compete in Harvest Moon 5K
MARTINSVILLE — Several Ferrum College cross country runners and a number of Franklin County distance runners competed in last Friday night's Harvest Moon Run at the Smith River Sports Complex.
The race was sponsored and staged by Miles in Martinsville.
Tysen Gotschi (17:45.47) of Leesburg and Domonique Veney (18:04.65) of Kilmarnock, both of whom are returning sophomores for the Panthers' men's team finished third and fourth in a field of 104 runners.
Kevin Tate (18:39.34), a sophomore from Bluefield, W.Va. placed sixth and Clay Smith (21:00.64), a sophomore from Leesburg, came in 14th.
Also, father and son Todd King (22:16.81) and Lucas King (22:19.15) of Franklin County were 22nd and 23rd.
Cian Bell won the race in 16:28.81 and Gregg Dean was second in 17:21.97.
Cheerleading tryouts are set for November
Tryouts for Franklin County's 2020-2021 junior varsity and varsity sideline cheerleading squads and Benjamin Franklin Middle School's cheerleading team are scheduled for four days in early November.
Tryouts are slated for 3:30 p.m. to 6 p.m. at Samuel M. Hawkins-Central Gymnasium with the following schedule in use.
On Nov. 2, and Nov. 9, tryouts for Group A students and all virtual students with last names that begin with A through L will be conducted.
On Nov. 5 and Nov. 6, tryouts for Group B students and all virtual students with last names that begin with M through Z will be conducted.
There will be no virtual tryouts.
Any student enrolled at FCHS or BFMS is eligible to try out and he or she must have a physical form on file with the athletic department in order to participate.
Tryout packets are available through the high school athletic department.
Open conditioning to prepare for tryouts is scheduled on Mondays during October from 5:30 p.m. to 7 p.m. in Hawkins Gym.
For information, contact FCHS head varsity coach Marsha Lopez (540) 483-5332.
Mountain bike races scheduled for Oct. 17
SIX-MILE POST — The Franklin County Department of Parks and Recreation and the Smith Mountain Lake Regional Chamber of Commerce (SMLRCC) are bringing championship mountain bicycling to Waid Recreation Area and Sports Complex this month.
Officials with both organizations confirmed in a prepared statement released last week that the Waid Park Spring Enduro and VA Short Track XC championship race would be staged at the Six-Mile Post facility on Saturday, Oct. 17.
"We are very excited to bring this new recreational event to Franklin County and the mountain bike racing community,'' said Paul Chapman, the county's recreation director. "This also serves as Franklin County's contribution to a re-imagined and socially-distanced Go Fest weekend.''
COVID-19 pandemic measures will be implemented to ensure state guidelines are maintained throughout race day.
The event will be limited to 100 riders and not exceed 250 total attendance, officials with both organizations said.
The presenting sponsor is the Town of Rocky Mount.
Free bike events for youth are planned on Franklin County's new skill challenge loop.
A custom logo t-shirt sponsored by Virginia's Blue Ridge and a neck buff are included with registrations.
The event starts at 9 a.m. with a fast and furious short track cross country race on the Shinerunner trail.
Jumps, berms, balance features and two stiff climbs pack a whole lot of action into a short event.
Race distances will range from either 2.5 or 5 miles.
The Short Track race is sanctioned by USA Cycling and requires a $10 one-day license, which is available for purchase online.
The main event is the inaugural Waid Park Sprint Enduro.
Competitors can expect at least four stages utilizing the newest and most progressive features built in the Waid Park trail network featuring rock gardens, man-made jumps and sections with back-to-back corners.
Timing will be manually operated via Webscorer Pro.
No USAC license is needed for this event.
"As a regional chamber, our mission is to grow business, promote tourism and strengthen the social and economic environment in the counties we serve,'' SMLRCC Executive Director Christopher Finley said.
"In partnership with the Franklin County Parks and Recreation (Department), we are committed to providing an awesome racing experience and competitive challenge at this beautiful, 500-acre (Waid) park.
Fourth annual Harvest Hustle takes starter's gun in November
COVINGTON — Boys Home of Virginia is hosting and staging its fall fundraising event — the Harvest Hustle — on Saturday, Nov. 7.
Three races comprise the event: a 5K (3.1 miles), a 10K (6.2 miles) and a half marathon (13.1 miles).
"Last year, we doubled our total racers and met our fundraising goals. Hopefully, this year will be just as wonderful,'' race official Melinda Nichols said in a prepare statement announcing the race.
Nichols said there will be a few changes this year due to COVID-19 restrictions.
"We will be handling registration differently, there will be staggered race starts, and everything will be well spaced out with plenty of hand sanitizer available,'' Nichols said.
"Volunteers will be wearing gloves and masks. We will be doing everything we can to make this a safe and worry-free experience for everyone. More detailed information will be sent to registered racers close to the event,'' Nichols said.
All three races will begin and end at the Intervale Trailhead of the Jackson River Scenic Trail in Covington.
The event will offer aid stations along the race routes with mini pre-packaged water bottles and Gatorades available.
T-shirts and participation medals will be available for all runners, as well as individual pre-packaged snacks and drinks before and after the race.
Awards for each race will be presented approximately 30 minutes after the top three men and women racers cross the finish line.
Top finishers in the male and female overall categories and the top three male and female age group finishers receive awards.
There are seven age group categories: 11-19, 20-29, 30-39, 40-49, 50-59, 60-69 and 70 and older.
Registration for the 5K is $20, for the 10K is $25 and for the half-marathon is $50.
Youth 10 and younger are invited tom run the 5K and 10K for free, and discounts are available to running clubs and teams.
Be the first to know
Get local news delivered to your inbox!