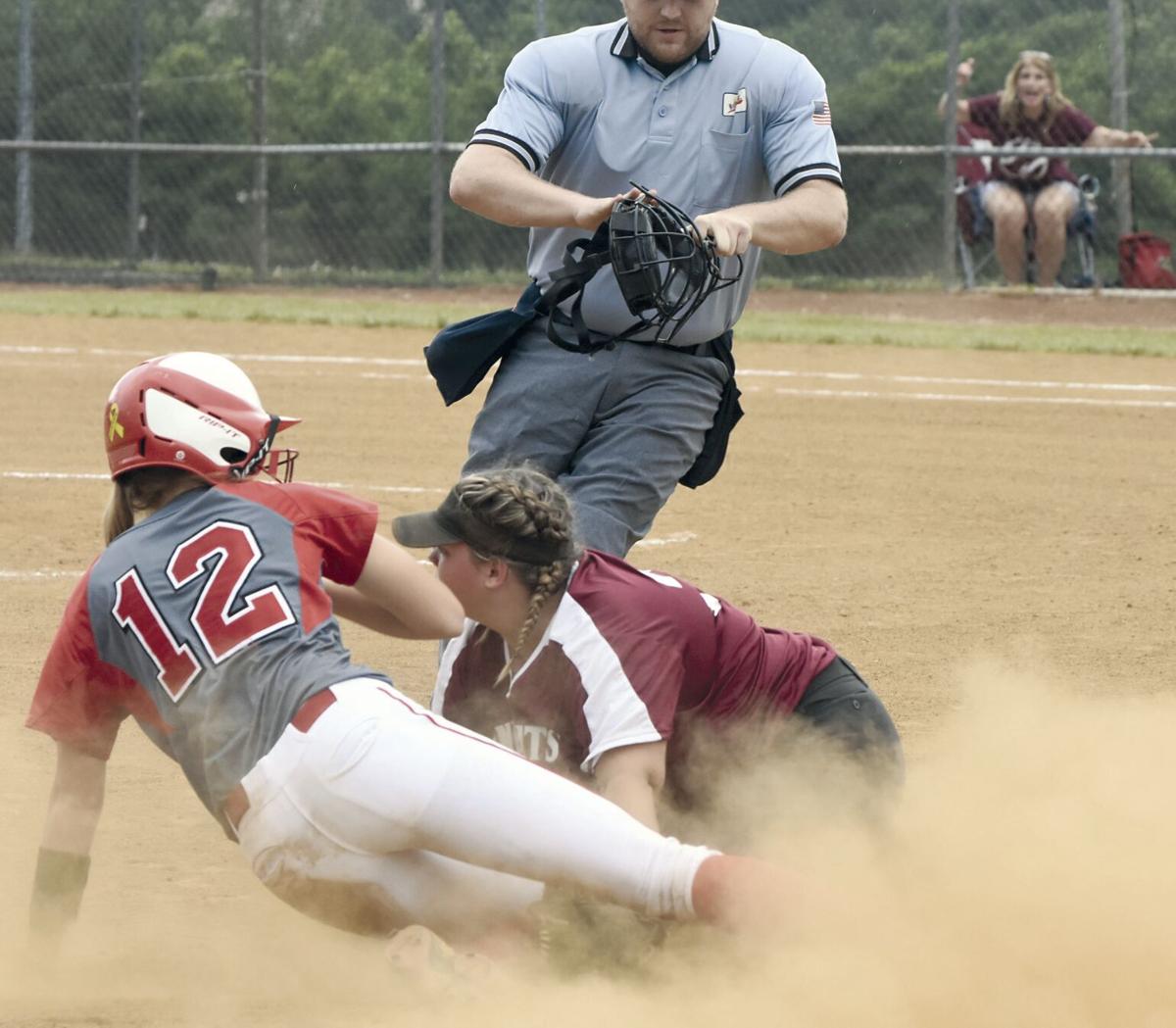 Instead of small ball, Franklin County's softball team smacked the ball all over its home yard Wednesday in advancing to next week's Class 6 Region A semifinals.
The Eagles (10-3), the Blue Ridge District champions in their first year of league play, erased an early, 2-0 deficit with a 13-run, second-inning outburst in a 14-2 regional quarterfinal-round victory over Thomas Dale (7-6) at the Benjamin Franklin Middle School Softball Complex.
The contest was stopped after 4 1/2 innings because of the run rule.
Skillful bunting by the Knights and the Eagles' less-than-stellar defensive execution against it enabled the visitors to score all of their runs in the top of the first frame.
They were able to maintain their lead for 1 1/2 innings.
Then the Eagles responded in the bottom of the second.
A two-run double by senior outfielder Taylor Anderson triggered the rally, and by the time the extended frame came to its end, the count was 13-2.
The Eagles picked up their final run in the bottom of the third.
"We knew that they liked to bunt with their first two hitters. I thought we were ready for it,'' Eagles skipper Bryan Forbes said. "But we settled down and Kaylee (starting pitcher Kaylee Manning) settled down.''
It was not unusual for the Eagles to have to rally from deficits this season. Eight of their 13 games have been decided by five runs or fewer.
"We were able to respond quickly. Normally (this season), we've waited until the fourth or fifth inning,'' Forbes said.
The Eagles, who have won their last two games by a 27-2 combined count, take a seven-game winning streak into the semifinals where they will be matched against the winner of today's Cosby-Ocean Lakes game.
If Cosby wins, FCHS visits the Titans, if Ocean Lakes wins, FCHS plays at home.
Cosby lost in the 2019 Class 6 state title game, the last year that a championship game was contested. The 2020 campaign was wiped out because of the COVID-19 pandemic.
"Thomas Dale had given up runs in other games, even against teams that were not scoring a lot of runs. Their pitchers were hitable, but we had to get those hits too,''Forbes said.
"Our girls have been resilient this year this year with the COVID situation....It's been a short season and I think we're starting to get into a flow.''
Manning, a freshman right hander, tossed a complete-game, four-hitter that featured 11 strikeouts.
Anderson drove in a team-best four runs,while Hannah Woodford collected a team-best three hits and drove in two runs and Laken Adkins had two RBIs.
Skylar Howard, Ashlyn Johnson, Claudia Minetree and Elizabeth Hart each collected a hit form Thomas Dale,
Also qualifying for regional play were Virginia Beach-area schools Floyd Kellam, Tallwood, Western Branch and Grassfield, a past two-time state champion.
Only the four region champions qualify for the Class 6 state tournament this year.
If FCHS wins its first regional title in softball since 1989, the program's second year of interscholastic play, the Eagles would have the opportunity to host the state semifinals and state championship games.