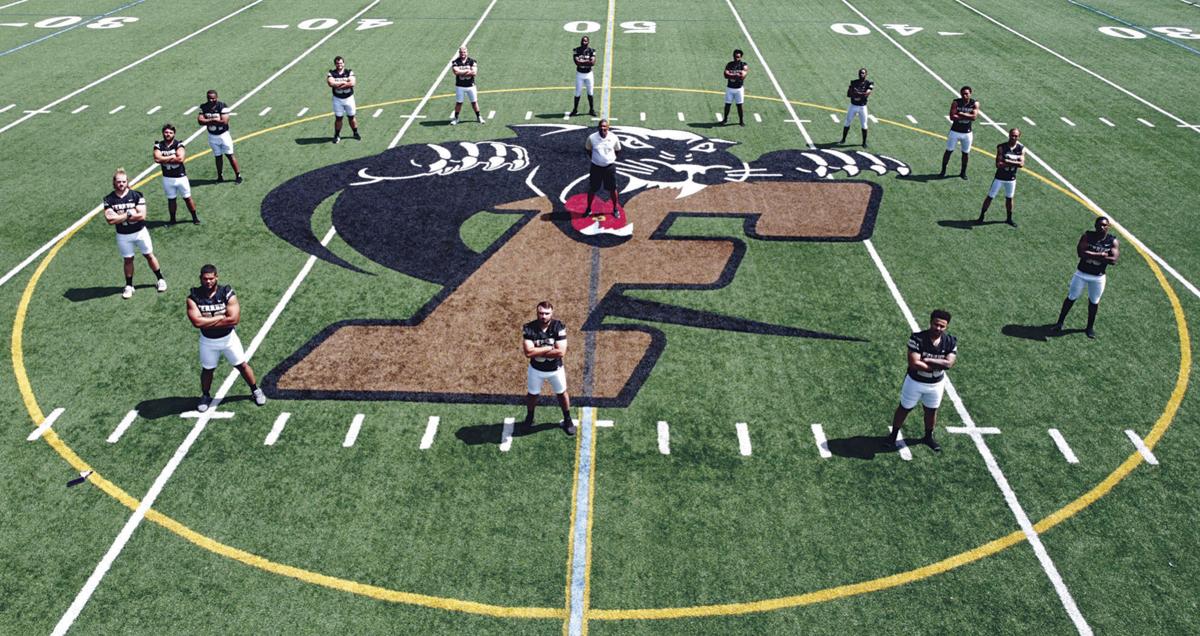 FERRUM — Three former Franklin County football players are listed on a 2020 roster released by Ferrum College this week in anticipation of a return to on-field action during the spring 2021 semester.
Listed are freshman defensive lineman Will Hairston, sophomore Ethan Berger and junior long snapper Justin Motley.
Hairston was voted co-Most Valuable Defensive Lineman in the Blue Ridge District at the end of the 2019 campaign, the Eagles' inaugural campaign in the multi-classification league.
FCHS finished 6-5 overall, 3-2 in the Blue Ridge District. It was one of five league teams that qualified for postseason play, losing to Landstown, 35-27, in the opening round of the Class 6 Region A playoffs.
Berger is a transfer from Old Dominion Athletic Conference (ODAC) rival Emory & Henry College. He spent last season as a member of the Wasps' scout team according to the football team's page on the school's athletics website.
During Berger's senior year at FCHS, the Eagles finished 7-5 overall and 4-1 in their final football campaign in the multi-classification Piedmont District.
Berger earned All-Piedmont District accolades following the campaign.
Victories over George Washington-Danville, FCHS's first since 2011, and Clover Hill, FCHS's first in postseason play since 2011, were highlights from the season.
Berger also competed in wrestling and indoor and outdoor track and field during his prep career.
Motley, whose brother Tyler was a special-teams player (snapper) during a four-year Ferrum career, is returning to the football program after playing soccer in 2019 — he was a reserve goalkeeper on Ferrum's 10-win club that failed to qualify for the ODAC's postseason tournament last fall.
In 2018, Motley played football — he was listed on the Panthers' roster as a wide receiver.
Ferrum's roster includes 14 seniors: Joey Lama, Davon Jones, Zac Saalweachter, Jeremiah Valentine, Dion Graham, Stephen Murphy, Cade Rouse, Ray Alexander, Michael Roman, Ja'Kari Williams, Tyler English, Brandon Scott. DJ Baylor and Kendall Bell.
The roster could change prior to the start of a planned spring semester campaign.
Ferrum righthander Will Davis, who played for the Martinsville Mustangs of the Coastal Plain League this summer, finished tied for 13th with four other pitchers in strikeouts with 29 in the league's final 2020 statistics.
Davis appeared in six games, two of which he started, and was 2-1 with a 3.38 earned run average (ERA).
In 16 innings, Davis surrendered 12 hits, six walks and 10 runs, six of which were earned.
Former Ferrum assistant women's lacrosse coach Taylor Woolard has been named the new head coach at Converse College in Spartanburg, South Carolina.
Woolard spent two years at Ferrum following a three-year stint at Hanover High School in Mechansville where she served two seasons as an assistant coach and one as head coach.
Woolard left Ferrum for Earlham College in Richmond, Indiana, but the team's 2020 season was canceled because of the COVID-19 pandemic.
During her two seasons at Ferrum, three players earned all-league laurels in the USA South Athletic Conference and three players received academic honors from the Intercollegiate Women's Lacrosse Coaches Association (IWLCA).
Ferrum ended a 15-game winning streak by Roanoke College when the Maroons were steered by former head coach Matt McGuire.
The Panthers were members of the USA South when they earned the 2018 triumph over the Maroons by an 8-7 score in 11 innings at W.B. Adams Field.
Roanoke was ranked fourth nationally at the time, was the reigning ODAC and South Region champion and was a year removed from a fourth-place finish in the NCAA Division III College World Series.
Also, Ferrum defeated Methodist (N.C.) University twice that season when the Monarchs, a former USA South rival, were ranked fourth nationally.
Ferrum finished the 2018 season with a 17-24 record.
Since Ferrum's win over Roanoke, the Maroons have won three in a row in the series, including each of first two ODAC games of the set staged in 2019.
The Panthers and the Maroons were scheduled to play April 1 and and April 21 of what turned out to be a canceled 2020 season. Ferrum was 11-5 when play was halted because of the COVID-19 pandemic.
McGuire, who served as the Maroons' dugout boss for 8 1/2 years and won 168 games during his tenure, is a former assistant coach at Ferrum and Randolph-Macon College. He is a member of the Salem-Roanoke Baseball Hall of Fame.
Franklin County's Will Turner and Noah Basham were players on the 2020 squad, which was 7-8 when the season was canceled.
McGuire's assistant, Cam Cassady, a former Roanoke player and graduate of the college, has been named interim head coach.
Be the first to know
Get local news delivered to your inbox!