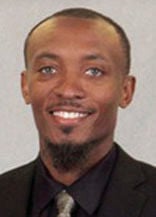 FERRUM - Anthony White Jr., formerly an assistant coach at Earlham (Ind.) College, has been hired as Ferrum College's new assistant men's basketball coach.
White replaces Patrick Corrigan, who resigned after two seasons, on the staff of fourth-year head coach Tyler Sanborn.
White's hiring was confirmed by college athletic officials in a prepared statement released Monday, White's first day in his new position.
"We are so excited to welcome Anthony to our program,'' Sanborn said in the statement. "He  brings great enthusiasm, a strong work ethic and high basketball IQ to our coaching staff.
"His experiences as a player, both at the college and professional level, will be a great resource to our student-athletes. Our program and Ferrum College are very fortunate to have him here,'' Sanborn said.
Ferrum is a year removed from its best finish record-wise in men's basketball since the 2011 campaign when the Panthers were 23-5 and were ranked regionally and nationally in NCAA Division III.
The Panthers were 15-12, qualified for the Old Dominion Athletic Conference (ODAC) tournament for the first time, and won a postseason game for the first time since 2014.
During White's tenure at Earlham, the Quakers featured a player who achieved the best 3-point field goal shooting percentage among all divisions of NCAA competition.
Also, Earlham led Division III in 3-point field-goal percentage, and the Quakers won the most conference (Heartland Collegiate Athletic Conference (HCAC)) games in a single-season in 15 years.
Prior to his tenure at Earlham, White was a middle school basketball and track and field coach for three years.
White began his college playing career  at Land Lake College before transferring to Mercer (Ga.) University formerly of the Division I Atlantic Sun Conference (ASUN).
White earned a spot on the league's all-tournament team in 2014, the year in which Mercer won the conference championship and earned an automatic berth in the NCAA Division I tournament.
Mercer upset Duke in an opening-round tournament game, 78-71, played in Raleigh, N.C. before falling to Tennessee, 83-63, in the second round. White scored 13 points against Duke and 11 against Tennessee.
Mercer finished 27-9 in 2014, its final year in the ASUN. White ranked first in the conference in 3-point field goal percentage that year.
The Quakers made their debut in the Southern Conference the following season.
Following his college career, White played professionally in the South East Australian Basketball League (SEABL) for one season. He averaged 18 points, four assists and three rebounds a game.
That year, White, at age 21, was the youngest foreign player in the league.
The SEABL was disbanded following the 2018 season and was replaced by NBL1.
Be the first to know
Get local news delivered to your inbox!