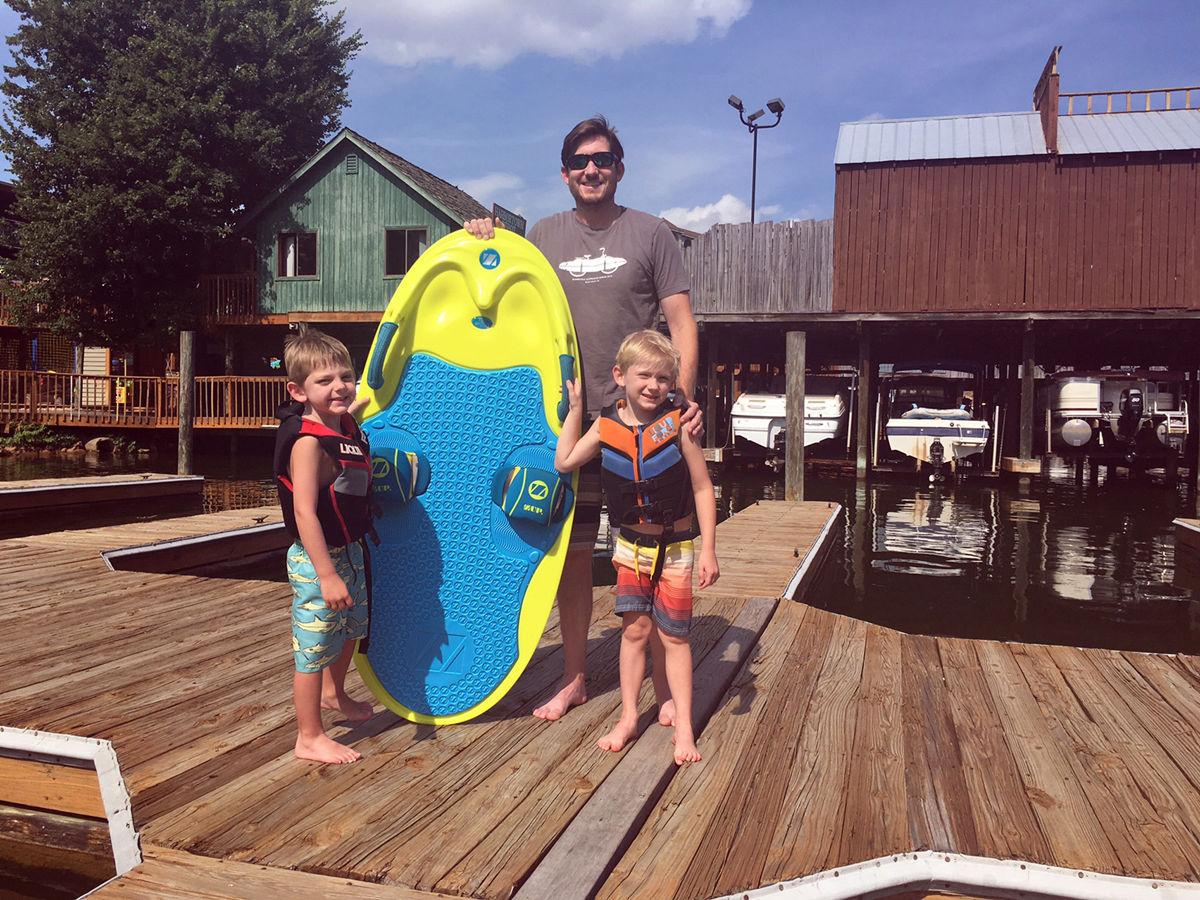 Being out on Smith Mountain Lake learning to kneeboard, ski or wakeboard can be exciting for kids, but also challenging.
The inability to get up and going behind the boat can often lead to disappointment for young ones – and outings that end in tears.
But turning frustration into a positive water sports experience for kids is easier than you think, according to Ryan Waters, who grew up at Smith Mountain Lake and has been teaching water sports skills for 20 years.
Waters recommends starting out with tubing.
"Tubing is a great way to introduce kids to the water and to water sports," he said. "There's no pressure in being towed behind a boat on a giant, colorful inflatable – only hours of fun. But tubing is a fantastic first step toward getting your kids comfortable in the water and with the sensation of being towed."
If your child is timid about tubing, have them watch from the boat as others take their turns, Waters said. Stay positive and make sure they see how much fun everyone is having. If they're still hesitant, offer to ride along with them.
"Most tubes accommodate at least two people," Waters said. "Your child will surely get a kick out of seeing Mom or Dad tubing, too, not to mention a jolt of confidence."
Once children are comfortable on the water, a logical next step is to try a simple trainer, Waters said.
"We've seen lots of kids have great luck with the simple trainer from O'Brien. It's an inflatable that's soft and cushiony. It will plane off with very little movement so you're able to tow at a very slow speed," Waters said. "There's also a small perch at the back so kids can sit and rest when the boat's not in motion."
The simple trainer comes with two ropes – one for the child to hold and a tow rope for an adult to hold from the boat. The large, inflatable floor of the product means many of the bumps are absorbed for a smoother ride. The child (up to 85 pounds) puts his or her feet in comfortable stirrups and is towed in a standing position.
"Your little ones get the experience of 'skiing' like the big kids or adults, without the pressure of actually having to pull themselves up in the water," he added.
Waters said his absolute favorite water sports product for kids is the ZUP board, an all-purpose toy that's gotten rave reviews from kids and parents for reducing the typical learning curve while providing a fun way to enjoy Smith Mountain Lake.
The product's developers came up with the name because their mission is that "everybody getZUP." Waters said the board's versatility allows for beginners to get up and have fun quickly, but also provides a thrill for more intermediate and advanced skiers (young and old alike).
"I've been teaching kids to ski, wakeboard and kneeboard for 20 years and the ZUP board is by far the best board for beginners I've seen," Waters said, noting that the board resembles a kneeboard with an oval shape and soft top pad. Instead of a knee strap, however, there are two foot straps that double as place to rest your forearms and elbows when starting out on your stomach.
The rider grips two handles at the front of the board and then, once towing is underway, pulls himself up into a kneeling position. At that point, he can grasp the detachable double-handled rope and ride the ZUP as a kneeboard.
The second option is to move from kneeling to a standing position, utilizing the foot straps. The ZUP then offers more of a skiing/wakeboarding experience for riders.
"My 4- and 5-year-old sons love their ZUP board," Waters said. "Even before Bo and Will were able to stand up on the board, they were able to use it as a kneeboard, which kept them from feeling intimidated and got them comfortable with the feeling of being behind the boat. Every day when I get home from work they say, 'Let's ZUP, Dad!'"
Waters stressed that any time boaters are out on the water with kids, it's important to ensure they wear a Type III, U.S. Coast Guard-approved life jacket. Other recommendations when introducing kids to water sports include:
*Find a quiet cove with smooth water
*Be sure the boat captain drives in a safe manor and at speeds appropriate to the ability of the rider
*Always have a responsible adult watching riders from the back of the boat